Dr. R.V. Prabhakara Rao: Leading The Organization Towards Sustainable Success In The Healthcare Domain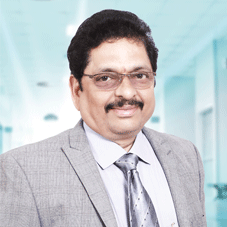 Dr. R.V. Prabhakara Rao with a strong clinical background and in-depth knowledge of the Indian healthcare industry is able to improve the quality of service in the healthcare organization in a short period. He is proficient in the management of a diverse range of departments, professionals, and programs through a complete understanding of the healthcare arena and integrated networks.
Kindly enumerate our professional back-ground that helped you to be a great leader today?
During my entire career, while working with various Hospitals, I made sure that the hospital growth was impressive within a short period. I believe in resolving the problem by understanding the root cause of the problem by meeting all the stakeholders, taking their opinion, and implementing what is correct for the organization. I have worked in Iran for ten years as a Consultant Anaesthetist and gave around 10,000 general anesthesias.
After working with major corporate hospitals like Apollo for 12 years, Manipal for 2 years, Global for 1 year, Shri Saibaba Sansthan Trust Hospital for 5 years, and Basavatarakam Indo-American Cancer Hospital & Research Institute for the last 4 years. As CEO, I have the overall hospital management experience covering medical operations, project
management, compliance, developing strategic partnerships, customer service & retention management, budget controls, policy & system developments, and human resource development.

I have gained enough experience in dealing with is-sues related to trust and corporate hospitals, as I have worked in both trust and corporate hospitals. My managerial strengths are effective network, collabo-ration, negotiation, and maintaining positive partner-ships with physicians, staff, and outside vendors and organizations. I have attended many Anaesthesia and Cardiac Anaesthesia Conferences. I'm a Permanent Member of the Indian Association of Anaesthetists, Indian Association of Cardiac Anaesthetists, and Indian Medical Association.

Where is Basavatarakam Indo positioned in the current healthcare industry of India and what are your thoughts on the present and future scenarios of this space?
BIACH&RI was started with the objective of providing world-class cancer treatment at an affordable cost to patients and has grown multifold under the able leadership of Sri Nandamuri Balakrishna Garu, Chairman of the trust Board, famous Tollywood hero, sitting Member of AP legislative assembly, a great philanthropist, son of Ex-Chief Minister - Andhra Pradesh Sri Late N T RamaRao Garu & Smt Late Nandamuri Basa-vatarakam, BIACHRI is providing excellent service to cancer Patients.

It bestows care and treatment on par with the quality of treatment available to everyone at an affordable price to prove that quality treatment and facilities are as much the right of the less privileged as it is the right of those who can afford to go abroad for reliable and modern treatment. Special concentration is given to pediatric cancer cases as not many cancer hospitals serve pediatric cancer patients. Basa-vatarakam is continuously renovating and increasing the treatment of pediatric cancer patients by supervising and advising clinicians & the non-medical staff to improve the quality of patients' care.

In a short time, the Hospital has become so popular in the combined state and nearby states. Being established as the number one hospital in Telangana and Andhra Pradesh, now we are keenly looking forward to opening few more centers in other places in the state and nearby states. Further, we would like to improve our technology in terms of diagnosis and management of cancer patients by adding the latest equipment
available in the market.

Looking at the current pandemic and its long-lasting impact, how are you preparing your hospital to deal with it?
Regular training has been given to the nursing and House Keeping staff to handle the COVID-19 cases. We implemented Thermal scanning at all the entry points of the Hospital. The radiation Therapy waiting area was shifted to the Dormitory to maintain the social distance of the patients. Screening counters were also initiated at the dormitory for Radiation Oncology patients.

The doctors and the other employees were at-tending on alternate days during the phase I lockdown period, we also made sure to treat the cancer patients who were undergoing chemo and radiation therapy. The Hospital performed all emergency surgical procedures for needy patients following all the Covid-19 protocols. The entire non-medical HOD, staff, and add life staff is posted at all the locations of the hospital for crowd management. All the sanitation measures are taken in the entire hospital premises and social distancing is strictly followed in the entire hospital.

Awards & Recognition:
• Most Trusted Hospital for Surgical Oncology – COVID warriors award 2020, Top Gallant Media
• Awarded 6th Best Hospital Pan India Under Oncology by THE WEEK - HANSA RESEARCH SURVEY – 2020, The Week Magazine
• Awarded 7TH NATIONAL RANK - THE WEEK - HANSA RESEARCH SURVEY – 2019-2018, The Week Magazine
• "Best Performing Specialty" For Medical Oncology and "Best Performing Specialty" For Surgical Oncology For The Year 2018 By Dr. N.T.R. Vidya Seva Trust, Government Of Andhra Pradesh.
• Times Healthcare Achievers (Telugu States) 2018 – The Best Trust Hospital Of The Year In Oncology.
• Times Healthcare Achievers-2018 "The Best Trust Hospital of the Year in Oncology".
• "Best Management Award" by Govt. of Telangana on 1st May 2018.
• "Bajaj Service Excellence Award" in terms of Quality, Efficient Services – 2018
• Indy wood Excellence award 2017 – Best single specialty hospital

Personnel Awards:
• Healthcare Leadership Award – Telangana Healthcare Leadership Award 2020
• Outstanding contribution of the healthcare sector of the year – Covid warriors award 2020