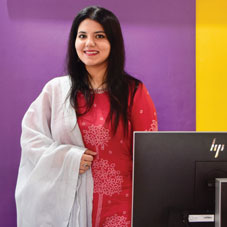 Dental Diagnostics services executed with hightech equipment is not very common in India, primarily due to the expense of these machines. An uprising demand for the development of strong infrastructure in the dentistry section has been witnessed lately and only a few budding entrepreneurs are passionately investing to bring a change in this area. With the dedication to transform the dental diagnostics space with advanced technology and innovative solutions, Dr. Shilika Lilaramani established Vi-Scan Diagnostics in 2019, it started as a pilot project in 2017 and has become the largest chain of Dental Diagnostic Centres in the country as on date. Armed with exceptional guidance from Dr. Vijay Lilaramani (CEO) and Dr. Anju Lilaramani (COO) of Chesa Dental Care, Dr. Shilika has been striving to mitigate the deficit in technological up-gradation for dental treatment. Her exceptional contribution in the dental diagnostic domain has empowered her with the Entrepreneur of the Year award from FEDA in 2021.
Here's an exclusive interview of Dr. Shilika Lilaramani, the founder of Vi-Scan Diagnostics, who talks about her journey as a dentist and the different facets of the Dental Industry in India.
Tell us what makes you passionate about your job and what keeps you motivated to stay competitive in the diagnostic business?
I come from a family of Dentists, passionate to make a difference in the Industry. That has been a huge inspiration and support that has allowed me to venture into this niche space. My qualification as a dentist combined with a hands on experience in the Dental equipment and consumable industry has allowed me identify the gap in terms of avail ability of superior Diagnostic tools that allow Dentists to perform complex Dental surgery in a safe and predictable manner. This, is as much a problem as it is an opportunity to make a difference in the Industry and provide a much needed service to Dentists and patients.
We as a third-party diagnostic center, act as a support system to dentists across various parts of India, underlining the fact that we never compete with, only support Dentists that work with us. Our presence in these areas helps patients to get dental 2D and 3D scans done when they need it allowing the Dentist an unmatched level of comfort while providing treatment. A happy and satisfied patient is the utmost aim of any healthcare professional and I am no exception here, the only addition is that I want Dentists to also feel the same way and feel confidence while treating their patients.
Vi-Scan enables Dentists to practice in a safe and predictable manner while allowing patients to understand the logic behind the actions taken during Dental treatment
Also, the power of a smile is unmatched, it empowers people and sends a very warm note to an on looker. I believe, everyone should have the right to smile confidently and without pain. Vi-Scan supports Dentist to create smiles!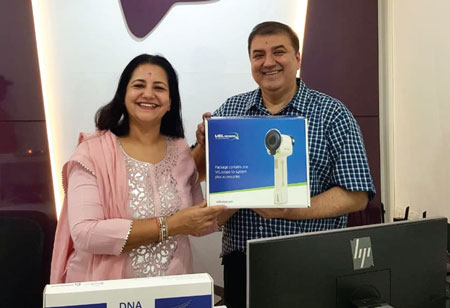 Give us a brief about the VI Scan's uniqueness that makes it different from other diagnostic centers in the country.
Dental Diagnostic equipment(CBCT & OPG machines) often work out expensive for standalone Dentists to install at their clinics and many times it is overlooked by large medical diagnostic providers. This is where we come in the picture, our Dental Diagnostic centres exclusively focus on providing diagnostic tools for Dentistry. From radiology scanning to reporting and treatment planning, our team manages it all. We gave also expanded to include pathology for Dentistry in our portfolio of services in north India and have added soft tissue screening that aids with detection of oral cancer in our Bangalore centre. We hope to be able to incorporate our complete portfolio of services in all our centres. We are now at the crux of opening our 18th centre and are excited to see how this year plays out for us.
Our focus is on the Analysis Before Care (ABC) methodology, we are working to integrate technology and AI to help us with faster reporting and also create a seamless interface for our radiologists, Dentists and patients further enhancing the speed and quality of care that reaches the grass root level.

What are your greatest strengths that make Vi-Scan exceptional in this field?
My team is my biggest strength, they work with a sense of ownership, they have imbibed my passion and made it 10X. The team at Vi-Scan is passionate to deliver the best-in-class services to ensure patients walk out of our centre with a smile and their Dentists trust their patients with us. From the technicians to the backend administrative team, all of them really feel the importance of the work we do at Vi-Scan and take their responsibility seriously. Apart from this I think our hunger to make a difference and keep innovating fuels our every action and allows us to work towards being better than we were the day before, each and every day.

Tell us about your plans going ahead. How do you want to enhance or innovate in the diagnostic space through your service?
The focus for us is to reach every corner of India and eventually the world where patients need a CBCT or OPG scan and do not have the availability around them. We are also expanding our services to provide affordable, fast and accurate tele reporting to Dentists within and outside of India. Leveraging technology and our experience in running this service we hope to disrupt the industry and provide Dental diagnosis like never before!

Would one ever accept a doctor's prescription to surgery or treatment without undergoing the relevant Diagnostic tests?
If not, then why accept Dental treatment without undergoing the essential Diagnostic tests?

By increasing the visibility of the dentist, it enables them to practice in a safe & predictable manner, thus ensuring higher success rates, that is exactly what we hope to achieve for every patient under going Dental treatment.

Dr.Shilika Lilaramani, Founder
Website: Https://Viscandiagnostics.Com/

Location:Bengaluru
Description:Offers 2D(OPG) & 3D (CBCT) Dental scanning and other Dental Diagnostic Services