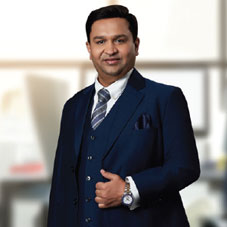 In the realm of ambition and intellectual prowess, where knowledge shapes destinies and aspirations take flight, one institution stands as a beacon of excellence The Wharton School of Pennsylvania. Within its walls, extraordinary individuals are molded, and equipped with the tools toconquer industries, transform societies, and leave an indelible mark on the world.
Today, we embark on a riveting exploration of the noteworthy Indian alumni who have emerged from the corridors of The Wharton School, each trailblazing their way to success in their respective fields. These exceptional leaders have navigated challenges, seized opportunities, and become architects of change, blazing a trail that inspires countless others.
Among these elites, we shine a spotlight on Dr. Vikram Mehta a visionary force in the construction space of India. As an illustrious alumnus of The Wharton School, Mehta has harnessed his education, experience, and unwavering determination to reshape the construction industry and build a legacy that echoes across the nation. CEO Insights is extremely honored to interview him.
What fuelled your desire to foray into the construction industry?
The decision to enter the construction technology industry was driven by my deep-rooted passion for innovation and my desire to bring about a transformative change in the construction business. Inspired by the potential of mechanized solutions, I was motivated to make a significant impact in the industry.
My journey began in 2005 when I joined my father's engineering firm. Drawing upon the knowledge and skills acquired during my time at The Wharton School, I embarked on the path of entrepreneurship and transformed my father's company into Spartan Engineering Industries a leading manufacturer of construction equipment.
Starting with the production of bar cutting and bar bending machines, I continuously pushed the boundaries and expanded the company's portfolio to include more complex and heavy machinery. Tower cranes, passenger and material hoists, and
rope suspended platforms became integral offerings of Spartan Engineering Industries.
Driven by the belief that innovation is the key to progress, I dedicated myself to developing cutting edge solutions that would enhance efficiency, safety, and productivity in the construction industry. Through relentless determination and a commitment to excellence, I sought to redefine industry standards and provide the construction sector with state-of-the-art equipment.
Driven by the belief that innovation is the key to progress, I dedicated myself to developing cutting-edge solutions that would enhance efficiency, safety, & productivity in the construction industry
By entering the construction technology industry, I aimed to bridge the gap between traditional construction practices and modern advancements. My goal was to empower construction professionals with the tools and machinery that would not only streamline operations but also drive sustainable growth and development.
What motivates your daily routine as a leader?
It is the drive to make a significant impact. I am a passionate innovator who aims to bring a paradigm shift to the construction industry through mechanized solutions. My inspiration comes from various authors, industry stalwarts, and my mentor, TT Rangarajan. What I find most fulfilling about my role as the Managing Director of Spartan Engineering Industries is the opportunity to introduce advanced, safe, and innovative hoists like multi-functional material hoists to India, establishing Spartan as a renowned brand in the industry. The pursuit of achieving milestones and maintaining market leadership serves as a powerful motivator for me. I am constantly pushing boundaries, striving to revolutionize construction practices and contribute to the overall progress of the industry.
What do you envision for the future of your business?
We envision a future where Spartan Engineering Industries becomes a leading Indian MNC, transforming the construction and infrastructure industries with our advanced mechanized solutions. Our primary goal is to enhance productivity, speed, and safety, saving our customers both time and money.
To achieve this, we have set ambitious targets. By 2026, we aim
to become a diversified group with a net profit of 10 percent and a turnover of Rs. 500 crore. We envision expanding our presence to 25 countries, establishing ourselves as a trusted global brand known for innovation and reliability. This growth plan includes a 200 percent increase in our business over the next three years.

To support our expansion, we are focusing on key areas such as infrastructure development, financial strategies, and the launch of new product ranges.Additionally, we are actively working on expanding our exports of 'Make in India' products, aiming to become a global supplier within the next three years.

Our vision includes driving worldwide operations from a prestigious corporate office spanning 3,500 sq. ft. located in a prominent commercial hub. We also plan to strengthen our global infrastructure with offices in Dubai, Brazil, and Colombo, enabling us to better serve our international clientele.

What advice would you give to emerging leaders in this industry based on your extensive experience?
In a dynamic and evolving industry, it is crucial to embrace patience as you navigate challenges and setbacks. Rome wasn't built in a day, and the same holds true for building a successful career or business in the construction sector. Stay focused, stay determined, and understand that sustainable growth takes time.

Persistence is key to overcoming obstacles and achieving long-term success. The construction industry can be complex, with its own unique set of challenges. It is essential to persevere through difficult times, learn from failures, and keep pushing forward. Remember that every setback is an opportunity for growth and improvement.

Above all, have faith in the Indian economy and the construction industry's potential. India's growth trajectory is promising, and the construction sector will continue to play a pivotal role in the nation's development. Embrace the opportunities that arise, adapt to changing market dynamics, and capitalize on the immense potential that lies ahead.

Dr. Vikram Mehta, Managing Director, Spartan Engineering Industries
Recognized for his remarkable contributions to the construction industry, Mehta has been bestowed with an 'Honorary Doctorate in Construction Industry'. With a passion for innovation and a vision for the future, he has positioned Spartan as a renowned brand, driving the industry forward with advanced mechanized solutions.