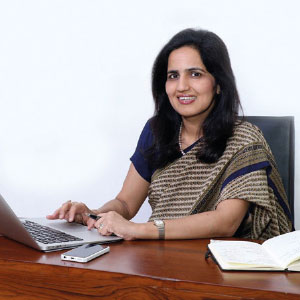 Two people join the same organisation with the same technical capabilities, yet one of them sees faster growth than the other. Usually,the difference is 'Gravitas'. While technical skills are critical to start a career, 'Gravitas' or 'Executive Presence' or how one conducts oneself,is an important quality to help grow on one's career. For the past 20 years, Enma Popli has been working with professionals to help them acquire and enhance their soft skills, thus developing gravitas and executive presence.
To ensure she had qualifications critical to her field, Enma acquired an MBA in HR from the University Business School,Chandigarh and a Diploma in Training and Development. Enma is also a Certified Professional Coach (CPC) from ICA Australia, an academy accredited by the International Coaching Federation (ICF). She is a member of the Confederation of Indian Industry, Society for Human Resource Management and National HRD Network.
Enma believes her tryst with entrepreneurship began early onas she watched her father build his own business with passion, commitment and hard-work. Her first awareness of the need for soft skills came when she lived as an 'Expat Wife'in South East Asia where she watched many expat managers struggle with different cultural challenges. On returning to India in 2000, she started her career as a freelance trainer. As Corporate India was globalising, Enma experienced an increasing void of soft skills amongst executives, this lead to the inception of Skill Smart Training in 2007.
Being independent minded, Enma didn't permit the conventional norms of society define her individuality and went on to create her own path. Living in a nuclear family, it was up to her
and her husband (a COO of a large multinational)to figure out how to make it work. Enma balanced her role as a mother and at the same time focussed on getting a qualification and experience as a freelance trainer. This way she watched her kids growing up even as she gained more training experience.
Enma believes her tryst with entrepreneurship began early on as she watched her father build his own business with passion, commitment and hard work
Enma later took another big decision, combining what she earned as a freelance trainer with a "loan" from her husband, she decided to set up a small office near her home in Mumbai that helped her get away and focus on setting up Skill Smart Training. After sending off the kids and husband to school and office, she would go to her office to spend time building the business and in the evenings, after the kids were in bed, she would discuss her work with her husband who while being her support was also her strongest critic.
A Stepping Stone
Coming to Mumbai and its amazing, buzzing, invigorating work environment was the perfect setting and catalyst to get Enma started. She plunged into pursuing her dream to be womanpreneur where she now leads a team of trainers. Enma believes that Skill Smart Training is not a just 'training service provider' but a partner to the business leaders of organisations it works with. Skill Smart Training works with senior executives to help prepare their next line to take up greater roles and responsibilities, especially where they are expected to be the face of the organisation in front of clients and other stakeholders. Skill Smart Training has a long standing relationship with its clients and has worked with corporate like Microsoft and Max Bupa. Enma today also coaches executives from around the world helping them deal with change and opportunity.
Interestingly, Enma shares, "Many of the executives we worked with
found it challenging to put new learning's into practice and to change their entrenched habits. Some even stated,I wish we had learnt this when we were younger. This got me thinking what if we start younger". This led to the creation of The KidSmart Program crafted by Enma. This interactive fun filled program introduces children between 6-12 years of age to soft skills like time management, good manners, communication skills and empathy to enable them to conduct them selves with ease, charm & confidence.

The Journey
"It's tough juggling multiple roles and keep oneself motivated and enthusiastic all the time. One is tempted to give up and take the easy life, especially when one is a one-man army,"says Enma as she contemplates the years gone by. "Working in a SOHO needs discipline and the ability at some level to switch off. When there is no one to answer to, you need some one who challenges you and pushes you occasionally".In Enma's case,it was her husband.

In addition to the work she does with commercial clients; Enma, actively dedicates time to social work and volunteers her time as an HR Advisor to a Mumbai based NGO for the intellectually challenged-Jai Vakeel Foundation. A fitness enthusiast, Enma lays emphasis on maintaining a healthy diet and exercise. She loves to travel with her husband to gain experiences and has travelled across India and the world. Doing an African Safari was most memorable "Watching a Lion bask in the sun was an amazing sight, though the lionesses do all the work,"she says with a smile. Enma is also a qualified Scuba diver and has dived to a depth of over 60 feet.

"Now that both my sons are studying at University in the US & Canada,I have a lot more time to read and listen to music". The book,'Atlas Shrugged' by Ayn Rand,which talks about entrepreneurs, when pushed too hard, walk away from it all is a favourite with her as is the movie 'The Secretariat' where in a dedicated mother and wife decides to follow through on her belief in a race horse and despite all the naysayers, chases her dream to success."Don't give up on your dreams, chase them," says Enma,adding "and find someone who pushes you".