Geosys India Infrastructures: Faring Construction Arena With Exemplary Geosynthetics Solutions & Services For Infrastructure Industry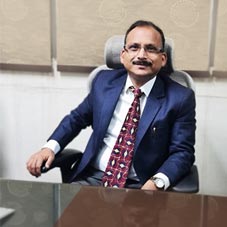 What's the recipe for an ingenious infrastructure? Generally speaking, the answer exclusively depends on who you seek from. Best averred, it's an integrated system of the planning of facilities, while implicitly recognizing the close relationship between design and construction. Some may think design retains a great deal in construction, but rationally, alike effectuating innovation where design acts as the propeller, materials act as the thrust in the construction of infrastructures.
There are many construction and infrastructure companies that will claim to build an accrediting infrastructure, and maybe they do. Albeit, it's easier said and get done especially through 3D models or sketches on drawing boards. Supposedly, very few hold an eye for efficacious construction of infrastructures, operational and consequential processing idea. Hereby, impeccably perpetrating such a critical high stake construction & infrastructure project, catapulting an economical yet noble approach calls for illustrious dexterity.
GeoSys India Infrastructures, well diversified ISO certified infra organization and one of the leading Indian companies who has been offering design & construction of Reinforced Earth Walls, Slope protection solutions, other related structural works, innovative Geosynthetic applications and manufacturers of SuperbGridTM brand Geogrids. It's one of the select few, fully integrated virtuoso player offering many such specialized applications to construction and infrastructure industry with an unerring clench.
Been associated with many landmark - Airport & Highway, and Flyovers & Bridges projects for RE Walls and other related geosynthetic applications, this Noida-based company needs no introduction. It stands differentiated, led by its promoter, Rajeev Agarwal (Managing Director), a Civil Engineer by qualification. Having spent his early 10 years working with various MNCs into construction sector, Rajeev was quick enough to foresee the immense business potential in the evolving infrastructure sector, way back in 2005. He and his equally competent team are the brain behind this Geoinfra organization, GeoSys India.
A Leader Steeling the Construction
Core competency of GeoSys India Infrastructures is their commitment towards quality and customer service. Providing geosynthetic based economical construction alternatives is the area in which GeoSys specializes, along with the other construction services. Leveraging technical services and onsite customer support to their Pan India projects, through a trained
and dedicated in–house design and execution team is the forte of GeoSys for last fifteen years now and counting.
GeoSys is one stop solution for design, consultancy, material supply, site supervision, turnkey execution of reinforced soil retaining walls, ground improvement solutions, soil stabilization & consolidation, and other civil engineering structures. Owning a major component of highways and Expressways road projects, the company has got its exclusive state-of art-ISO certified Geogrid Manufacturing plant located at UPSIDC Industrial Area, Sikandrabad, near Greater NOIDA, Uttar Pradesh. The manufacturing plant is equipped with most modern testing facility, wherein each product lot is tested before packing to ensure right product quality. Each roll has a bar code marking to indentify the product production data, incase required after delivery.
Geosys has successfully completed the construction of three river bridges for government of madhya pradesh, and is further in the process of acquiring more such government projects through direct bidding
It started the manufacturing of superior quality PVC coated high tenacity polyester geogrids - SuperbGridTM, as a backward integration and with an intent to ensure the availability of world class geogrids. SuperbGridTM is manufactured on a fully automatic German plant from Dornier and Ontec - German world leaders in geogrid manufacturing plant. SuperbGridTM is manufactured from the best quality raw materials from companies like Reliance Industries Ltd. and SRF. The entire online process of manufacturing SuperbGridTM is computerized and is monitored at various production stages to provide a zero defect product to the customer.
SuperbGridTM is a superior engineered product specially designed for soil reinforcement applications. It has certain industry first features as mentioned below:
• Higher rib width to achieve higher friction between the grid and fill material & to ensure better grid soil interaction.
• Higher Junction Strength.
• Color coding to indentify SuperbGridTM grade after fixing.
• Lower elongation.
In addition, GeoSys also manufactures other required components of Reinforced Earth walls like EPDM Pads & galvanized steel connections, in-house under strict quality checks. In fact it's one of the very few companies in India that provides turnkeyey services of design, drawing and construction of Reinforced Earth walls besides being a Geogrid manufacturer.
"GeoSys in its recent years has also diversified into construction of bridges, ROB's, and Flyovers by directly bidding for Government Infrastructure projects. It has successfully completed the construction of three river bridges for Government of Madhya Pradesh,
and is further in the process of acquiring more such government projects through direct bidding", says Rajeev. Being a proud company in the space, GeoSys entails a prestigious list of clients, few of which are LnT, APCO Infratech, Ashoka Buildcon, Dilip Buildcon, Welspun Enterprises, Nagarjuna Construction Company, PNC Infratech, GHV, MEP, OSEPL, Govt. of Madhya Pradesh, MPRRDA, CIDCO, and similar others.

Innovation is the Rule of the Game
Rajeev says, "At Geosys we have realized that innovation is a part & parcel and major growth strategy of our organization. To deliver a better performing product we keep innovating with various design concepts & structures, using new products, technologies and improved type of raw materials". One of the major innovations, in Geogrid manufacturing is the special color-coding of SuperbGridTM that helps in identifying the SuperbGridTM grade even after the material is cut from the roll and installed at site. Enabling the company in checking of grids even after the installation, it thereby helps in omitting the possibility of installation error.

GeoSys - Rooting for Future with Caution
Inevitably, impelled by the government's spending towards infrastructure, especially after the application Indian Union Budget 2019, the construction sector has seen robust transformations with large order inflows over the last few years. However, it was in early 2000, history might record, that unlike other sectors, construction industry stagnated entirely. As the world reeled from the COVID-19 pandemic and our outdoor life abruptly contracted with the lockdown, with the pervasive fear of infection and out laid norms of social distancing, construction and infrastructure coherently took a hit, but with stabilization in the second quarter resumed functioning. Likewise, GeoSys too aims for business growth coping up with these hard times.

"Geosys is one stop solution for design, consultancy, material supply, site supervision, turnkey execution of reinforced soil retaining walls, ground improvement solutions, soil stabilization & consolidation, and other civil engineering structures"

Furthermore, GIIPL intends to continue the strategy of innovation and diversification of its portfolio of products and services in Geosynthetics, Infrastructure construction and manufacturing space to cater to a larger set of construction clients – be it Major Infrastructure players or Government projects.

Quick Facts:
• Managing Director – Mr. Rajeev Agarwal
• Inception Year: 2005
• Headquarter: Noida
• Geographic Presence – PAN India
• Manufacturing Facilities: UPSIDC Industrial Area, Sikandrabad, Nr. Greater Noida
• Products & Services: GEOSYS Wall System™, SuperbGrid™, SuperbDrain™, Design, Consultancy & Turn Key execution for RE Walls, Material supply, Site supervision, Ground Improvement solutions, Soil stabilization & consolidation, construction of river bridges, ROB's and other geosynthetics & Infra related products & services.