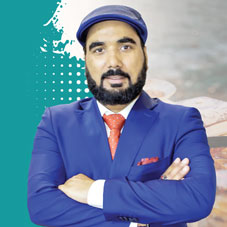 Spices are an important part of Indian cuisine, and as such, when Indians travel to other countries, they tend to greatly miss their favorite foods because it is difficult to get the same flavors and tastes in distant nations. Through The Royal India Restaurant, Jagjit Singh is one of the few Indians living in other countries who have worked hard to bring the flavor of home-cooked Indian cuisine to those who are far from home. Jagjit, an entrepreneur who overcame countless challenges before achieving success has managed to bring traditional Indian cuisine to South Africa.
As a young man, he grew up in a village called Cholang, District Jalandhar Punjab in India. He arrived in South Africa during the Cricket World Cup of 2003. Even though he was greatly fascinated by the beauty of the South African coastline, his main challenge was that he did not know anyone in his newfound land. His adventurous journey to South Africa was anchored on his deep faith in God, his self-confidence, and family blessings. Jagjit is very grateful to his mother Bachan Kaur, his father Sardar Sohan Singh, his elder brothers Amandeep Singh and Paramjit Singh as well as his elder sister, Parveen Klair. His family has been his pillar of strength during tough times.
Jagjit is an inspiration to many professionals and a source of motivation to people with low self-esteem and a pillar of strength to those going through some challenges in life. Despite a rough start to his professional journey in South Africa, through persistence, he has managed to become one of the country's high-flying entrepreneurs. With 18years of experience in the hospitality industry, he rose through the ranks starting as a waiter until he finally established his own business - The Royal India Group.
In an exclusive interview with CEO Insights, Jagjit spoke about his career journey in South Africa, highlighting the obstacles that he faced at every turn, and how persistence and hard work eventually paid him off.
You have close to two decades of experience in the South African Hospitality industry and have built an outstanding, well-respected reputation. How did this journey begin? What have been the most significant take aways from this journey?
My journey began in 2003 when I was supposed to fly to Ireland for my higher studies after finishing my Engineering degree in India. However, there were several setbacks along the way. A few of my friends advised that I should consider going to South Africa. When we finally arrived in South Africa, the reality was far more difficult than I had anticipated because of so many challenges that we faced including the failure to grasp both the local culture and the business dynamics.
These challenges are what prompted my switch from engineering to Hospitality, after a grueling search that spanned many days. This career change was not easy to accept for both me and those around me. Many people didn't understand why an engineer would get into the hospitality industry. Initially, we were a group of 15 individuals when we moved to South Africa, but many of them opted to return to India after experiencing hardship. However, my elder brother Amandeep Singh encouraged me to not give up but
rather fight with the fear of the unknown future. I started as a waiter in an Indian restaurant, and I was later promoted to a higher position within six months, after which I started to get more opportunities as time went on.
In the first days, we were exploited since we were still new in South Africa, so we decided to try our chances in Europe, especially in England and Ireland. Unfortunately, we fell victim to fraudulent travel agencies, and we lost all our money. We were left with no choice but to remain in South Africa. After a year of hard effort, I was able to get a managerial position with a well-renowned hospitality business. As time went on, I established myself as an outstanding figure because of my outgoing personality and ability to handle many people daily. After a nine-yearcareer in the hospitality industry in various capacities and a wealth of knowledge that I gained, I set out on my own in 2013.
The Royal India Group is truly a unique and well-known brand among the majority of Indians in the rainbow nation of South Africa
How would you define The Royal India Group as an organization? What makes it unique, and what factors contributed to its success?
The Royal India Group is a truly unique and well-known brand to the Indian community in this rainbow nation of South Africa. As a business, we always strive to make people feel at home when they come to our restaurant, and we always make sure that they enjoy our dishes. If you are looking for a place that prioritizes quality, The Royal India Group is the perfect home for you. We pride ourselves on the expertise of our team, the majority of whom have worked in the hospitality sector for many years.
One of our greatest strengths at The Royal India Restaurant is the way we prepare our dishes and the type of spices that we use. Other restaurants take shortcuts since they buy prepared spices and toss them into meals to replicate Indian cuisine. At The Royal India Restaurant, all our chefs are from India, and they have worked in India's most renowned restaurants. Most of the spices that we use are prepared by our team, from whole spices to powder. Everything we serve is created from scratch so that our customers can experience the distinct flavor of Indian food in every bite.
On various occasions, people have publicly acknowledged, and celebrated you with some calling you their' Punjab Boy'. For example, on your birthday, Veteran South African freedom fighter, politician, psychologist, and academic, Dr. Seth Cooper described you as a 'selfless member of the human family'. Mr. Sonny Pillay, Karate South Africa President said you have 'a heart of gold' while Interpol Ambassador, Mr. Andy Mashaile, called you a 'General'.
What is your take on this love that people from all walks of life show you every day? How do you define the changes you brought to the hospitality industry and South Africa?
I believe that as you succeed in business and life, you need to participate in the country's social-economic activities so that you can make a difference in people's lives. Even when I was still struggling, I tended to assist others and bring out the best in them. Whenever someone asks for assistance, I find it difficult to say no. For example, most South Africans, have business aspirations but lack the financial backing from their families and the government. As such, through The Royal India Restaurant, I strive to provide a platform where such people can also get some assistance where necessary. I am also involved in several charity initiatives in partnership with some
South African police departments that assist charitable organizations. As a volunteer, through The Royal India Restaurant,I have also trained individuals who couldn't otherwise afford to attend a catering school or a hospitality college. We provide them with free access to our work spaces and allow them to work along side our expert teams while getting work experience. Through these initiatives,

I have discovered that when you provide such a platform to individuals who cannot afford it, people will appreciate and celebrate you. As you help people behind the scenes, you may have no idea that such noble acts are being noticed. For example, the African Heritage Society decided to proclaim my birthday, the 4th of April as the JJ Singh Appreciation Day to be celebrated every year, and it's a huge blessing for me.

The appreciation is in recognition of my role in helping to define and shape the personality and character of the kind of contribution that business actors should make in addressing the triple challenges of poverty, unemployment, and inequality.

I was touched and encouraged by the heart-warming words that people including Dr. Seth Cooper, Andy Mashile, Hanshi Pillay, Mr. Mutumwa Mawere, and my late best friend Mr. Bongani Sibeko spoke about me on that day acknowledging my input and contribution to the community.

Tell us about your leadership approach. What are the principles that you are guided by? What is your success mantra?
My success mantra is - being a problem solver opens many doors in your life. I also believe that it is important for you to be the best candidate at the right time in the perfect situation. This on its own can guarantee you an increase in income and growth in your career and life. I have learned to focus more on the roots than on the fruits.Honesty and straightforwardness are also at the core of my beliefs.

You have a diversified business portfolio, including being one of the most recognized diamond merchants in the country. What's your future roadmap as a serial entrepreneur?
During the lockdown, we were pondering on what to do to stay afloat financially, and thus we managed to apply for and get a diamond license. We saw that when Covid-19 occurred, every business suffered a tremendous setback and yet the diamond industry thrived. Diamond prices tripled or even quadrupled during lockdown compared to pre-lockdown levels. A new perspective on portfolio diversification as part of our post-Corona strategy was provided by those eye-opening experiences. As a result, we focused on establishing a commercial hub in both Europe and India. As licensed importers and exporters of raw diamonds, we are working on establishing relationships with those that have cutting and polishing facilities. We are also establishing a diamond fund as an alternative investment plan for consumers who want to invest money in diamonds and gold since these are commodities that do not lose value.

Besides the hospitality and diamond business, we are also into wholesale petroleum operations through our company called Amarula Energy Solutions Pty Ltd. We have a well-defined strategy for expanding our businesses rapidly.

Jagjit Singh, Founder & CEO, The Royal India Group
Jagjit Singh graduated in Sangeet Bhushan from Prachin Kala Kendra Chandigarh as Tabla Player. He also holds a Diploma in Electronics & Communication Engineering from SBCMS Pollytecnic Mukerian, Punjab. When Jagjit moved to South Africa, he decided to make a career change and started working in the hospitality industry. Throughout his career, he has worked for a variety of hospitality organizations before establishing The Royal India Group.