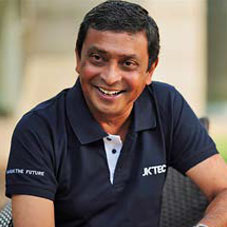 In today's competitive job market, companies need to go above and beyond to create an environment where employees feel valued, challenged, and supported. Committed to creating a work culture that promotes employee well-being, growth, and development, JK Tech fosters a friendly and inclusive work environment where employees are encouraged to express their ideas and work collaboratively to achieve common goals. With a focus on employee satisfaction and growth, JK Tech has become one of the best workplaces.
In response to receiving the title of Best Place to Work, Samiran Chatterjee, Global Head, Talent Management & Operations, JK Tech, states "JK Tech has been highly valued by its employees and is delighted to receive the title of BEST PLACE TO WORK. Our 4+ rating on Glassdoor is a testament to our endeavor of fostering collaboration, innovation, and a shared sense of purpose in the team. When employees feel valued, supported, and empowered, they not only perform better but also stay committed to the company's goals. Our flat organizational structure with no hierarchy has been instrumental in promoting transparency, trust, and open communication.JK Tech prioritizes employee well being that inspires everyone to contribute their best."
Let's hear more about the company from Aloke Paskar, President & CEO of JK Tech.
How has JK Tech been able to maintain its position in the technology industry thus far, and what are the values that drive it?
As technology companies continue to grow and evolve, JK Tech has set itself apart by offering niche solutions and leveraging its business expertise. The company's commitment to quality, innovation, and inclusivity, as well as its 'inch wide and mile deep approach', which focuses on specific industries, but with extensive knowledge ineach, has helped it stand out. JK Tech specializes in Hyper automation, Data and Analytics serving the Healthcare, Retail &CPG, and Insurance industries.
JK Techs core philosophy is 'Customer Centricity', which is demonstrated by its 80 percent
customer retention rate. The company believes that a diverse workforce is essential to meet the diverse needs of its customers and achieve extraordinary things. The organization encourages employees to learn, grow, and excel, celebrating diversity to bring out the best in everyone.
JK TECH values its employees as assets and believes in its unique care framework that centers on customer-centricity, account ability, respect for others, and employee empowerment
What makes JK Tech's diverse product portfolio suitable for both domestic and global markets, and why do clients choose the company?
JK Tech's extensive domain expertise, built over time by working with Fortune 500 customers across North America and Europe, is a significant factor. The company's focus on Hyper automation and Data Analytics helps clients adopt technologies and processes in the right manner to improve their operations and stay ahead of the competition. JK Tech's niche solutions across Modernization and Hyper automation leveraging Data Transformation help improve performance and create lasting value across enterprises.
Can you provide information about the level of exposure that your company gives to its employees? Could you explain the unique work culture of JK Tech?
JK Tech values its employees as assets and believes in its unique CARE framework that centers on customer centricity, account ability, respect for others, and employee empowerment. This approach empowers employees to redefine their relationships with their careers and to build robust identities beyond their jobs. Recently, we revamped our offices to create positive, inclusive, and comfortable workspaces that make our people happy about coming to work.
At JK Tech, we recognize that our people make the company unique and enable us to serve our clients and communities better. We offer flexible and hybrid work structures that enable employees to work comfortably without worrying about strict schedules. We provide regular knowledge and functional training sessions, fitness and mindfulness programs and fun activities to maintain a healthy and positive lifestyle. Additionally, JK Tech TRIBES are groups formed among employees with similar interests to maintain a healthy work life balance.
Furthermore we are committed to
increasing the number of women in tech and have taken steps to hire more women in technical roles to increase diversity.

What are the unique features of your company's HR policy? How does the company support employee growth and recognition?
JK Tech's HR policy is distinguished by our hybrid work environment, emphasis on work-life balance, annual performance evaluations, and reskilling/upskilling programs. As a company that values its employees, we foster a friendly culture that encourages individuals to express their ideas openly. Our team is dedicated to developing strategies that enhance customer satisfaction, and we are proud of our commitment to welcoming fresh ideas and talent.Our culture promotes innovation and supports employee skill development through training, mentorship, and other professional development opportunities. We also reward outstanding performance through bonuses, promotions, and public recognition. Our learning culture is reinforced through training and development programs, attendance at industry events, experimentation with new ideas, and knowledge sharing sessions. By fostering a culture of continuous learning and collaboration, JK Tech can gain valuable insights from the market and provide innovative solutions to our clients.

How do you recognize top talents and reward great performances within the organization?
JK Tech looks for candidates who are driven, innovative, and committed to providing an exceptional experience. Candidates should have a passion for learning and personal growth, with a team-oriented attitude and excellent communication skills. Adaptability, flexibility, and problem-solving abilities are also essential in a dynamic work environment.

The company also values strong work ethics, including accountability, professionalism, and integrity, as well as technical expertise and creative thinking.Diversity and inclusion are critical, and candidates with unique experiences and perspectives are highly desirable.

We recognize and reward exceptional performance through various programs and incentives, including bonuses, promotions, and public recognition. The company places a high value on top talent and provides opportunities for career growth and advancement.

Aloke Paskar President & CEO, JK Tech
Aloke Paskar carries an indepth understanding of the IT business and landscape with nearly 40 years of experience in P&L management, business operations, business transformation, and global delivery management across the US, UK, Europe, and North America.