Lakshmi Annapurna Chintaluri: A Multi Award-Winning Accomplished Educator Transforming The Educational Ecosystem In India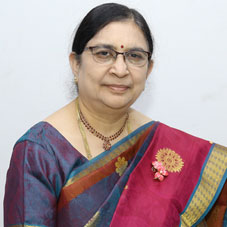 As an educator, Lakshmi Annapurna Chintaluri has held various leadership positions across organizations, starting her career as a teacher, and over the years, she has found tremendous success in building institutions and transforming schools in India and the Middle East. Certified in Advanced Educational Leadership from Harvard University, Lakshmi has authored books, presented papers & presentations, and has published numerous articles and blogs over the years. She has also written modules for the School Leadership Academy, SCERT of Telangana about Teaching, Learning, and Leadership.
In an exclusive interview with CEO Insights, Lakshmi discusses EMI as an organization and its position in the market, her leadership approach, and much more.
Give us a brief account of your professional background and experiences. What is the motivation that fuels your daily routines?
In my 30-year journey in the education field, I have been in various leadership positions for almost 27 years. I began my career as a teacher and a successful entrepreneur with NIIT in India. Taking the learnings forward,I slotted seamlessly into the role of the Academic Supervisor/ Coordinator (Vice Principal) in Saudi Arabia attached to Cambridge University, leading the core team that took the school to new heights in terms of transformation. Later, I worked in an Indian School in the UAE, affiliated with CBSE, where I had started as Vice Principal since its inception and continued to serve as the Principal.
I am fortunate to have interacted with children from diverse geographies, which has helped me gain insights into their various perspectives. My experiences with students of varied abilities have kindled a desire in me to make inclusive education at every level a part of my ethos. My vision is to see our students pursue the goals of
their choice with confidence and responsibility.
Swami Vivekananda's quote says, "Believe in yourself and the world will be at your feet. Take risks in Life, if you win, you will lead, if you lose, you can guide". This quote has been the driving force behind my endeavors which has given me the courage to move out of my comfort zone and take up challenging tasks which has enabled me to reach where I am today.
Success will be at your feet when you work with passion & devotion without any expectations
Define Educational Mentoring India as an organization and its position in the market.
We at Educational Mentoring India are a group of highly qualified, trained, and seasoned professionals dedicated solely to empowering all the stakeholders in a school's ecosystem, including principals, teachers, parents, and school owners of K12 schools in PAN India.
We understand the pulse and the soul of the education ecosystem. As pioneers in this field, our extensive experience helps us identify the gaps and provide need-based solutions, such as Teacher Training, Leadership Training, Whole School Transformation, Curriculum Development, and School Audits/Reviews, to K12 schools. We have also set up specialized councils, such as Special Education, Psychological & Career Counseling, Parental Orientation, Preschool Curriculum & its establishment, Edusports, and many more, to provide holistic services to schools in these fields.
Tell us about your leadership approach. What are some of the toughest challenges you have encountered in your journey so far and how did you overcome them?
As a leader, I believe that one should lead by example. I have followed this principle throughout my whole journey as an educator, which has worked wonders not just for the teachers but also for the students, many of whom consider me their role model to date.
Some of the toughest challenges I have faced as an educator have been handling teachers who resist change and refuse to move out of their comfort zone to accept challenging tasks. I have been able to mitigate these by citing some of
the people and companies going extinct today as they refused to move with the times and accept change.

What is the future destination you are heading towards?
As an educator in the K-12 sector, I believe in empowering the youth and young childrenby involving them in conversations about vulnerabilities and global issues while exposing them to real world problems, which helps kindle their spirit to innovative solutions and ideas for behavioral change in the communities to save the planet at large.

In this respect, I have endeavored to involve the students in projects about climate change and get them to interact with students from almost 70 countries, where they interact, both bilaterally and trilaterally, across continents virtually. This helps them identify the similarities and dissimilarities and then do research. Finally, they accompany me to the COP every year, where they synthesize their work as a white paper and present it to the UNFCCC every year. So far, I have involved almost 25000 students in this project with a future goal to reach at least 100,000 students in the next couple of years.

I have also been invited to the UN ESCAP and to the UN-Water conference held in March 2023 as a speaker to put forth the various initiatives taken up by my students in this field.

Lakshmi Annapurna Chintaluri, Co-Founder & Director, Educational Mentoring India
Using her extensive experience of over 30 years in the education sector, Lakshmi Annapurna Chintaluri has been guiding the organization to provide high-quality tailor-made solutions to K12 schools PAN India as a one stop solution provider

•Hobbies: Reading, Music
•Favorite Cuisine: Indian
•Favorite Book: Gone with the Wind by Margaret Mitchell & The Fountainhead by Ayn Rand
•Favorite Travel Destination:
Switzerland

•Awards & Recognition:
International Education Award 2018 by Inkedumedia
National Education Award 2018 Bett Asia Award for Collaboration in March 2019.
Top Women Entrepreneurship in School Education by World Education Summit 2020
Dr. Sarvepalli Radhakrishnan Teacher's
Excellence Award" on Teacher's Day 2020