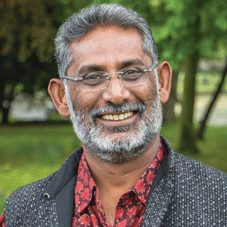 In the current era, the continuous use of chemicals & toxic elements, resulting in low-quality food, health, and personal care products with a harmful impact on human health, has steered people to find an alternative solution that is natural and healthy. Due to this, organic products are witnessing great demand globally, and the scenario is no different in India. The organic products market in India has been growing at a CAGR of 25 percent and is expected to touch Rs.12,000 crore by 2020 from the current market size of Rs.4,000 crore, according to a report produced by ASSOCHAM.
Contributing to this growth while offering organic products of world-class quality to the global market is Last Forest Enterprises a Kotagiri based wild forest produce and an organic farming company. Under the headship of Mathew John (Founder & Director), Last Forest is credited as the pioneer of organic and fair trade producers in the Nilgiri Biosphere Reserve (NBR), the first in India designated by UNESCO. Apart from that, the firm is also renowned for its dedication towards preserving, conserving and nurturing the environment while providing livelihoods and training in sustainable harvesting and organic agriculture not only in the NBR, but along the Eastern & Western Ghats of the country. Last Forest has been a boon to the local farmers and craftspeople, giving them a chance of employment, showcase their skills and get good returns. Talking to CEO Insights, Mathew shares in detail about the company, its offerings, and future plans.
Tell us more about Last Forest and also explain how your organization is different from other industry players?
Last Forest is a company that is clearly into social business and we are very much dedicated towards the vision of contributing to social
welfare and not to profit entirely. We are basically a driver of change in the present world where most of the businesses are driven by profits. Yes, we do focus on profit also; however, the impact on the community and customers holds an equal if not more importance for us. We strive hard to garner, nurture and conserve indigenous communities small farmers, and social groups. The effort is constantly to improve the quality of life for all involved in this value chain. In a nutshell, our endeavour is to produce the best quality organic, natural and fair trade products while providing employment and livelihood support to the indigenous communities.
Our endeavour is to produce the best quality organic, natural and fair trade products while providing employment and livelihood support to the indigenous communities
What are the products that you offer? From where & how are they procured and processed?
Kotagiri and its environs is home to a wide variety of flora and fauna and also houses a rich reserve of natural resources. We work with indigenous communities of NBR to produce artisanal, handcrafted and authentic products out of local resources, and this is the only process that is being carried-out since 2010(inception year). Today, the array of products that we produce & provide includes honey products, gourmet products, personal care products, handicraft items, garments, and books.
However, if I have to consider just one product as the flagship, then I would say that honey is what people look for the most, but other categories are not far behind. The honey is procured is from the wild forests and not collected from boxes that people normally expect from the beekeepers. We also procure bee wax from the honeycombs and use it to make a variety of lip-balms, balms, and handmade soaps. Alongside, we also produce spices, oils, candy, solid perfume and more. All these value-added items are made by women in production centres that are built in the villages within the forest.
How do you ensure the quality of your products?
We have a whole set of quality metrics. Although there is a stringent quality check process done at the head office in Kotagiri, we also opt for third-party quality check in order to ensure that the products comply with statutory compliances.

Throw some light on your pricing and delivery model.
We start from the pricing that the producer provides us with, and from there, we build the whole pricing model. It is very fair not only to the producer, but also to the customer. Talking about our delivery model, Last Forest has created a huge network of outlets across the country, including our three retail shops in Kotagiri, Ooty, and Coonoor. There is a dedicated marketing team that works with over 100 stores across the country supplying to them in wholesale quantities. Apart from that, we sell through our own website and have partnered with e-Commerce websites as well. Buyers can easily buy our products from Amazon, Flipkart, Nykaa, Karnival, and other e-Commerce platforms.

Are you coming-up with new products to expand your current product portfolio?
Our focus will be on continuing to work on honey and wax products, and the portfolio expansion will happen around these two segments. We are working on the process of developing new products by infusing herbs and spices with honey. We are also working on introducing new products like face wash, lotion and more, centred on bee wax. Presently, similar products in the market use a large amount of input as chemicals, and we have stayed out of that. We ensure that each and every ingredient that we use in our product is natural and hence not harmful for any application.

Key Management:
Mathew John, Founder & Director
A leader with strong vision, Mathew belongs to a background of administration and finance for rural development organisations and field projects. He is well known for his active interest in enterprise development and organic certification for small growers and harvesters.

Office: Kotagiri

Offerings: Honey, Personal Care, Toda Embroidery and more