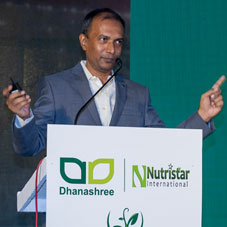 In the realm of agriculture, there exists a cohort of distinguished leaders who exemplify a steadfast commitment to providing safe solutions for the environment while also fostering the economic prosperity of farmers. These visionary individuals recognize the paramount importance of sustainable practices in preserving our ecosystem's health. Mahesh Damodare is a seasoned professional and the Founding Partner at Dhanashree Crop Solutions, a firm that specializes in providing world leading plant nutrition solutions to horticulturists, landscape professionals, nurserymen, and flori culturists.
Mahesh holds an MS in Manufacturing Systems Engineering from Stanford University, which he earned between 1995 and 1997. Prior to that, he completed a PGDIE in Industrial Engineering at the National Institute of Industrial Engineering and a BE in Mechanical Engineering from COEP Technological University. His expertise spans manufacturing operations, supply chain management, and software product and program management, particularly in the realm of enterprise level supply chain software.
Engaging in an idiosyncratic interaction with CEO Insights, Mahesh shares the imperious details of his professional journey, his leadership approach, and his vision for Dhanashree Crop Solutions. Let's hear it from him.
Could you define Dhanashree Crop Solutions as an organization and its position in the market?
Dhanashree Crop Solutions, established in 2007, has become a renowned importer, manufacturer, and wholesaler of Crop Fertilizers and Specialty Nutrients. Our premium quality products, including Controlled Release Fertilizers and Plant Nutrients, sometimes command prices significantly higher than market alternatives. We address farmers' pain points with tailored solutions that optimize their profits. Our dedicated agronomists forge trusted relationships, offering expert guidance to enhance crop yields, improve product quality, and secure favorable rates. By consistently delivering value and establishing ourselves as a reliable
brand, we have gained recognition and trust in the market.
Tell us about your academic experience at Stanford University. At what times have you found these learnings beneficial in your journey so far?
Stanford's academic excellence speaks volumes, with esteemed professors, world-class facilities, and renowned rankings. Collaborating with exceptional peers in a stimulating environment fueled my growth. As a student of manufacturing systems engineering, a fusion of mechanical and industrial engineering, I embraced design thinking and absorbed Stanford's startup culture. Armed with my academic foundation in supply chain and manufacturing management, I fearlessly pursued calculated risks to drive our business forward. Today, we proudly stand as the largest importers of our European partners in India. Stanford's influential ecosystem and rigorous education have been instrumental in shaping our accomplishments.
At Dhanashree Crop Solutions, we strive to create a harmonious balance between productivity & environmental stewardship, ensuring that every bite we take is a step towards a healthier & more sustainable future
As the Founder & Partner, what are the factors you take into account when developing effective corporate growth strategies?
Surprisingly, our company has never had a dedicated product management team. Instead, we rely on our farmers to fulfill that role. By closely listening to their needs, we integrate their feedback into our product portfolio, placing customer-centricity at the core. When developing growth strategies, we prioritize understanding the market and identifying untapped geographies. However, creating demand alone is insufficient. We focus on delivering high-quality products and exceptional service to farmers, ensuring their success. Through organic growth, we assign dedicated agronomists to specific regions, supported by local dealerships. By aligning demand, supply, and service, we foster natural company growth and provide optimal support to our valued farmers.
Tell us about your team of Agronomists. How do you guide them to help growers to improve their yield and quality in the fields?
When interviewing prospective employees in the field, I emphasize the importance of building their personal brand. They must strive to be the farmer's first point of contact and establish themselves as a trusted friend, philosopher, and guide. By nurturing this relationship, the farmer will naturally seek their advice without any need for false recommendations solely for the sake of making a sale.

Additionally, we provide training on various crops and troubleshooting techniques and this ensures consistency in recommendations across all team members. We believe in empowering our agronomists and granting them the freedom to excel in their roles. Through training and support we enable them to become the farmer's closest ally and our approach fosters a strong bond between agronomists and farmers, built on trust, expertise, and mutual respect.

Where do you see yourself headed in the upcoming years? What is your future roadmap?
We piloted a digitization project to improve farmer interactions, transitioning from Excel sheets to a software application. Leveraging technology, we aim to scale effectively and provide farmers with timely support through personalized visits or SMS/ mobile app communication. By gaining insights into harvest readiness, we can market produce and establish profitable connections. Strengthening existing relationships, expanding our reach, and improving services are our priorities and our ultimate goal is to increase farmers' profits while automating recommendations for efficiency. We are committed to ensuring the production of safe food with minimal pesticide residues for both domestic and export markets.

Mahesh Damodare, Founder & Partner, Dhanashree Crop Solutions
As the Founder and Partner of Dhanashree Crop Solutions Mahesh Damodare, and his team actively engage in grassroots demand generation activities to promote plant nutrients and other agri products in the Indian agricultural sector. For the past 15 years, Mahesh has focused on marketing and supply chain management of agricultural inputs and his diverse background and expertise contribute to his success in driving effective marketing and supply chain strategies in the agri input industry.

Favorite Hobbies- Practicing Yoga, Travelling, Cooking
Favorite Cuisine- Anything Vegetarian
Favorite Travel Destination- Kashmir
Favorite Book-The Four Agreements by Don Miguel Ruiz, Buddha by Karen Armstrong
Awards and Recognitions- Top 50 Rural Marketing Professionals of India