With the influx in technology enabled advancements impacting our economy and society, businesses currently have no choice other than embracing these advancements and moulding their operations accordingly. In fact, the ability to optimally deploy and integrate IT & ITeS enabled resources across both their operational and management strategies is what most businesses are endeavouring to procure! Answering all of the above demands of its clients is Megamax Services Pvt. Ltd., a global IT solutions provider with prime accent on IT Infrastructure setup & support and IT Infrastructure Management Services (IMS). Megamax ensures to provide its clients the right edge in the market by establishing their world class IT infrastructure and managing it with minimum resources. Thanks to its young team of professionals with the perfect zeal and innovation-driven approach, the firm has been engraving a tangible difference in escalating customers' business efficiency and impact since its inception in 2015.

In conversation with us, Rajesh Kumar Singh (CEO, Megamax Services) shares his company's forte in delivering enterprise software and services. Below are the snippets!

Brief us about the excellence of Megamax Services.

We transformed from being a sole proprietorship business to a Private Limited company in 2015 to cater to multiple Government, private, domestic as well as global organizations round the clock. Helping us serve such diverse set of clienteles is our globally equipped team of technology & solution architects that always delivers the best by leveraging their past experiences. As a young and driven startup committed to realizing the vision of 'Make in India', we are certain that the zeal and innovation-driven approach of our young team can make a tangible difference in augmenting customer business efficiency and impact. This has helped us cement a strong relationship with our global clients and earn their trust.
Achieving this wasn't an easy feat. It required deep understanding of client's requirements, exploiting the right technology, continuously improving the processes, developing skills in-house and above all, keeping our team always motivated. This strengthened our very foundation in the past four years and helped augment our base with reputed global clients such as CEVA Logistics and other UK & Europe based firms. Currently, we look to serve domestic clients BFSI sector that use iSeries, Mainframe and other high-end technologies.

Your company offers world-class IT solutions as well as superior service. How are you able to seamlessly manage and accomplish this?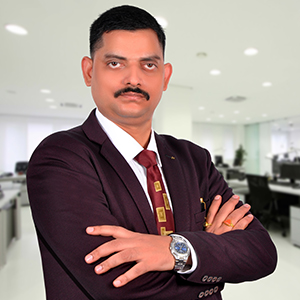 By maintaining the quality through continual improvement, we maintain and offer effective, comprehensive services and solutions to our clients at competitive prices
Our success mantra is to enable the client to gain success, which in turn will give us the right momentum for growth. In fact, the very soul of our company's culture resonates with our tagline 'Quality is an Attitude!'. Thus by maintaining the quality through continual improvement, we maintain and offer effective, comprehensive services and solutions to our clients at competitive prices and right on time, which is also our sole mission. We also have a depository of standard checklist and documentations that helps us to complete their projects with due quality and timeline.
Being clients' long-term strategic business partners, we deliver them excellence in IMS through our managed IT services, consulting & training services, infrastructure & technology solutions and services, and management consulting solutions. We basically deliver these services by firstly comprehending their requirements in terms of size, nature of business and existing business model. Moreover, it is through these services we are able to live our vision of building and/or managing the complex enterprise applications as well as data of our clients.
Megamax has given a new dimension to the world of customer support! Could you elaborate on this aspect?
Since most of our clients are major global players in logistics, we ought to provide them real-time support with critical SLA, round the clock. We take immense pride in stating that we have achieved 100 percent SLA and 100 percent system uptime
(excluding pre-approved downtime for business maintenance) every month for our clients. This means high customer satisfaction and thus customer retention. In fact, they are always happy to share with us their positive feedback which we further present to our new customers.

How do we achieve it? We review the customer process, policies, and business requirements and then we modify or upgrade or suggest them to go for new technology or new process or new service which can help their business grow. That's how we integrate ourselves with the customers and as a part of their organization to improve their business.

What current innovations will shape Megamax' future?

Being a customer-driven firm, our stark focus is on constantly upgrading our existing processes (business development team) and methodology (solution architect team), in tune with global technological advancements. In fact, our Centre of Excellence is in direct connection with the technology vendors such as IBM, Amazon, Microsoft and others to ceaselessly upgrade our in-house skills, as we believe our employees are our assets. We also aspire to transform our clients' business journeys by integrating ourselves with their business frameworks. For instance, by suggesting our client, CEVA Logistics, to adapt to IBM's POWER9 technology, we were able to decrease their downtime (quarterly) from three hours to less than 15 minutes, which is indeed our biggest achievement.

By and large, our main focus for the future is to absorb the technological advancements and deliver transformation services to our clients. We will also be launching new products very soon through our JV with a UK-based company that is involved in aggressive marketing for our firm across Europe and UK.

Key Management:

Rajesh Kumar Singh, CEO

Besides deep-rooted expertise in high-end technologies like iSeries, Mainframe & others, Rajesh holds around 16 years of work experiences from Amway, IBM, HCL, and many other firms, poised across diverse industry verticals.

Office: Noida

Offerings:


Managed IT Services
Consulting & Training Services
Infrastructure & Technology Solutions & Services
Management Consulting Solutions