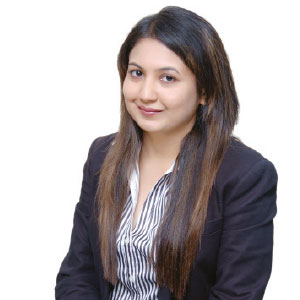 The young generation female entrepreneurs have proved themselves with their out-of-the-box thinking, leadership qualities, and execution styles. With rejuvenation in the entrepreneurial activities, they have indeed established a new norm by challenging the traditional, creativity-curbing job roles and following their dreams– either after their education or by quitting the luxuries of a cushy job. NiyatiRokani, Co-Founder, Beyond Sourcing – a specialist search firm focused on acquisition of talent in real estate, retail realty and infrastructure domains is yet another ideal example of such breed. After years of serving large enterprises as well as small & medium recruitment firms, Niyatisensed some thing missing in her life, and her people-oriented mind wanted freedom and practice her own styles of work, which in turn acted as a catalyst in embarking on her entrepreneurial journey. "Seeing the delight on the candidates face when they received the job offer gave me immense happiness & satisfaction, and that's when I knew this is what I want to do," avers Niyati.
A post graduate in Human Resource from the SNDT University, Niyati was born with the genes of an entrepreneur. What really unearthed her entrepreneurial spirit brimming just below the surface is her tenure as an intern at a small recruitment firm, where she learned all the tricks and various aspects of recruitment. Moreover, working with firms like Adecco India, Phoenix Mills, and Lodha Group, Niyati mastered the art of recruitment and networking. Being a creative soul, Niyati always pondered networking and empathy as crucial factors for building the business in the recruitment firm.
Pouring all her profound experiences and industry expertise into her company, Niyati moulded Beyond Sourcing as a firm reputed for delivering creative & innovative talent sourcing solutions, majorly to real estate industry. She attributes her grand success to her father and two siblings who encouraged & assisted her in shaping the company's success story. She integrates,"Looking at my work, it was my father who first planted the idea of opening my own firm. I was though too young then and not so sure about being able to carry it at the time".
Pouring all her profound experiences and industry expertise into her company, Niyati moulded Beyond Sourcing as a firm reputed for delivering creative & innovative talent sourcing solutions, majorly to real estate industry
Growing as a Visionary Entrepreneur
However, the transformation from an employee to being the founder has not been very facile for this young entrepreneur, as Niyati had to battle to acquire the trust of clients during the early phase of her entrepreneurial journey. Initially, majority of CEOs and directors hesitated in signing-up with her company because Niyati was too young and they were in adilemma whether she will be able to meet their expectations & requirements. Further, Niyati believes that limiting Beyond Sourcing to hire for real estate industry was the biggest risk that she had taken. However, her deep domain expertise (being on both sides of the table as client and consultant), dedication, hard work and continuous learning trait proofed to be the firepower and facilitated her to understand the pain points of the clients, identify & source the right talent for the desired position at the right time. To build the trust factor among clients, Niyati and her team of enthusiastic professionals make them selves available 24x7, and
with this determination and unmatched effort, Beyond Sourcing today works with some of the top brands in the real estate sector and is continuously increase its customer base.

A young enthusiastic entrepreneur, Niyati encourages the team to finish their daily work within office hours so that they have enough time with their families. She also ensures her team to maintain a healthy work life balance, and provides them enough leaves for festivals and holidays for their personal commitments. She also inspires every employee to thin out-of-the-box, share their ideas and explore new areas in their work, while keeping them engaged and motivated at the same time.

Family - The Backbone
Niyati considers her family as her backbone, who stood by her through thick and thin, serving as a spring board for her to grow profoundly. She says, "When I shared my thoughts with my entrepreneur brother about starting my own firm, he welcomed my idea and gave his commitment to support me". Being her own boss, Niyati loves to spend time with her family and ensures that she never misses any important event or festival in her personal life, even if that requires her to work late night. Highly inspired by Richard Carlson's book Don't Sweat the Small Stuff and it's All Small Stuff that gives perspective on life, perceived obstacles and empowers people with the mindset to stay calm in any situation, Niyati suggests the same to the budding entrepreneurs. As an enthusiastic learner, Niyati meets a lot of industry professionals, and reads & follows latest blogs to keep herself updated.

As we look at Niyati, we understand that women are the most powerful creation. Her enthusiasm, managing efficiencies, and living every bit of a woman's life will set examples for other entrepreneurs, irrespective of gender. Passing on her entrepreneurial advice to future entrepreneurs (especially women),she says,"There is never a right time, there will always be ups and down.The journey might be hard but it's not impossible. If you have dreamed it - do it! The future is waiting for the entrepreneur in you".