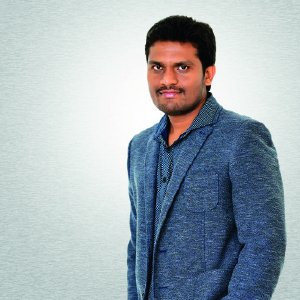 Vidyasagar Pattem,Founder& MD
Indian IT industry is searching for a new flag bearer. The $150 billion worth outsourcing industry is flooded with potential enterprises & startups. But most of them lack in-house infrastructure and pool of talented professionals required to build, test, and execute complex software applications.
It is time for new-age companies to take over and shape the future of Indian IT industry. Pattem Digital is a new breed of OPD and product development company which has rapidly grown to become the shining beacon of IT in India. The company leverages its power of purpose & the expertise of overcoming challenges to launch products & services for companies that envision having a meaningful impact in the world of tomorrow.
Pattem Digital under the aegis of Vidyasagar Pattem (Founder & Managing Director) builds, adheres to, and executes watertight strategic plans to give life to the on-boarded mission with an approach raised on five strong pillars - employee engagement, internal & external communication, innovation, end-to-end project management, and most importantly, its altruistic culture of taking the complete responsibility.
A multi-skilled post graduate(MBA), Vidyasagar has deep-rooted cross domain & functional expertise and matchless technology skills in possession, which helps Pattem Digital to maneuver cutting-edge technologies, while establishing smooth relationship with its clients. Its choicest offerings include Strategy (consulting), UX Research, Experience Design, UI Development, Mobile Apps, Technology (Node JS, PHP Development, Java Development, .Net Development, and SAP Solutions), AI & ML, Game Development, and IOT. In an interaction with CEO Insights, Vidyasagar elucidates how it looks from the inside of Pattem Digital.
In an industry which is flooded with outsourcing companies, what is the difference that Pattem Digital makes?
Being a close-knit team of passionate full-stack data scientists, data engineers, and app developers, we make a perfect partner to tackle challenges. We offer distinctive value through our creative solutions and user insights, believing in UX institutionalization through strategic and management support. Using experience design strategy and developing a holistic overview for the products are our company's forte.

" Pattem Digital leverages its power of purpose & the expertise of overcoming challenges to launch products & services for companies that envision having a meaningful impact in the world of tomorrow "

Moreover, we are agile! We follow the best practices of Scrum and Extreme Programming to deliver solutions par excellence, in addition to leveraging Minimum Viable Products, show-and-tell, and other fail-proof methods in our daily execution.

Since it's a dynamic industry, where in no approach is constantly feasible, what are your strategies to maintain the tune & synergy of in-house?
Personally, I start from setting strategic 'critical-must' for myself. My mantra includes: strategically allocate resource, proactively monitor & measure the progress, watch the competition & learn from them, and attract, engage & retain top talent.

While the importance of context setting at the top is gaining popularity now a days, I believe that establishing the context and further strengthening it require collaborative effort across different roles. As a customer & employee centric organization, we also understand the necessity to align people with right skill-set for respective projects. Furthermore, our culture in its basic nature embraces change. The way my friends (staffs) actively engage in the decision-making process also makes a significant difference, not to mention the usage of both bottom-up and top-down communication channels. Communication is a crucial aspect of what we do.
When it comes to the delivery side, how do you align with the huge demand for innovation and R&D?
We are market-shapers. We build break through technologies and products. In order to do that on a consistent basis, we have devised a strategy of innovation backed up with right tools and an encouraging management to help them innovate.

We have created an open platform for all our team members to try out new ideas. We test and optimize all ideas, knowing that when a team member has an idea and we turn it down, the entire company will face the burn. All any one in the organization has to do is to just walk up formally or informally and get a nod.

What opportunities do you foresee in the current industry, and what are your strategies to make Pattem Digital leverage the best of these business opportunities?
As a new-age OPD studio, we stand amongst Bangalore's finest Data Science, AI and Machine Learning development companies, and serve Fortune 500 companies and promising startups across the world. This makes a promising opportunity for us.

I've been preparing myself for the past 15 years to make Pattem Group a global success. Pattem Digital is the first stepping stone in Pattem Group's vision of offering new-age solutions across multiple established industries. We have many exciting projects in our pipeline across banking, retail, e-Commerce, and other industries. Currently we are developing a product for retail industry to empower farmers using technology, alongside building an NGO aggregator tool to empower the NGOs, and thus give them more visibility to donor recipients.

Key Management:
Vidyasagar Pattem, Founder & Managing Director
Vidyasagar possesses more than a decade of cross domain experience across several technologies and multifarious functional areas. The deep-rooted experience helps him drive the company towards new heights, while being truly an employee-friendly & customer- focused organization.

Office:Bangalore