The constant evolution of project management has made it an omnipresent and indispensable element for all industries today in some or the other form. It has always been evident that project management is the key tool for any business to execute operations and manage projects in a streamlined manner while cutting-down time as well as costs involved. Mastering this industry agnostic aspect can be possible solely through an effective training method. Thanks to the decreasing costs, project management training is a boon not only to the corporate training institutes offering them, but also to diverse industries that are ready to invest in this.

Poised perfectly in this project management space is Prothoughts, a one-stop-platform that offers exclusive, end-to-end solutions to clients with the essential depth, expertise and experience. The various courses (2-hour to 10-day) offered by this firm under project management include PMP Certification Course, PMI-ACP Certification Course, PgMP Certification Course, Agile Training, Certified Scrum Master, MS Project Tool Training, and many others. Today, Prothoughts is proud and elated to have repeat customers such as Glenmark, IIM Ahmedabad, Ceridian, Cipla, Huertey Petrochem, Reckitt & Boleman, Kohler, and Lodha, to name a few.

Ashish Sadekar (Founder & Director) is the mastermind behind Prothoughts (Estd. 2014), who holds extreme passion in the field of project management. Previously, he was associated with managing CRM project for TCS, incubating the Oracle CRM practice for Infosys, bootstrapping ERP & CRM Dynamics for Microsoft Consulting India, and incubating business for SAS.
Arvind Nahata (Co-Founder & Director, Prothoughts) holds rich and diverse industry experience in various capabilities and domains across geographies. He co-founded the firm with the prime aim of making a difference in the Project Management space.

While interacting with CEO Insights, Ashish has shared a spectrum of aspects about Prothoughts and its excellence in project management realm. Here are the excerpts!

How does your corporate training methodology stand in stark contrast with learning by rote?

We follow a game-based interactive learning methodology across our corporate training courses, wherein participants can learn the concepts by engaging in various games and activities – more like play and apply. In fact, before we even proceed with the client's corporate training workshop, we conduct a pre-workshop to comprehend their challenges and requirements. What differentiates us further is that most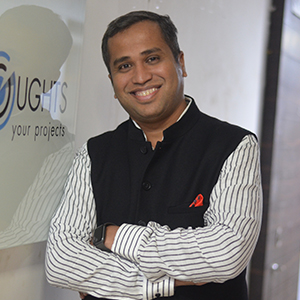 We follow a game-based interactive learning methodology across our corporate training courses, wherein participants can learn the concepts by engaging in various games and activities
of the content we frame is in-house, structured and customized in accordance with the corporate requirements. The intellects behind creating this authentic, top-notch content are our in-house experts in project management domain who are invited speakers in many forums, regular speakers at webinars and blog writers. Some of these experts include Saurabh Parikh, an acclaimed project management trainer with 20+ years of work experience, Arvind Nahata, an acclaimed PMP trainer with extensive networks, and myself.
Besides our in-house developed materials, we collaborate with the world's best material providers such as Rita Mulcahy for PMP and Michel Thiry for PgMP certifications. The other biggest strength we have is our in-house instructors with 20+ years of experience in project management who represent our company's fabric of quality and application of learning in real life projects.
To further supplement the learning process, we have an e-Learning portal that entails free resources such as eBooks, templates and others, besides our sister site – Talk Project Management that encompasses webinars, blogs, podcasts, video blogs, news, surveys and many more. We also offer software simulations, online mock tests, software eligibility criteria and other supporting material, both across online and hard copies. Our aim has always been to help our participants in their journey with us, and hence we address their queries across online forums, online webinars, WhatsApp connect, video counseling and other mediums.
Brief us about the learning and other services that you provide at Prothoughts.

We offer three learning modes besides corporate training, namely classroom training for executives across cities like Mumbai, Pune, Hyderabad, Ahmedabad and soon in Bangalore, online learning (monthly) for a global audience by a live instructor, and e-Learning – a self-paced & convenient training. Further, we have project management software such as MS Project (both reselling & implementing for clients in India) and Project Insight (selling in Asia & Middle East). Apart from the above learning services, we deliver consulting and counseling services to our clients. Altogether, our collaborative platform gathers all aspirants, practitioners and experts at one place!

We have been acquiring profound experiences due to constant interactions with our strong community of project managers from diverse industries and geographies. Our recent works on transforming the traditional project management practices into Agile for larger organizations is one great example, where we leverage the above experiences across creating our strategic modules & initiatives.

What innovations are you currently focused on? Also, tell us about your future plans.

Today, we take utmost pride and ecstasy in our play while learning concept that has received excellent feedback from a lot of participants. We are also constantly innovating on these play elements in our trainings. For instance, recently, we offered our innovations to one of our clients, wherein we demonstrated the deployment of learnings in a real life project, which was very well appreciated.

In view of our corporate clients, we are planning to expand our reach both locally and internationally (served clients in Mauritius & Thailand at comparatively lesser rates and high-value offerings). We are also hoping to add more solutions to our portfolio, upgrade our courses & content, introduce many Agile courses and also create custom content in e-Learning.

Key Management:

Ashish Sadekar, Founder & Director
Ashish is an industry leader in project management with serious goals to deliver multiple services and go global with his firm Prothoughts.

Offices: Mumbai (Head Office) & Pune

Offerings: PMP Certification Course, PMI-ACP Certification, PgMP Certification Course, Certified Scrum Master (CSM), Agile Training, & many others