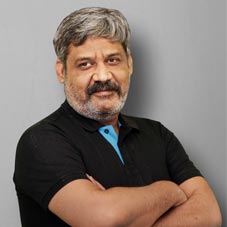 "Without ambition, one starts nothing. Without work, one finishes nothing. The prize will not be sent to you. You have to win it." When Ralph Waldo Emerson, an American essayist, lecturer, philosopher and poet who led the transcendentalist movement of the mid-19th century, propounded these aesthetic words, embraced them with two hands was a bunch of entrepreneurs from the 90s. While IT and its satellite industries hosted the dawn of the new millennium, engendered was a handful of self-made leaders who were the ambassadors of genuine change and the limitless possibilities of technology. Most of them not only pioneered the industry, but also created the market for themselves by making a tangible difference in their clients' businesses/customers' lives. Right from the beginning of the digital age, Rajeev Satpal Lakhanpal, the current CFO of Taashee Linux Services who recently took the integrated technology solutions company to the level-next, has been a torchbearer of making that transformation within an entirely different vertical – Supplies and Warehousing, using the enormous possibilities of IT.
Rajeev's story is also the story of globalization outreaching India. Let's wind back to the 90s. While growing-up, his life was no bed of roses. Rajeev didn't have the luxury of ample time up his sleeves, before starting to earn for his family. At the age of 18, whilst still pursuing his under graduation, he set-up a Supplies and Warehousing company and humbly began its operations. But as a youngster with great foresight, he was well acquainted with the paramount importance of knowledge and experience, which made him pursue Post Graduation in Marketing at Dubai, and that's where he gained rich insights on the diverse markets around the world along with their regional impulses of growth. It was time to take his company to the next level, and yes, he had to create his own market before everything else.
The Good Old Way of Being One's Own Boss
We are talking about the 90s, wherein there was no single, dominant brand in the field of Warehouse Supplies in India. Rajeev approached three major global players in shipping supplies with a suggestion that they could grow
their presence in India as well. "I still remember an instance wherein a COO of one of these companies laughed at my suggestion and commented 'Anywhere but not India'. I took it as a challenge, eventually convinced them and successfully accomplished their markets in India. Today, they reap a major portion of their Asian revenue from the subcontinent," asserts Rajeev. Despite refusing initially, all the companies he approached concurred eventually, and today, a large portion of their Asian revenue comes from their Indian market.
I feel that one of the hurdles faced by many new and young professionals today is that all too often, people today undervalue their zeal, capability and talent, and I have also had to face this self-same issue
The major composition of Rajeev's success in establishing the foreign brands of Supply in India was technology. He got a custom software designed using his domain knowledge that helped his company keep strong control over its operations, maintain optimal stock, and have efficient Warehousing capabilities. "I feel that one of the hurdles faced by many new and young professionals today is that all too often, people today undervalue their zeal, capability and talent, and I have also had to face this self-same issue. It was quite challenging at that time to show my commitment and sincerity towards my clients. But perseverance is the only way to build a stable business," adjoins Rajeev. He till date has represented approximately 11 international shipping brands in India and helped them all establish themselves, and in the process, has transformed his company as a conglomerate that branches into various businesses in different verticals.
A constant seeker of challenges, Rajeev decided to partner with the co-founders of Taashee's – Abhishek Datt (CTO) and Manoj Kumar Garg (COO) – and joined the company as its CFO in 2016. When he joined Taashe, which then was a boutique software technology firm with a yearly turnover of Rs.48 crore, he had a lucid mission in hand – to take the company to the next level of growth. He was expected to play the role of a new generation CFO who directly contributes to the organizational growth by going beyond the financial function. Involving in the company's financial and strategic decisions, he did exactly this. The knack he developed during his long stint with the shipping industry to read the market in a way that benefits the company acted as a guiding light for him to read the market sentiments
through the eyes of Taashee.

After three and a half years, offering a customized suite of advanced technology solutions with focus upon current trends in the marketplace including Internet of Things (IoT) and cloud computing, Taashee today sees a turnover of Rs.175 crore and is all set to raise capital for further expansion. Despite the ever-changing nature of the technology that Taashee works with, which makes it difficult to predict the time-frame for a particular project correctly, the company still manages to deliver on time.

A Futuristic Leader
"Abhishek and Manoj have always been my friends and support system at various stages of business, while we bid to improve by each passing day with passion and perseverance," adds Rajeev. In addition, he devotes a significant amount of credit for his success to his family. "I am very grateful to my family for their unwavering support and encouragement – right from my parents who helped me realize my dreams to my wife, who has always been understanding of my long working hours & frequent tours and even my daughters," he adds. This support is in fact the secret behind Rajeev balancing his personal and professional lives quite exemplarily.

For the exceptional leader in Rajeev, the future is all about exploring new horizons. But he also is well-aware of the need for not being afraid of the risks en route. Albert Einstein once rightfully said – A person who never made a mistake, never tried anything new! He is a firm believer of these optimistic words. "I became an entrepreneur because I wanted to be my own boss. The sheer feeling of accomplishment when you get to see a business that you have raised yourself grow – from taking its first tentative steps to opening-up new vistas – is indescribable. It's exhilarating and it drives me to the future," concludes Rajeev.

Rajeev Satpal Lakhanpal, CFO
With decades of experience, Rajeev is a new generation CFO who goes beyond the convictions of finance function to contribute to the company's growth in multifarious ways. He has profound expertise in financial governance, financial discipline and exploring new growth areas. A self-made leader who pioneered the transformation in the Shipping industry in India in the early 2000s, he recently took Taashee to a new level of growth.

Favorites:
• Hobbies: He enjoys playing lawn tennis and reading in his free time, as well as frolicking with his children. Lately, he has also taken-up golf.

• Travelling: He loves scenic beauty. His preferred travel destinations include the tranquil French countryside and Kerala, the god's own country.