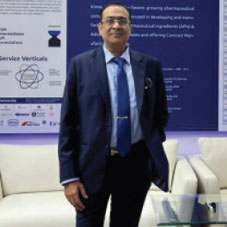 India's pharmaceutical and life sciences industry has been a key driver in achieving better health outcomes both nationally and abroad. This is due to the country's inherent capabilities in vaccine manufacturing, generic drugs, and, more recently, its move towards biopharma. COVID-19's exceptional predicament has underlined the need for additional investments in R&D and innovation in medicines, which continue to account for two thirds of the worldwide pharmaceutical opportunity. India's fundamental advantages include a strong indigenous industry, deep technical capabilities, and rich scientific acumen, all of which have contributed to its success as an innovation powerhouse.
Kimia Biosciences Limited (Kimia) is one of the prominent players in this space, having played a significant role in providing much needed power to the Indian pharmaceutical industry through its dedication to consistently improving product and service quality standards. Kimia is spearheaded by Sameer Goel, who is a commemorated leader in the Indian API market for his multifaceted abilities in Business Development, Product Development, Strategic Marketing, and Operations Management.
He has played a pivotal leadership role with several organizations in gaining and coordinating the strong support of professional networks, commercial partners, and executive teams to achieve expertise in the manufacturing, sales, marketing, and trading of various APIs and their intermediates. Currently Sameer is the steward of governance as the CEO at Kimia Biosciences, where he is responsible for overall leadership in accomplishing business and product development goals, as well as the formation of strategic partnerships.
Sameer engages in an exclusive interview with CEO Insights Magazine, wherein he enlightens us about Kimia Biosciences and its unique positioning in the market.
Give us a brief overview of Kimia
Biosciences.
Kimia Biosciences, established in 1993, is an R&D driven pharmaceutical company that lays its expertise in manufacturing bulk drugs that address several highpotential therapeutic niches and anticipates rapid expansion through the development of infrastructure and CMS. Kimia Biosciences is among the preferred partners of the pharmaceutical industry for APIs not only in India but also on the global front. We offer innovative and cutting-edge products at a very costeffective price across all therapeutic segments.
We go above & beyond to attain our goals, and have established core strength that allows us to proceed in this direction
What is the company's primary competency that offers it a competitive advantage in the market?
We go above and beyond to attain our goals and have established core strength that allows us to proceed in this direction. Our expertise encompasses niche molecule product selection rapid development and commercialization of new products ranging from gram scale to multiton across various therapeutic segments, quality compliance processes, and research and development backed by state-of-the-art manufacturing facilities.
What distinguishes your manufacturing facility?
Our fully equipped manufacturing blocks have a controlled filtered air circulation system and more than 50 SS/GL/HP reactors with a capacity of 150-4500 ltrs are available at our site. We also have dedicated pilot plants with clean room facilities for scale up studies. The manufacturing facility houses a variety of analytical equipment such as GCs, HPLCs with PDA, IR, and a dedicated solvent recovery unit. We have an effluent treatment plant, a hydrogenation facility, a purified water generation and distribution system, a micronization facility, and a microbiology lab. Our facilities are completely compliant with environmental, health, and safety regulations. We have successfully acquired ISO-14002015, ISO90012015, ISO-180012007, WHO-GMP, COPP, Department of Science and Technology, Government of India, and Korean FDA approval.
What is the vision and mission of the company?
We aspire to be a leading pharmaceutical firm with a worldwide reach consistently producing affordable worldclass medicines. We are dedicated to serving humanity while upholding social and environmental responsibilities. We hope to accomplish this by persistent efforts to develop and manufacture safe innovative pharmaceuticals focused on improving quality of life, disease alleviation, and, ultimately, greater societal good.

We believe in upholding the highest level of quality, integrity, and ethics while adhering to our fundamental principles, which include innovation and excellence, service and customer satisfaction, nurturing talent and rewarding accomplishment and sustainability by acting in an environmentally friendly way.

What is the future roadmap of Kimia Biosciences?
We have significant investment planned over the next two years to position us as a key player in the Indian and global markets. We also intend to establish our own FFF facilities for lifestyle categories in accordance with international regulatory requirements, which will aid in our transition to vertical integration. This will also allow us to establish ourselves in ROW and advanced markets. To deliver cutting-edge solutions, we uphold the highest level of integrity, transparency and ethics, as well as promote community values and culture. All in all our goal is to become India's most renowned pharmaceutical company for high quality and cost effective product offerings, as well as clean and ethical business and marketing operations.

Sameer Goel, Chief Executive Officer, Kimia Biosciences
Sameer is the CEO and heading Kimia. He holds a tall stature in the Indian API market and has strong multidimensional capabilities in the areas of Business Development, Product Development, Strategic Marketing and Operations Management. He has played a key leadership role with various organizations in acquiring and aligning the strong support of professional networks, business partners and executive teams to accomplish expertise in manufacturing sales, marketing and trading of various APIs and their Intermediates.Currently, Sameer is responsible for providing overall leadership in achieving business & product development goals and formation of strategic partnerships in Business.