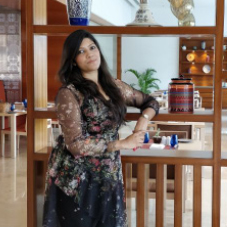 India Business of Fashion Report stated that India's apparel market is expected to grow at around 11 percent to reach $85 billion by 2021. The demand for Indian apparel is not just confined within India, but the vast range of cuts and designs intrigue fashionistas from across the world. No wonder, the fashion industry in India is growing profoundly, with new players emerging with each passing day. However, sustaining this vital and hyper-competitive market where fashion changes with each passing day is a herculean task that requires indepth know how of the industry as well as of the fashion tastes of the customers.
But for Sana Rehman (Founder, SOLBEES), her entry into the world of apparel business was by chance. An MBA by qualification, she worked for six years in the telecom sector. However, entrepreneurship always attracted her and fashion was something which came naturally to her. This is all she needed to quit the regular 9-5 job and jump into the world of fashion to provide some of the most fascinating designs to the global brands, including women's wear (ethnic & western)and men's wear(formal shirts). Sana speaks at length with CEO Insights to divulge on her story and plans about SOLBEES.
From a professional to a renowned fashion entrepreneur, how has been your journey so far?
My journey has been every interesting! Though I started working since my graduation days, my last assignment was in telecom sector. But entrepreneurship happened to me by chance! Being brought up in a family of doctors it did take a lot of efforts to get everyone on the same page as I was.
The 9-5 job didn't actually bore me, but I knew I was much more than
that. Having a professional experience of over six years, it was one fine day I decided to quit my job and step into the world of entrepreneurship. It all started with a retail outlet and later shifted to pure manufacturing. And now, when I look back at the journey so far, I proudly see a team standing strong by my side, and me fulfilling dreams of many more along mine. The professional experience that I earned over those six years has sharpened my arsenal with better decision making, managing team, strategy planning, and evaluating our growth year-on-year.
My journey till date has been an amazing one with lots of ups & downs, learning by taking quite many wrong decisions but end of the day, I am still standing strong
But from telecom to fashion, what inspired you for this transition? Also, brief us about the spectrum of apparels that you offer.
The entrepreneur world always had my attention. But 'why apparel industry' is a common and most frequently asked question I face on a daily basis. Well, I didn't have anyone to guide me so I chose this industry as I had a natural interest in it. I initially thought it would just be about designing products, creating different styles, and following latest trends. It's only when I completely stepped into this business did I realize all the other aspects of the trade.
We initially started with women's wear, as that was what I thought I would do best. Later, we started into Chikankari and hand embroidery. Today, I can proudly state that we are suppliers to all top retail chains in India.
How did you got into manufacturing from retail?
It all happened post my interaction with a lot of talented artisans who were into Chikankari. I swam into the thought to promote them immediately. What better than do the little bit that I can to support them run their homes!
With no entrepreneurial background and support, how did you manage to swim across the challenges?
Having no entrepreneurial background or support posed a different set of challenges altogether. For instance, I wanted a platform that could guide me on the documentations needed to start a company, how to connect with investors, and to answer my questions like how much fund is sufficient. But business world doesn't work that way, we need to find our own path.

Despite these, I would say that my journey till date has been an amazing one with lots of ups & downs, learning by taking quite many wrong decisions; but end of the day, I am still standing strong and looking forward to be one of the largest manufacturing companies in India first and then the world. But as it's said, experience teaches us a lot of unsaid and unwritten lessons. To me, it's my strength. And I call myself a 'Self Made Entrepreneur'.

Tell us more about SOLBEES and how you are creating the blueprint for the future?
We are a well-known manufacturing unit amongst all the retail chains in India, while we are currently working for a lot of brands, but always on the lookout to add more apart from looking for VC/ external funding. India is a trusted market world over for textile & apparel, and we are leveraging this as an opportunity to expand globally. While we already have made our presence in Middle East and African markets, we want to tap other parts of the world too in the coming days.

How has been your family's support for your entrepreneurial avatar?
They have been my backbone in my journey from supporting me to startup to motivating me on days when I thought I should quit and patting my back on the slightest of achievements. Balancing personal and professional live becomes easy when your family is living your dream.

Key Management
Sana Rehman, Founder
An MBA with six years of experience in the telecom sector, Sana is a self made entrepreneur who is rising high in the textile and apparel industry every passing day, and is all aligned to take it globally.

Favourites:
•Hobbies: A vivid reader, painter at times, and driving tops her list of hobbies
•Cuisine: A big time foodie, she loves experimenting new cuisines