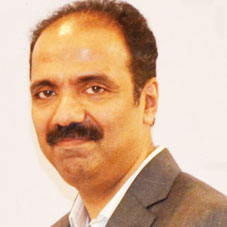 Innovation is important at all stages of development specifically, the creation and diffusion of technologies are important for economic growth and welfare across all economies. Innovation has benefited the human beings by leaps and bounds as today there is a way out to almost every medical issue that exists, due to the significant role of innovations in Medical industry. Innovation in the Health sector can be everything from improving systems used for nurses and doctors, new services for patients, as well as new products to support or make the job easier. Urged by the Doctors and Motivated by the belief to 'Enabling Life through Innovations', Sashi Kumar V started Phoenix in 1989.
An alumnus of IIT Madras, Sashi has been building Phoenix for over the last 30 years now and has made it a leading Indian Biomedical MNC with its presence in India & over 60 countries worldwide. Engaging in a one-on one interaction with the team of CEO Insights magazine, Sashi highlights upon his professional journey and how he is making constant efforts towards leaving greater impact on society.
Give a brief account on your educational and professional background and experiences. What inspired you to start a venture in the Hospital and Healthcare industry? Expand on the points below.
After completing my school, I was fortunate enough to join IIT Madras from where I pursued M.S in Entrepreneurship and then attended the Business Leadership Programme at IIM Calcutta. After completing my education, I followed my interest and landed up in bringing Phoenix into existence in 1989. In my professional journey I have always been consistently working hard with my team for the last three decades so that our products can meet international standards and be affordable at the same time.
Our products have helped hundreds and thousands of people in getting better lives followed by a wide recognition that we have got for our innovations and contributions to the society.The belief of understanding customer's need paved my way to innovations in products, I have also ensured that the end user is provided with adequate quality care through our product thereby serving our purpose of 'Enabling Life through Innovations'.
Define Phoenix Medical Systems as
an organization and its position in the industry.
Phoenix Medical Systems is a 'Made in India' company wherein we have developed our inhouse manufacturing facility from where we are exporting the products at Amsterdam, Dubai, South Africa and more. Phoenix has a best-in-class manufacturing facility at Pondicherry and the assembly, testing and dispatch is held at company's state of the art plant at Sriperumbudur.
Innovation is the core of Phoenix and Sashi always strives hard to develop innovative products through world class medical devices
Phoenix has a skilled team in Design & Development consisting of engineers who design Neonatal Intensive Care Units (NICUs) for a number of premier Institutions in the country. With its vast experience and close familiarity with Indian conditions, Phoenix is able to give an optimal solution for the NICU from design to implementation. Apart from ICU design Phoenix also provides complete solutions to transform the existing delivery room to a world class labor suite called 'Maghizhini' withthe required equipments and a delivery table (DT100).
Tantamount to innovation & quality is the awards received by Phoenix in three decades. To mention few, we received the NASSCOM Engineering & Innovation Excellence Awards Engineered in India product of the year for Numo ventilator, 2021, TIME US Micro Small and Medium Enterprises (MSME)Innovator of the year, 2017 and others.
As you build your products, what is the main objective that you attempt to induce in them and why?
Innovation is the core of Phoenix and we always strive hard to develop innovative products through world class medical devices. Our R&D Hub, recognized by the Department of Scientific Industrial and Research (DSIR), Government of India has more than 50 people with strong background in Design, Industrial Engineering, and Electronics & Electrical.
Not just that we also aim at motivating innovating projects from colleges with good ideas and collaborate with them to visualize, prototype, commercialization, and sale to reach a much wide number of end users. Also, we aim to partner with innovator led tech driven organizations like UMBC (University of Maryland, Baltimore County), Windmill Health and others to give our customers a world class experience and quality.
We believe in building customer's insights into products that are made with world class standards possessing great value to the custo
mers like we made DT100 and Numo Ventilators.

In your professional journey so far, which are the milestones that have bestowed you with utmost satisfaction both as an individual and as an entrepreneur?
During the Pandemic in 2020, when the human life was on toss and there was a shortage of medical equipments in the country, our R&D team developed a ventilator in just 100 days and contributed to the society a much needed respiratory support. Numo, the ventilator was not just a superior 'Make in India' product, but also was the only product that received the CE certification in less than six months. During the second lock down we sold 1000 units and we are proud that we were a part of saving thousands of lives during the pandemic. Numo ventilator also received the 'Engineered in India Product of the Year'by NASSCOM Engineering and Excellence Award. This is one of the milestones that has given me utmost satisfaction.

With respect to Phoenix Medical Systems' future roadmap, where are you aiming to take your goals forward? How do you plan to execute your goals?
We have a lot of products in our pipeline awaiting launch. A few among them are Brammi, Cardboard ncubators and so on. Our R&D team is completely equipped and backed up with all technical necessity to execute these launches successfully. Also, our R&D team is aiming at collaborating with Innovation Leaders like UMBC, Standford, Michigan, NTO, UNICEF for various new strategic, technological and innovating advancements to be added to our product portfolio, staying grounded to our values and keeping in mind our purpose of enabling life for the needy.

Our future road map is to work along with the state of art technology trying to equip all the needs of our end users. We wish to expand and explore the neonatal space and become a one stop solution for all the neonatal product requirement for the end users. Our execution plan will include implementing IoT, developing products that are compatible during telemedicine, diagnostic equipment that are more precise and predictable.

Sashi Kumar V, Managing Director, Phoenix Medical Systems
Sashi Kumar is an innovator, with an M.S. in Entrepreneurship from IIT Madras. Sashi Kumar has also attended the Business Leadership Programme at IIM Calcutta. Urged by the Doctors and Motivated by the belief to 'Enabling Life through Innovations', he started Phoenix witha capital of Rs. 50,000/- in 1989. Over the last 30years, Sashi made Phoenix a leading Indian Biomedical MNC with presence in India & over 60 countries world wide.