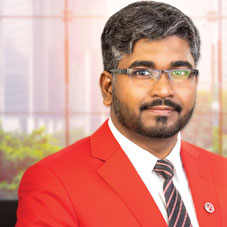 After several rounds of lockdowns across the world and a roller coaster ride of unprecedented predicaments, the business world is gradually getting accustomed to the new normal. In the process, it's an undeniable fact that the dynamic world of technologies has overwhelmed us, transforming the way the world functions and giving new dimensions to the millennial concept of virtual world. From increasing digital transactions to virtual workplaces; and from social gatherings through video conferencing platforms to engaging in hobbies and entertainment, the pandemic has already marked the beginning of a parallel world based on cloud computing enabled by the internet and powered by an entire gamut of technology products, services, and platforms. It's something extremely close to having a new civilization in the clouds. Make no mistake, we are talking about a market that is expected to more than double by 2025.
The pioneers of this new virtual world are energetic leaders like Shafeek Kabeer, the Founder of Azym Technologies, who is making his mark across the Gulf countries, specializing in cloud computing and IT solutions. The 32 year old entrepreneur today is significantly attracting eyeballs of Arabian business leaders, thanks to passion for redefining and enhancing processes with technology, impeccable knowledge, an envious level of cloud experience, and a whopping amount of success stories to back it up. It's no wonder he's often called the 'Cloud Guru of the Middle East'. Son of a fruit merchant in the district of Alappuzha, in India's state of Kerala, Shafeek and his organization today continue to write cloud transformation success stories at the highest level across the Gulf region. CEO Insights recently got in touch with this energetic leader and he didn't fail to impress our whole editorial team with his futuristic vision. Below is an excerpt of the interview.
"Our business strategy is to solely focus on understanding the pain points of and supporting as well as empowering SMBs in the gulf region paid off quite well"
What was your inspiration to venture into this domain? Where and how did this entrepreneurial journey actually begin?
I would say my first inspiration was my father. From my childhood, my father has always been my super hero. A fruit merchant in a village named Alappuzha my hometown in South Kerala (India), he was a self-made entrepreneur, and that factor alone inspired me to start something of my own.
My entrepreneurial journey can be traced back to my childhood. With this childhood dream of entrepreneurship, I created my first personal website when I was just eleven years old. The unconditional support from my parents and their appreciation inspired me to further create a small inventory software; not to mention the recognition from my school during exhibition programs. I sold the software to my friend's father for digitizing their business. That was the first time I became the reason for a progressive change within a business.
My dream grew bigger with me. I was also quite aware of the importance of constant knowledge acquisition, and hence I started taking up several educational courses. My hobbies also took a turn to reading extensively, designing computer games and even I became a technology
columnist for a local magazine.
I kick started my professional career with Dell. During the course of my career, my sole focus was on developing proficiency in the cloud sector. I have been fortunate enough to work with several multinational companies, wearing multiple hats ranging from system administrator to cloud architect and technical support specialist. Also, the experience of working closely with SMBs, especially in the Gulf region and getting to take a first hand look at their problems, was a major factor that triggered my entre preneurial journey. The lack of support for SMBs in terms of cloud technology propelled me to set up a competent new cloud platform. That's how Azym was born.
Azym CloudMail is the first all-in-one communication suite tailor-made for SMEs in the Gulf region to match their modern day communication needs
How would you define Azym as an organization? What's your USP?
Azym Technologies is the number one Cloud Solutions Provider in the Middle East, helping SMB and enterprises to adopt, manage and enhance cloud solutions. In the current context,we are also anorganization that focuses on supporting businesses in the Gulf region to persist against the backdrop of the corona virus pandemic. We help organizations identify the blessing in disguise the advantage that is cloud computing, which allows businesses to build sustainable operations without being dependent on office premises.
We offer a unique combination of end-to-end services,high-performance technologies and unwavering commitment, which has already helped thousands of enterprises to transform their IT Infrastructure into a competitive advantage. Be it scalable colocation, managed hosting, dedicated hosting, private or public cloud services or a hybrid option combining the best features of multiple services in a single optimized environment, we offer the entire range and our highly flexible platform assures meeting our clients' business needs with future-proof solutions. Azym's high competency can also be traced back to our own state-of-the-art data center facility located in Florida, US. Since all other service providers rely on and resell the services from European brands, this makes us the only cloud technology enabler to offer its own cloud services in the Gulf region.
Furthermore, over the years, we have chiseled our practical knowledge using our experience, and hence, today we possess much more accurate knowledge of the requirements and the challenges that SMBs face. While our team takes the credit for this, something that helps them achieve this success is our belief that, our success is based on the success of our clients. That's why our products and services are never static; the solutions we create are dynamic and also are designed & redesigned to respond to our customers' real needs and specific to the Middle East. That's a great USP to have.
Tell us about your portfolio of products and solutions. How do they add value to your clients?
We have built a robust portfolio to help SMBs adapt to today's unpredictable market conditions by adopting or accelerating digital transformation. For instance, Azym CloudMail is the first all-in-one communication suite tailor-made for SMEs in the Gulf region to match their modern day communication needs. It helps users to efficiently collaborate while working from home through functions like cloud email, chat, audio-video conference, screen share and cloud file storage.
We also offer solutions like 'Azym Cloud VDI', which helps users to manage critical business operations
from anywhere in the world, and Azym Cloud-based e-Commerce' solution, which helps users establish an e-tail revenue generation model seamlessly. Additionally, our portfolio also includes B2B 'Infra structure-as-a-Service' offering.
Azym had a humble beginning more than half a decade ago. How has been the growth of the company so far?
I kick-started the operations of Azym Technologies from India in 2013 with merely a couple of employees. Our business strategy to solely focus on understanding the pain points of, and supporting and empowering SMBs in the Gulf region paid off quite well. Soon, I was able to set up an office in Doha and Qatar, further, there has been no turning back ever since then. Today, we are helping over 7,000+ SMBs and enterprise customers in the GCC countries to explore the benefits of technology from the bleeding-edge. Today, we are also home to a big family of 800+ Azym staff comprising 27 nationalities. Our core competencies today include enterprise cloud web hosting, cloud servers, private clouds, public clouds, application hosting and software-as-a-service applications. So yes, the journey was nothing short of amazing.
What's your success mantra? How did you make it work?
I am a strong believer of the fact that success should be a 'win-win scenario' for all parties involved. I would also define success as the reason for others to smile. In business, you just have to take care of your employees. It's a sure bet that they will in turn take care of the customers for you. That's win-win I am talking about. Also, I make sure that my actions are backed up with scientific planning, purposefulness, and diligent work, which are my guiding principles towards success.
What are the opportunities that you foresee in the Gulf market? Also, what's the future of Azym?
According to a study conducted by markets & market.com, the global Cloud Computing Industry is expected to grow from $371.4 billion in 2020 to $832.1 billion by 2025 at a whopping CAGR of 17.5 percent. When it comes to GCC, the Middle East data center market by revenue is expected to grow at a CAGR of close to 3 percent during the period 2019-2025. The market by revenue is expected to cross over $3.7 billion by 2025, which are quite promising numbers. As the leading provider of cloud solutions the only cloud technology having its own cloud services in the Gulf region, we are expecting a steady growth for the next few years.
I believe that we are just beginning. Though we are helping more than 7,000 clients today, we have the potential to help more than a million. We are now building our dream project a cloud-based ERP service for businesses. This will be a first-of-its-kind solution in the Middle East and incredibly useful for all sorts of organizations. Going forward, we are also exploring ways to incorporate artificial intelligence and machine learning into our services. This will further guide our clients towards greater heights of success.
What will be your advice to budding entrepreneurs in the Gulf region?
Start-ups can thrive when they discard traditional paths in favor of modern trends. Once entrepreneurs follow their passion, offer their finest services, and have patience & focus, success is certain.
Shafeek Kabeer, Founder, Azym Technologies
Shafeek is making his mark across the Gulf countries, specializing in cloud computing and IT solutions. The 32 years old entrepreneur boasts an exceptional professional career, attracting appreciation, especially from Arabian business leaders, and he's often called the 'Cloud Guru of the Middle East'.