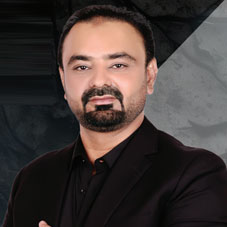 The GCC structural steel market is anticipated to grow at a CAGR of 4.7 percent from 2023 to 2030, reaching $6.07 billion; the demand for structural steel fabrication for industrial buildings and plants is expected to drive market expansion. Spar Steel Industries, a leader and pioneer in provisioning a myriad of steel products, has been the largest contributor to the growth of the region since its establishment in 2000. The company, led by Shibli Siddiqui, President and CEO of Spar Group has grown into a multi-sector, firm offering exceptional solutions across industries. Shibli Siddiqui has been spearheading the company's growth and expansion since its establishment and has transformed his vision to be the industry leader into reality through determination, hard work, and integrity. We learned more about him and his vision in an exclusive interview, some of the highlights of which are as follows.
Give a brief account of your professional journey.
My journey has been one of optimism, integrity, and sincere determination. I rose to the post of President and CEO of SPAR Group following founding the company with my siblings in 2000. The company, formed in New Delhi, India, was swiftly expanded to penetrate Saudi Arabia, where I managed operations while my siblings handled the India operations. Spar Management & Technology gradually expanded its capabilities to encompass electro-mechanical construction, fabrication, architectural, and scaffolding design.
Tell us about your leadership approach and what has been your success mantra so far.
I firmly believe in the power of hard work and that there are no shortcuts to success. My guiding principles include having a clear vision, empowering and delegating tasks to others, continuously learning and growing, being resilient and solving problems effectively, leading by example, and recognizing and appreciating the efforts of others.
Define Spar Steel Industries as an organization and its position in the steel manufacturing industry.
Spar Steel Industries is an enormous professional steel manufacturer known for its continued dedication to excellence and innovation. With cutting-edge facilities and stringent quality control systems, our products offer a unique 'SPAR Value' and provide innovative solutions that improve safety and save time. All SPAR products satisfy the highest British, American, and European standards, viz. BS1139, BS EN10219, ANSI 10.8, and OSHA 1926, an array of high-quality steel products like steel pipe and tubes, scaffolding including cup lock scaffolding, metal boards, and ring-lock systems for various sectors. We prioritize client fulfillment and sustainability, incorporating eco-friendly practices into their manufacturing operations.
I Firmly Believe In The Power Of Hard Work & That There Are No Shortcuts To Success
What are the factors you look into when developing effective corporate strategies?
Spar examines numerous essential criteria to achieve success and long-term growth. These strategies are focused on market insights, a customer-centric strategy, innovation and technology, sustainability, competitive advantage, financial prudence, and risk reduction.
Under your guidance, what are the best industry practices you have implemented to help your team draw valuable insights from the market to ensure Spar Steel Industries stays afloat and steady among its competitors and market fluctuations?
To maintain a competitive edge, conquer market difficulties, capture new opportunities, and increase resilience, we preserve our dedication to business excellence by following best practices in our sector. We undertake extensive market research using cutting edge techniques, adopt a customer-centric approach, conduct extensive competitor analysis to address market gaps and position ourselves competitively, and encourage cross-functional collaboration and knowledge-sharing. We also emphasize ongoing learning and development, equipping teams with current skills and knowledge, making data-driven decisions, demonstrating agility, cultivating an innovative culture, and investing in research and development.
From your experience in the sector, how do you perceive the future outlook of the market, and what would be your advice to leaders on the same?
In the coming years, I anticipate that the demand for steel on a global scale will increase. Sustainable practices for manufacturing will become mainstream, there will be a lot of technological advancements, and a strong focus on supply chain optimization will aid market volatility.

With these expectations in mind, I would advise the next generation of leaders in this industry to embrace innovation and invest in R&D and the best talent to stay ahead. I would also emphasize the need to stay abreast sustainability measures and build strong and strategic partnerships in the industry. Creating a powerful market presence and staying agile will help you emerge victorious in the face of challenges.

Where do you see yourself headed in the upcoming years? What is your future roadmap?
Spar Group began with modest goals and a broad ambition. In 2000, we established SPAR Management & Technology in New Delhi, India. Arabian Spar was founded in Al Jubail, Saudi Arabia, in 2003 and 2006 began supplying steel and scaffolding products in the Middle East. We established SPAR STEEL INDUSTRIES, a steel manufacturing facility in RAK, UAE, in 2016. SHIBLI CONTINENTAL, a 4-star hotel run by Clarks Inn in Siwan, India, 2023 SPAR TECH INDUSTRIAL MAINT SERVICES provide turnaround services to Oil & Gas Sector in Jubail, Saudi Arabia.

We intend to open steel retail locations throughout the Emirates and then extend throughout the MENA region. In the long run, we intend to build an integrated steelmaking factory from start to finish.

Shibli Siddiqui, President & CEO, SPAR Steel Industries
With over 25 years of professional experience, Shibli Siddiqui is a seasoned professional and one of the leading entrepreneurs based in the UAE. After completing his primary education in Lucknow, India, he pursued his bachelor's from JamiaMilliaIslamia, followed by an MBA from YMCA, New Delhi. In addition to being a hands-on business leader, he is also an avid reader and socialist who enjoys traveling