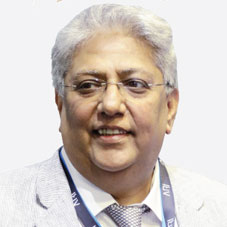 In a world where innovation is the name of the game and competition is fiercer than ever, traditional methods simply won't cut it. Today, immersive, interactive and real time technologies are blurring the boundaries between simulated and real worlds to provide powerful digital and augmented environments. Leading the charge in this digital revolution is Shravan Rewari, the Managing Director and CEO of ARI (Applied Research International). With an impressive academic background, Shravan pursued his interests in mechanical engineering, robotics and control systems at Stanford University. As a first generation entrepreneur, he has made an indelible mark on the global simulation and digital technology industry.
Shravan's passion for building world-class productsthat are designed, conceptualized, and produced indigenously has made him a true visionary. CEOInsights engages in an exclusive conversation with Shravan Rewari to deduce more about his journey.
Give a brief account of your professional background and experiences? What is the motivation that fuels your daily routines?
I have always had a passion for engineering which has found expression through different avatars in my professional career. Starting as a marine engineer, I gained invaluable hands-on experience applying engineering principles in a practical setting. However, it was my time at Stanford University that truly transformed my way of thinking and opened my eyes to the endless possibilities for the future.
Upon returning to India in 1993, with a handful of engineers, I embarked on a journey which would result in the development of world-class technology products for global markets.
This drive led me to found ARI, a simulation technology company, as a startup in the mid-nineties.It has been an exhilarating journey building cutting-edge products and I am proud to say that our inhouse core technology platform has stood the test of time. Today, ARI is a full-stack simulation technology company, exporting to more than 55 countries worldwide. Every day, the opportunity to push the boundaries of what is possible in engineering and technology inspires me to keep innovating and pushing forward.
Tell us about the unique experiences Stanford University offers.
My time at Stanford University was one of the most influential periods of my life. The academic stimulating and challenging environment and the opportunity to learn from world
class faculty members and engage in meaningful research was a true privilege. The energy and enthusiasm that filled the class rooms and labs were infectious, fostering a deep sense of curiosity and exploration that motivated me to push the boundaries of what I thought was possible.
Some of the ground breaking research being conducted in robotics and computer science labs at that time, more than 30 years ago, have started to make their way into consumer markets today. The exposure and interactions I had with individuals who were so driven and passionate about their research inspired me to explore simulation technology, ultimately leading me to found ARI. Beyond academics, my experience at Stanford was a great equalizer, introducing me to individuals from diverse backgrounds, genders, and ages who were all incredibly talented and accomplished. It was a humbling experience.
A technocrat at heart with a zeal for creating real world solutions
Overall, my time at Stanford University was a truly transformative and unforgettable experience that has shaped my career and outlook on life in ways that continue to inspire me today.
How has been your path to success and what is your success mantra?
At the heart of our success has been a relentless focus on innovation and staying ahead of the curve in predicting future requirements. We work with a continued drive to improve and refine our existing products and invest in emerging technologies. We have been very open to change and nimble to be able to take up innovative projects and challenging assignments.
Ultimately, our success mantra is simple: stay focused on innovation and improvements with timely prediction of future changes. It is this unwavering commitment to these principles that has enabled us to grow and thrive for over three decades in the highly competitive and rapidly evolving technology industry.
How would you describe ARI Simulation as an organization and where does it stand in the market today?
ARI Simulation is a leading provider of simulation and digital solutions for the marine, offshore, ports, energy, construction and defense industries. We have created more than 75 simulation products that span a wide range of industries, making us the most diversified simulation company in the market. Head quartered in New Delhi, India, we have a global presence with offices in the US, UK, and Singapore, and strong market positions in Southeast Asia, South America, and Africa, with increasing market share in Europe.
Our commitment to innovation and staying ahead of the curve has driven our latest product offerings, including cutting-edge realtime digital systems that align with the needs of enterprises in the digital
age. Our product range now cater for fully digital,hybrid and realworld applications.

One of our most exciting products is our Adaptive Simulation/Scenario Based Automated Assessment (ASBA), which leverages advanced AI-driven, database-less assessment frameworks in combination with simulation scenarios to provide a scientific approach to accurately assessing competence and behaviour. With our ARI esim. cloud/SaaS offerings, all of our simulations can be accessed remotely through the cloud for supervised or unsupervised learning and assessment, complete with engagement and proctoring as required.

As we continue to expand our product base and strengthen our market position, ARI Simulation is poised for continued growth and success in the years ahead.

Going forward, what are the changes in market behavior and the opportunities that you foresee?
With our capability to create advanced digital environments, we believe that our solutions will provide individuals with a unique individualized, targeted just in time experience that will enhance performance across various settings be it education or at the workplace or for any scenario for that matter.

Tell us about your leadership approach. What are the guidelines or methodologies you follow to lead your team?
My leadership approach is centered around fostering a culture of open communication and collaboration, that is all about being able to accept different points of view and grow relationships. I believe in creating a horizontal and networked structure that encourages a free flow of ideas and feedback among team members. This approach allows us to embrace new perspectives and adapt quickly to changes in the market. I prioritize creating an environment where everyone feels valued, respected, and empowered to contribute to the company's success. I encourage creativity and innovation, and I'm always open to exploring new ideas and approaches. I also place a strong emphasis on building strong relationships with my team members, customers, and partners. This involves transparent communication and building trust through honesty and integrity.

Shravan Rewari, CEO & Managing Director
CEO & Managing Director of ARI, Shravan Rewari, is an alumnus of Campion School St. Xaviers College DMET (MERI) in India, and Stanford University, CA, USA.Shravan has a background in marine engineering at MERI Calcutta securing an All India Rank 1 and after working with the Shipping division in Mobil as a qualified Chief Engineer in ascending capacities pursued his graduate study in Robotics and Control Systems from Stanford University, CA, USA. He has continued interest in virtual reality and robotics technologies and their application in the creation of innovative immersive learning solutions to enhance human potential.