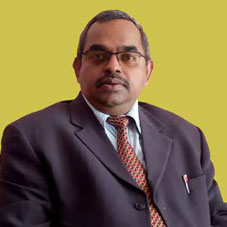 In recent years, health conscious consumers have shown increased interest in gluten-free products as part of a broader healthy eating regime. This continues to move the market opportunity beyond those with celiac disease or gluten intolerance. With the rise in demand for gluten-free food and drinks, manufacturers are exploring various gluten-free alternatives, including flour derived from nuts, seeds, beans, fruits and vegetables.
Having spent more than 2 decades in Banking Operations and IT industry, Srinivas Jana has taken up the task to promote healthier, nutritious, and gluten-free products in India. He founded Radix Nutritive in 2017 along with Mrs. Mridu Jana as a manufacturer and marketer of branded gluten-free millet products that are processed in an exclusive gluten-free facility at Singanayakanahalli, Yelahanka, Bangalore.Radix Nutritive offers specialty food products using value-added services to encourage a food-conscious society and contribute to holistic well being.
Srinivas Jana engages in a one-on-one interaction with the CEO Insights magazine.
Throw some light on your professional background and experience. What inspired you to start this venture in this niche segment of F&B and what drives you today?
I have a master's degree in Business Economics and my professional career kickstarted with assignments in BFSI, and later joined the IT industry. My work took me to various places. I want to express gratitude to my previous employers and awesome BFSI customers, who allowed me to understand their ecosystem, which helped me design target state process flows, outline the big picture, and frame standard operating procedures and product manuals.
In 2011, just before traveling to the US I got diagnosed with gluten allergy. With a good number of
Gluten-free options available in the States, we explored diet alternatives, focused on body responses, and researched for a survival kit. Having witnessed and survived the high tide, we decided to set up an exclusive gluten-free facility to provide healthy, nutritious, and wellness products. That's how Radix Nutritive took shape in 2017, using "Forgotten Grains Millets" at its core. We strive to revolutionize the platter by keeping food simple, promoting local, providing authentic food, and introducing value added products backed by innovation.
A calm body reflects inner peace, engenders a positive mind frame leading to a holistic well being
I am a team player with a go-getter and seek-for yourself attitude, which continues to drive me to this day.
How would you define Radix Nutritive as an organization and its position in the market?What is the unique proposition that your organization offers to its clients?
Radix Nutritive with its gluten-free, vegan, specialty foods and millet products is well received by customers considering that awareness about millets and their benefits is still budding in the minds of the masses. We take pride in being an innovative food processing company carefully crafted to revitalize forgotten grains and introduce them to the urban population as a diet alternative. Radix Nutritive is a D2C brand and is looking to expand its wings. We participate in events (apartment and corporate complexes) which give us a good opportunity to relay millet benefits and millet recipes directly to the consumer, which usually seems to be the gap.
Our unique selling proposition is that we procure grains from organic farmer federations and roast unpolished millets with high dietary fiber to help ensure the product's longevity, organically. The food is processed in our exclusive gluten-free facility ensuring zero gluten contamination, and we do processing, packaging and labeling all under one roof. Vacuum packaging is also available on customer request. Millets and jaggery drive our gluten-free sweets and bakery product line, and cakes are airlifted to major cities of the country. We use freshly milled flour in our product lines.
Reflect on some of the major challenges you have experienced in your journey. How did you over come them, and what did you learn from them?
During the initial six months of our startup, there were many unknowns as expected. Sourcing organic raw materials and transparent stand-up food pouches were our major challenges. We got many of our answers at the International Trade Fair, Organics and Millets 2018, Bangalore. We got great connections for organic millet farmer federations, pouch suppliers and food processing machine manufacturers.

I learnedthat when life throws challenges, respond to them with courage, have a cool head, look for opportunities, expand your network and stay connected. There is never a perfect time, start with whatever you have and wherever you are. There are always lessons to be learned on the shop floor.

Why did you choose Bangalore to be the breeding ground for your business? How has the city been favoring you so far?
Having worked in the IT sector for such a long time, Bangalore is my Karma Bhoomi and the startup capital of our country. People here are very receptive and adaptive to new ideas and love food. Karnataka has given a lot of impetus to farming and is vocal about millets and it's benefits. With 2023 named the International Year of Millets, it makes sense to have our footprint here.

How do you maintain the perfect balance between your personal and professional life? What is your success mantra?
As of now, it's 80% professional and 20% personal life. Hopefully, I will have more "me-time" once we have more hands on the deck.

To succeed, one needs to embrace the unknown, venture into unchartered territories, give their best shot every time, never compromise on quality, and never let down their character for short-term material gains.

Srinivas Jana, Founder, Radix Nutritive
An inquisitive design thinker, Srinivas Jana likes to embrace the unknown, venturing into unchartered territories, and gives his best shot at everything he does. He is a nature lover and motivation seeker and enjoys eating chaat, driving, listening to music, and sketching in his free time. He is highly inspired by Srimad Bhagavad Gita.