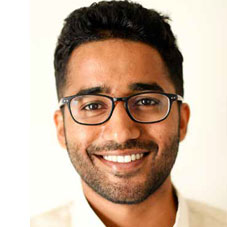 W hen it comes to good food philosophy, we humans have always have resorted to home-cooked food which is not only healthy but is spiked with nutrients. However, today, coping up with our busy lifestyle we've been missing out on the good food and healthy intakes turning to easy food sources. Rather than solving our problems, such food resorts have left us with numerous health issues and emptied our pockets due to its unaffordable costs. Sriram Nair, a food enthusiast and self-trained chef operating under the Ahmedabad-based food brand Terra Food Co. (TFC)- a multi-brand food company that strives to change how Indians order, consume & experience gourmet food by presenting alternate food options that are nutritional and delectable to their taste buds.
Coming from a South Indian household where everyone is quite frenzied about cooking, Sriram was instilled with the art of cooking whole some meals methodologically from a very young age. Though he is an engineer with Masters in International Business from Skema Business School, France, his stint with TFC is backed by eleven years of his experience in strategic business development, project purchases, large project management, tendering,liaison, to listing a successful IPO of Power & Instrumentation Gujarat, working across luxury business especially digital marketing & copy writing.
Sriram engages in an exclusive interaction with CEO Insights. Below are the snippets!
Tell us about your inspirational journey with TFC and your venture into the food industry.
Growing up as a child, I have always been passionate about food, but it was my uncle who proved instrumental in imbuing within me the passion for cooking with attention to detail. Not only he helped me to discover new recipes, he also introduced me to international cuisines very early on. It was during my PG in France when my love for food evolved beyond my family's kitchen, experiencing gourmet cuisines and new cooking techniques through travels. Those experiences stayed with me even
after my return to India, and fueled my search for quick meals made with the freshest produce.
But to my disappointment I could hardly find any healthy, affordable, and fresh meal option, and thus incepted Terra in 2017. Launched with the concept of healthy grab-and-go meals, it was the first restaurant to serve fresh salads, all-natural smoothies, and cold pressed juices at affordable prices. We steadily developed a loyal customer base, which further gave us the confidence to expand into a full service restaurant Terra Gourmet (2019).
Our mantra for success is very simple, to be true to the cuisine/ food we are serving and to be true to our customers
Backed by a competent team of highly trained chefs, we were able to address the growing need of consumers for healthier, more wholesome, and diverse food options, offering a more evolved & unique multiple cuisines (Japanese, Filipino, Lebanese, Mexican, American and Italian) menu at affordable costs. Surprisingly, within six months of operation we recognized a gradual shift in the consumer behaviour, moving from dine in to online ordering. Thus, the idea for TFC emerged. After consulting with industry experts, conducting market research, and data analysis of Terra's performance, we created the TFC platform. My experience with Terra, from conceptualization to execution, and research to application has given me valuable insight with regards to evolving consumer needs & increasing market trends.
Cast some light on the niche facets of TFC that separates it from the peers in the industry.
Our users are the young & aspirational working Indians from tier-II cities who are too busy to cook due to their hectic and demanding lifestyle, and require quick food options at affordable prices. Hence, we strive to cover such demography and offer the highest quality meals across multiple cuisines and dietary options, while also emphasizing on our core values- food authenticity, freshness & afford ability, including environment-friend liness.
We keep improving every step of the way, invest a lot on R&D, conduct research papers, and collaborate with B schools to find the most efficient way of operating a cloud kitchen.
Describe your proudest accomplishments in your
professional journey. What keeps you motivated?
I believe success for an entity can be measured by the number of people preferring the brand and TFC has gained it, thus becoming the pioneer in gourmet food space. My proudest achievement is the ability to start, manage and scale brands under TFC that serve niche cuisines in Tier-II cities. Our mantra for success is very simple, to be true to the cuisine/ food we are serving and to be true to our customers. This is what has gotten us this far, and will keep driving further too.

What is the vision you look forward to accomplishing in the road ahead for Terra Food?
TFC is an omni-channel food company which currently operates seven brands and serves over 15 different cuisines. It aims to be a one-stop shop in the gourmet food category, providing the aspiring youth of Tier-II metro cities with quality & hygienic food via our network of hyperlocal kitchens & flagship stores. Shortly, we plan to add six more brands in the next 4-6 months and be present in 12 cities with 30 total kitchens/stores by end of March 2023. Our long-term focus is to reach 400 kitchens across India by 2029 and be the leader of the gourmet cuisine category in India. Precisely, we aspire to have around 15 brands catering to different categories and we are also working on creating a fully automated kitchen in the future.

Balancing work and personal life is a tough task amidst the fact that food industry is stressful , how do you go about it?
Undoubtedly, the F&B is a stressful industry as there's a constant requirement for attention to detail. From menu conceptualization, branding, and packaging to quality of food, there's a lot of things that can go wrong. But, something that I've realized along the years is I enjoy this kind of stress, it excites and invigorates me to come up with creative solutions.Food is something I'm incredibly passionate about so the work I'm putting in is both professionally & personally fulfilling. Else, what helps me unwind from work is a simple home cooked meal while watching Netflix with my wife.

Sriram Nair, Founder, TF
A food enthusiast and self-trained chef delectating people's taste-buds offering a new category of affordable gourmet food through a network of hyperlocal kitchens.

Hobbies:Cooking, Surfing
Favorite Cuisine:Japanese, Keralan
Favourite Book:Preferably cooking books(Sushi & Traditional Japanese cooking by Emi Kasuko & Yasuko Fukuoka).
Favourite Travel Destination:
Barcelona, Japan