Sriyash Kishorepuria: Leveraging On Strong Leadership Skills To Excel In His Entrepreneurial Endeavors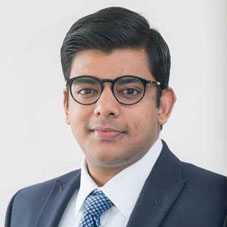 In an exclusive interview with CEO Insights, Sriyash shares his earlier education and overall professional experience, the challenges he has been facing throughout his career and how he is mitigating them and much more:
Tell us about your professional background and experiences. What inspired you to take up the leadership role at Inservia Innovations?
I did my Bachelor's degree in music from the National University of Singapore and trained both as an acoustics Engineer and a pianist. Later, I returned and worked with my family for a while before joining HEC Paris to do my Master's in Finance. I spent two years studying and a year and a half working in France and Singapore. I moved back to India in
2020 and joined Inservia and Sagar Business Private Limited as a business. Throughout my career, I have worked in various sectors such as consulting, banking, research, and so on and also have a couple of solar startups in Singapore.
The multiplying effect of being an entrepreneur and a leader is significant, which is something that inspired me to take up leadership roles
Both Inservia and Sagar are family owned companies. I had a decent job in Paris, which provided me with a reasonable salary and a good life.But being an entrepreneur, you will always have that entrepreneurial itch and can't work for someone else. One of the fundamental things that a mentor of mine taught me was that if you employ 100 people, you are empowering 1000. Because 100 People will have their own families and extended families, and because you're able to get them employment, they will be able to teach their children and provide for their families. So the multiplying effect of being an entrepreneur and a leader is significant, which is something that inspired me to take up leadership roles.
Define Inservia Innovations and Sagar Business Pvt. Ltd. as organizations and their positions in the market.
Sagar Business Private Limited is one of the distributors of Tata Steel and deals with Tata Steel products. We are known for our top quality and best suited products for our customers. Unlike our peers, we provide various post sales services and are actively increasing our market share in them. We have also set up another facility where we provide groundbreaking services, such as cut and bend, welded wire mesh, couplers, and so on, that are done by only Tata Steel distributors across the country. Being the only Tata Steel distributor in Orissa, we also have a competitive advantage.
Inservia Innovations is an energy-based company. Inservia stands for in service of India, and we were looking to make a difference to the country, particularly to the country's energy needs. So we do solar installations and solar work. We also sell electric e-mobility bikes electronic pumps and finance tractors for farmers. We have also started working on energy efficiency with Best Energy, a British organization, and have a few installations across East India.

What are some of the major challenges you have experienced in your professional journey so far? How did you over come them and what did you learn from them?
I have faced challenges throughout my professional journey. Over time what I've realized is that challenges appear suddenly, and it's our fundamental job to solve challenges. More often than not, these challenges are people driven and not market driven. One of the major challenges that I face, particularly for working out of Odisha, has been human resources. There always has been a talent drain due to people moving into bigger cities to get better jobs and work. But we have done a lot of training programs and counselling to help our team get significantly better. We are also very selective with hiring, which works as one of the solutions for these issues.

Being from Bihar, my Odia is also not that fluent, and this language barrier is another challenge that I am working on. To work well you need to make human connections and that can be done only through an understanding of language and culture. Which is something I'm learning quickly.

Going forward, what are the goals that you wish to invest in and how do you plan to take them further?
My biggest goal is to grow aggressively in the next few years. I want to double my sales in all the sectors that we are working on. My second goal is to be recognized as a good place to work. I also want to have good HR policies and workplaces where people want to come to work.