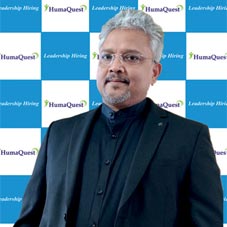 No matter how many new consulting organizations pullulate every year, only the ones that offer quality of services imbued with novel customer experience thrive and eventually curve their niche. HumaQuest Consulting India Pvt Ltd, a highly sophisticated consulting organization, belongs to that breed. Having commenced its operations in 2013 based out of a 120 sq.ft room with only three employees, HumaQuest has come a long way and grown phenomenally – to a larger commercial space in Park Street areas in July 2014 and subsequently its own corporate office in Salt Lake, the Silicon Valley of Kolkata and covering its PAN India operations in all Major cities. After more than seven years, the company which is recognized as one of the today's leading players in Leadership Hiring, specialized in Healthcare & allied Industries, is having a sound track record of placing more than 500 Senior Industry Professionals / Corporate Leaders / Niche technical talents across the country including brining many niche talents from abroad to India which is otherwise not available in India in Leadership level. Highest value CTC closure for HumaQuest so far is 2.5 Crores.
This amazing growth track of HumaQuest can be traced back to the foresightedness and more than 25 years strong experience of its Founder & Managing Director, Sujoy Ghosh. Before settingup HumaQuest, Sujoy has been instrumental in shaping-up business transformation & growth of various MNCs, including Indian Healthcare & Consulting organizations like SRL-Fortis Group & Biocon Group, Medical Device companies like Johnson & Johnson, Pharma giants like Eli Lilly & Pfizer, and global Management Consulting firms like Frost & Sullivan across multiple roles and geographies. No wonder his approach has already found its winning formula for his clients and in turn for HumaQuest itself. CEO Insights interviews Sujoy to further explore his entrepreneurial journey.
What inspired you to establish HumaQuest Consulting, and how
has been your journey so far?
Since 2006, when I was 34 and gained around a decade of experience, I started thinking about optimizing my experience and contributing to humanity in my own way. That's why I invested in a small commercial space in my hometown, Kolkata, just before joining Biocon in Bangalore as their Business Development & Strategy Lead. This gave me an address to achieve all formal licenses & approval, and in turn pursue my dream entrepreneurial journey.
Eventually, when I realized my dream in 2013, I named the company HumaQuest, which means the 'Quest for Humanity'. Foreseeing the industry-specific as well as the norm startup challenges, I initially adopted a strategic approach by tying-up with a Mumbai-based company as their franchise. We became independent after a year. Success has inspired us in countless ways, and by 2025, we aim to be the leader across the business & industry segments that we operate in.
When it comes to customers, we confine our focus to quality of deliverables and highest level of confidentiality with prompt turnaround as per their specific requirement
The consulting industry in the country is quite populous. What is the game changing difference that you make?
Usually, the industry participants are keenly focused on aggressive Business Development with new client acquisition on a daily basis. But instead of this norm practice, we focus on targeted focused clients, wherein we intensify our focus and consolidate our work across all facets of their Human Capital requirements with utmost commitment, dedication, and prompt turnaround time. This ensures their complete satisfaction, making them extend their complete support to us and channeling most of their requirements to us. In the process, we consolidate our association with the existing clientele for long terms. On the other hand, even if their HR admin moves-out to another company, we become their natural choice in their new company due to quality deliverables, quick turnaround time and rich industry knowledge.
The 360-degree approach is also something that has contributed to
your success. How does that pan out?
When it comes to customers, we confine our focus to quality of deliverables and highest level of confidentiality with prompt turnaround as per their specific requirement. The outcome in truth is largely dependent on the way we treat our employees. We keep all our commitments and engage them in a lot of social and group activities, which include taking them out for lunch, get together, regular appreciation, ongoing training & development, following a road map for their growth, huge variables for performance above expectation, and rewards & recognition. Moreover, we ensure personalized human touch with everything we do and develop a winning culture with overall transparency. We are also determined in keeping our commitment to partners & vendors. Be it paying them on time, renewal on time or any other commitment, we strictly adhere to the timelines with transparency.

What's the future set for HumaQuest?
Hiring/recruitment is a non-core but tedious job for any corporate organization. Hence, I feel, the potential and opportunity in our industry would be immense irrespective of recession. We have been planning to develop an interactive interface between our Customers, Candidates and Consultants through an e-Platform which will optimize and increase the promptness of our work and develop our own database. The platform will intelligently leverage the advantage of the digital era.

Sujoy Ghosh, Founder & Managing director, HumaQuest Consulting India
Sujoy is a Chemistry (Hons.) graduate with Master's in Business Administration from Indian Institute of Social Welfare & Business Management. He has also done a Management Development program from Indian Institute of Management, Lucknow. He is an industry veteran with more 25 years of professional experience.

Travel Destinations: He loves hill stations & beaches
Food: All kinds of Mughalai food items like Kebabs & Biryani, and authentic Bengali traditional cuisines

Advice To Budding Leaders In The Industry:
"Focus on knowledge-based consulting with significant value creation through a consultative & participative approach with depth in basics of business. The trust, transparency, and the highest levels of integrity & confidentiality are the words to live by"