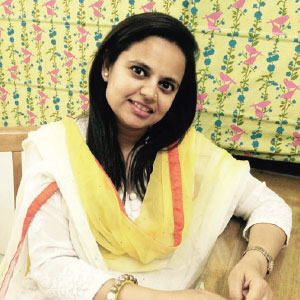 'Necessity is the mother of invention'. Serving as this quote's perfect archetype, Swati Jain Director, The Banyan began climbing the entrepreneurial mountain with a lofty goal and the determination of developing a safe, healthy and creative environment for children (6 months–10 years) where they can develop, observe and learn, thus making learning a unique experience. Her Honours in Psychology and Master in Management strengthened her technical background for this entrepreneurial journey and facilitated her to scrutinize each activity from a child's perspective and modify it as per their requirements. With her charming personality and pleasing demeanor, she has also been able to win the confidence of the parents and the children. Proud of her achievements, Swati speaks, "Currently we cater our services to cities in Karnataka, Rajasthan, Delhi, NCR and are gradually expanding all across the country".
It all started 14 years back, when Swati was expecting her second child. She started exploring options for unconventional preschool and realized that the existing ones did not have modern toys, equipment & teaching methodologies. On this she says, "My husband shortlisted different different schools in U.S. and experienced their working. He was highly influenced by the state-of-the-art educational methodology of Megellan Academies". In a quest to provide similar educational facilities in India, Swati joint hands with Megellan Academies and opened her first center at New Delhi with the
latest toys, teaching methods and curriculum.
Swati, however, confers the credit to her husband who has been her mentor, advisor, critique and supporter at all times and worked equally to build the brand name along with great family support
Unique Learning Environment
A joint venture, The Banyan operates on the Indian standard curriculum and tries to bring best for Indian parents. The organization not only provides bright colorful atmosphere, high-tech toys, equipment and teaching methodologies, but also organizes innovative summer, winter, and holiday camps. Understanding the entire clause of parenthood, Swati even provides sign language training to children and conducts several mother children & teacher interaction programs; there by developing the strong bond between child & parents. These unique & innovative ideas aided Swati to acquire sufficient number of children initially at the centre and build a brand name over years.
With unswerving confidence and trust in her team, Swati launched one of India's pioneer in-house Corporate Daycare Centers where employees can leave their children in professional, hygienic, and caring hands and be assured that their kids will be well taken care of and also grow with highest level of affection. Thus, the establishment of corporate daycare center at workplace is a welcome step and a great facility for the working mother. She even associates with the company to plan, build, design, procure inventory, recruit staff and provide trainings to run a world class corporate child-care facility; thereby making parenting fun and tension free for the working
parents. "As soon as the maternity leave is over, female employees need to join back their work. It's difficult for them to leave the young children at home with the maid in the nuclear family and focus on their work. Therefore, we are trying to open corporate daycare center in all the metros and also targeting smaller towns to make it easy for the working parents to keep their children in our care in a safe and enriching environment." utters Swati.

Overcoming the Hurdles
Swati considers that meeting a parent's expectation and satisfying them is the mammoth task, apart from forming a bond with toddlers to make them feel comfortable and handling difficult children, as they come from different cities and cultures. Her ability to think creative, generate new ideas, explore options, do multi-tasking and enthusiastic and committed team enables her to meet parent's expectation and provides best quality & services in every conflict sector. Swati, how ever, confers the credit to her husband who has been her mentor, advisor, critique and supporter at all times and worked equally to build the brand name along with great family support.

More over, she feels that being in an education sector and dealing with children every day gave her an opportunity to enhance her learning and take more responsibilities. She elucidates,"It gives you immense happiness when you get good feedback from the parents and come to know that your pre-school/daycare child got into a good school because he/she was really well taken care of and nurtured in our centre".

Inspiring and motivating employees towards constant learning and self-improvement, Swati lays great emphasis on attending seminars, workshops. She even conducts in-house trainings for them, so they can thrive and contribute meaningfully to fulfil their shared objective- company's growth. She recommends her peers to have a definite plan,work towards it move forward and succeed!