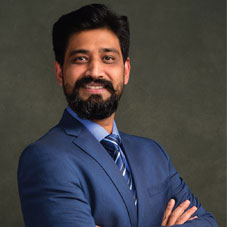 The ever-changing tolls environment adds additional complexity to an already complex industry. Fleet and toll management systems, supported by industry leading technology, payment options, and consolidated billing for toll domains, allow fleet managers to reduce the time spent managing tolls. Tapas Samantaray, CEO at MSTS Tolls, is leading the HGV fleet management industry with a suite of seamless and innovative solutions. MSTS Tolls, was founded in 1981 by the Dutch Transportation Association as SCT Transport Diensten BV, offering toll payment solutions for a few European toll domains. It was acquired by Multiservice Technologies in the mid 90's and the brand MSTS Tolls evolved, focused on providing a market-leading tolls solutions. The business was recently acquired by Shell on 1st Jan 2022. With advanced technology, top-of-the-line customer support, and account management, MSTS Tolls allows fleet managers to seamlessly manage their fleet related services from one portal.
Tapas S is using his management expertise to lead MSTS Tolls into the future in providing a seamless experience to businesses with H2H integrations and online toll management for the entire fleet. Tapas Samantaray engages in a one-on-one interaction with the CEO Insights Magazine, here's the highlight from the interaction.
You possess about two decades of experience how has your path to success been, and what is your success mantra? What is the motivation that fuels your daily routines?
I ultimately believe in the quote, "Success is never owned it is rented, and the rent is due every day". In my professional career, there have been several moments of success but even more moments of setbacks, struggles, and challenges. All these years, the most important attributes have been staying true to my purpose, setting stretch goals,
acquiring knowledge from varied circumstances, and staying focused, humble and courageous. I have been very fortunate to have had the support of my mentors, managers, and teams, who enriched my learning journey. My mantra is very simple Just keep going. As I kept growing in my professional life, my intrinsic motivations also developed and changed course however, in my current role, my real motivation to turn up for work every day is to build a workplace where all our employees feel safe and have a certain sense of fulfilment.
Be resilient and respectful, and build genuine relationships
How would you define MSTS Tolls as an organization and its current position in the market? Tell us about your flagship offerings and the value additions customers can expect from your toll products and services.
MSTS Tolls has two primary characteristics that contribute to its ongoing success the experience obtained by being one of the first movers in the tolls payment solutions market and the agility gained by maintaining a startup attitude. MSTS Tolls is a leading toll payment services provider across Europe, with solutions coverage across Europe and servicing customers across the continent.
Our primary objective has always been to simplify and digitize HGV fleet management. Years of research and development allowed us to create a fleet/tolls management platform that is indispensable for any fleet manager. Our portal is currently one of the most advanced on the market, recognized by all market stakeholders, and even used as a benchmark by competitors. Our other key differentiator is our superior multilingual customer service and highly customer-centric approach.
What is the technology framework built within the company that makes the payment procedures more manageable, and which are the latest technology trends the company plans to adopt?
We have developed a system that digitally interacts with all European toll providers, enabling our clients to manage all toll-related activities, including payment, ordering, and reporting, from a single application. Our system sits between the
and toll providers, simplifying clients' daily operations while dealing with all the complexities on the toll provider's side. Our application is quite contemporary and is built on a modular, micro services based architecture and is API native which allows faster integrations and feature implementation. Some of our critical future projects are geared towards best utilizing the current technology evolutions on data science and optimal data visualization.

Going forward, what are the changes in market behaviour that you anticipate, and what are the opportunities you foresee?
The market's primary direction has always been and will be digitization. I anticipate the expansion of EETS, i.e. a single device covering Europe, thereby decreasing reliance on national tolling systems and devices in the near future. Long-term, data driven value-added services will be the key differentiators therefore, our focus is to build and present such features in an intuitive and integrated view to customers. We also foresee the markets moving towards an experience driven economy from being a product-driven economy, and we see a lot of opportunities there and are diligently working on materializing them in the HGV Fleet solutions space.

In light of your strong experience within the industry, what advice would you give to budding industry leaders?
I believe it is essential for corporate leaders to focus on building and maintaining good human relationships. Owing to the stress and demands of the business, one might be tempted to undermine the relationship in face of tough decision-making. In such situations, remember not to give in to the temptation sound business decisions and good relationships can always co-exist.

Tapas Samantaray, CEO, MSTS Tolls
With a post-graduate certificate from Stanford University, and an MBA from IBS and a BE in Electrical Engineering from KITS, Tapas Samataray has held leadership positions in sales, marketing, product, and technology before assuming the CEO role. His professional experience in the payments tech space spans multiple sectors, such as banking and finance, education energy, transportation, and logistics. His hobbies include reading and travelling to explore new places.