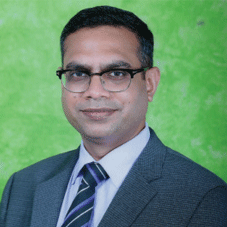 Vijay Aggarwal is a visionary in the Indian oil and gas industry and one of the very few to receive the Internal Corrosion Specialist Certification from NACE International. He currently holds the office of Director at Pyramid Technical Services. Apart from just being a conventional business leader, who is driven by business profits, Vijay ensures that he brings the best out of the people around him so that they can develop and give their best for the organization consistently.
In an exclusive interview with CEO INSIGHTS, Vijay talks more about his professional journey and what helped him to achieve sustained success in the industry.
1. Give us a brief detail about your educational and professional background?
I completed my High School at Delhi Public School, Mathura Road which is one of the oldest and premier institutions in India. Thereafter, I completed my BE in Instrumentation and Control from Netaji Subhash Institute of Technology, Delhi (formerly Delhi Institute of Technology under Delhi University). Immediately on completion of BE, I went for my MBA on full scholarship at Isenberg School of Management, University of Massachusetts, Amherst, USA. Throughout my academic life, I have been able to perform well consistently and rack up numerous awards and recognitions.
2. How do you use your expertise and experience to chalk out successful business operations for the company?
From the beginning itself, I have tried my hands on all aspects of running a company, including sales, accounting, HR and operations. Though I feel most comfortable with managing operations and hands on experience in other roles gives me a unique perspective when I am trying to guide my team.
Being an engineer, I love to be on field but that's not possible all the time. But still I occasionally visit sites at Offshore complexes,
refineries and onshore pipelines to get firsthand experience of problems faced by customers. This helps me in assessing and providing better solutions for them. Over a period of time, I have gained expertise in my field which helps in guiding my field personnel when they face problems in the field.
3. What was the most crucial project Pyramid Technical Service has designed and executed under your guidance?
The most crucial and most prestigious project for me was the start of offshore corrosion monitoring project of ONGC, which we got in 2006. It was the brainchild of my brother, but when he delivered the contract, it was my responsibility to see it through. It was a huge contract with added services of Pigging, and Maintenance of Pigging Facilities. Since it was our first offshore project, it was imperative to successfully deliver to gain a foothold in the industry. Me and my family shifted from Delhi to Mumbai to execute this project. Not only we successfully executed the project, we slowly became the leading provider of corrosion monitoring services in both offshore and onshore pipelines. As of now, we monitor corrosion in close to 200 oil and gas pipelines all over India.
I attend a lot of events, conferences, seminars and training programs to keep myself updated with latest trends and technologies in the oil and gas sector
4. What are the key drivers that you deploy to ensure that the company's Services and operations are used appropriately to meet its short/long-term needs?
As a Director, my focus is always on customer satisfaction. A satisfied customer automatically takes you on the growth path and takes care of your short/long term needs. I never shy away from advising alternatives to customer, even if it may lead to commercial loss, but is the right thing to do. This sooner or later brings in bigger gain. I guide my team on the same principles to help the customer solve its problem and not focus just on selling the product. If I drive this value system in my team, they drive the same value towards the company thereby ensuring smooth operations.
4. Can you elaborate more on the services that your company offers?
Our group companies provide a
range of services to cover all aspects of corrosion in pipelines as well as refineries. Apart from Internal Corrosion Monitoring, we now also do External Corrosion Monitoring through Cathodic Protection Monitoring and Maintenance. We also provide integrity assessment services for all types of pipelines. We have also expanded our portfolio of offerings by tying up with foreign companies to provide solutions such as deposit monitoring, water cut monitoring as well as chemical injection systems.

We represent international companies from USA, Canada, UK, Finland, Russia and Indonesia. We have come to realize that whenever Capex goes down, Opex goes up to sustain production. This shifts the focus of Oil and Gas companies to spend more on maintaining existing assets and that's where we chip in by monitoring corrosion in existing pipelines and help in preventing their failure.

5. In your professional journey so far, which are the milestones that bestowed you with utmost satisfaction - both as an individual and as a Director?
As an individual, I have come to understand that to grow, learning has to be a continuous process. I have been attending training, courses all over the world to gain knowledge and certifications in my field. So, my biggest achievement personally was to attain the certification of Internal Corrosion Specialist from NACE International (now AMPP). I am one of the very few Indians to achieve this certification.

As a Director, the milestone that bestowed utmost satisfaction was when our Sales for the onshore corrosion monitoring works reached 50% of our total Sales. Our sales until 2017, used to be 90% offshore works.

6. How do you update yourself with the latest technologies and trends in the oil Sector of India?
I attend a lot of events, conferences, seminars and training programs to keep myself updated with latest trends and technologies in the oil and gas sector. I attend our annual NACE CORROSION conference every year in USA. I have been a speaker and panelist at many national and international forums as well.

Vijay Aggarwal, Director, Pyramid Technical Services
He is an industry stalwart that has overseen a plethora of significant projects in the oil and gas industry throughout his long career. Owing to his expertise and experience, he has also been able to develop into a visionary in the global oil and gas industry.