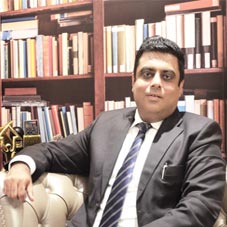 The Indian real estate industry is a booming market segment with a number of well-established legacy organisations operating as leaders in specific regions or cities. Competing with these organizations is a dynamic company constituting of professionals with an aim to create a process-driven, delivery focused leader in affordable luxury projects – Platinum Corp. Headed by industry stalwart Vishal Ratanghayra, Platinum Corp has over time, established its own unique approach to the business that has helped carve out its own niche and set an example that others ape.
In an exclusive interview with CEO INSIGHTS, Vishal Ratanghayra, the Founder & CEO talks in detail about his professional journey and the operations of Platinum Corp.
How did your educational background and professional expertise help you to manage your company?
The real estate developers' community is by and large either capital intensive or they are rich with land banks. In my case, it was neither of the two. I am a qualified architect, and this has helped me move beyond just the commercial and financial aspect of the business, to understand design, aesthetics and functionality.
Our technical expertise and experience combined with our professionalism and pursuit of excellence has helped us carve our own niche in the segment and become synonymous with affordable luxury and the leaders in end-to-end redevelopment. We have successfully managed to raise the bar in quality of construction and customer and tenant deliverables. I am yet to meet any other person who has started from scratch and in
a short span of eight to ten years emerged as a credible name in the industry.
What were the initial challenges that you faced in the industry and how did you overcome this to develop into a unique entity in the industry?
Our initial challenge was perception. When we commenced operations, we were viewed as professionals and not fellow developers. Capital too was hard to come by for our projects as we didn't have a track record to show at that point. That said, our technical and professional expertise, sincerity and hard work eventually helped us gain the trust of clients as well as financial and channel partners.
If you aspire to be an entrepreneur then start a business in an area that you are really passionate about. Follow what your heart desires and only then will you be able to dedicate 100 percent to the development of that business
I strongly believe for a business to succeed, understanding your customer and then refining your product or service to meet his/her needs is perhaps the most important business strategy. Our vision was to create affordable homes in good locations within cities that would instill a sense of pride in owners. Our in-depth research on the design of our projects to enhance functionality, while at the same time reducing cost enabled us to offer our homes at a competitive price to buyers.
Our smart plans offer residents versatility in the space they own and helped us create homes that people love and the industry admires. As Oscar Wilde once said, 'Imitation is the sincerest form of flattery that mediocrity can pay to greatness'. Soon, other real estate developers started copying what we were doing.
What were the various innovations that you have developed for the company?
Unique and contemporary regional architecture has been the hallmark of our projects. The design of our apartments has been our response to the needs and preferences of our target audience. We understand that our customers are value-conscious people who prefer the location of the project and functionality over large carpet areas.

Our high-tech, compact and multi-functional apartments with superlative fixtures and finishes that give them a sense of luxury while being 'affordable' has been a huge game changer. We have also focused on providing a 'world within a world' to our customers with a good mix of amenities and facilities along with common areas and spaces where they can socialize and entertain guests. Our operations revolve around the needs of people and we make sure that we understand the requirements of buyers.

Do you participate in any mentorship programs? Also, what would be your advice to the budding entrepreneurs in the industry?
My mentorship activities have been focused on Platinum's 150+ employees and grooming young leaders within the organization. As far as my advice to budding entrepreneurs is concerned, if you aspire to be an entrepreneur then start a business in an area that you are really passionate about. Follow what your heart desires and only then will you be able to dedicate 100 percent to the development of that business.

How do you manage to strike the perfect balance between your personal & professional life?
I have always had 2 important priorities in life - the first being my "work" and the second being my "family" – both of which define my identity and purpose. There is no "perfect" balance – I think that if you make the best of your time everyday contributing something of value each day to your work and to your family – you have struck a fairly good balance.

Vishal Ratanghayra, Founder & CEO, Platinum Corp
His passion for the profession coupled with technical understanding of architecture and design has helped him not only build a successful business model but also gain an edge over the rest of the competition.