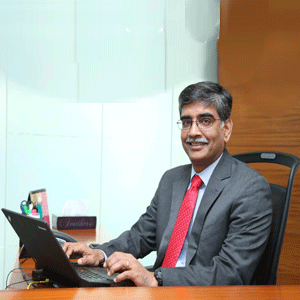 When you think about Whirlpool, you certainly cannot forget its most memorable advertising jingle'Whirlpool…Whirlpool..!' This jingle has been rever berating across the lives of millions of people in India for a long time. Whirlpool has always silhouetted as a leading brand to reckon-on among India's populace when looking for refrigerators, washers, air conditioners (ACs), air purifiers, microwave ovens, dishwashers, and many other appliances. Bedecked with a brand logo that symbolizes unrelenting commitment to deliver products with high quality and integrity, Whirlpool of India Ltd. today outclasses as the pioneering manufacturer and marketer of a spectrum of home appliances in India. Whirlpool of India takes pride in being the subsidiary of Whirlpool Corporation, a leading premium appliance manufacturer in the world with a heritage of more than 100 years and a strong presence across the globe. The firm extensively emphasizes focus on the Indian consumer, data-driven decision making and most importantly, execution of the right strategy by deploying the right talent. By and large, Whirlpool works on being competitive today, while building capacity, products, and talent for tomorrow.
Leveraging the best of his experiences at Unilever, Coca Cola, Pepsi and Siemens, Sunil D'Souza(Managing Director, Whirlpool of India) endeavours to bring-in the perfect blend of strategy and its execution at Whirlpool of India. Sunil has exclusively shared numerous aspects about the excellence of Whirlpool of India with CEO Insights. Below are the snippets of the same.
Brief us about the birth of Whirlpool of India and its distinguishable aspects.
Whirlpool plunged into India in the late 1980s with the long-term commitment of serving the Indian consumers and stayed focused despite the turbulence it encountered. We at Whirlpool of India have recognized the true potential of India, and today we are proud to have more than 90 percent of our portfolio manufactured domestically. We do not just force
global products into India, but leverage our local and global strengths to execute what we call'local insights with global technology'. We have a clear strategic roadmap for India, but more importantly, we also have very clear milestones with timelines in that strategic journey.

"Harnessing the power of global technologies and combining them with local insights, we strive to delight the Indian consumer with world class, best in class products"

But having the best brand name in the world or the best technology comes to naught without great people, and I'd dare say our people are our biggest strength and also the key to achieving our strategy through great innovation and focused execution. They enjoy extreme freedom and risk taking ability once they earn our trust.

The fact that a majority of our senior leadership is home-grown, along with the fact that many of our senior leaders of the past are CEOs of reputed firms today, proves our credentials as an organization focused on building great business leaders. Our top-line growth of 50 percent and bottom-line growth of 70 percent over the last three years speak volumes about our strategy, execution, and our team today.

Being the subsidiary of a renowned global firm, how are you harnessing this power in innovating new products?
We started in India by acquiring a 100 percent stake in our washers Joint Venture with TVS and then acquiring the Kelvinator refrigerator business. Overtime, we expanded our portfolio keeping the Indian consumer at the center of the plan. Harnessing the power of global technologies and combining them with local insights, we strive to delight the Indian consumer with world class, best-in-class products. In fact, innovation is our lifeblood. For instance, our Bloomwash technology for washers is a hybrid of front and top loading that moves the clothes in a unique blooming flower motion(360o). Understanding the mindset of Indian women who prefer washing their clothes in warm water and the cold climate conditions of the north, we incorporated a heater into the top-load washers. Our Intellifresh technology in our Frost Free refrigerators constantly modifies the internal temperature of the refrigerators according to the internal load conditions and the external temperature, while our Insulated Capillary technology in our Single Door refrigerators retains cooling up to 12 hours during a blackout.

Our new innovations include an air conditioner with in-built air purifier, voice-enabled AC and a DIY water
purifier. In this DIY water purifier, consumers can conveniently detach the old filters and attach the new ones on their own without the headache of waiting for a service operator and the peace of mind of suing a genuine Whirlpool Filter. We are also planning to catapult our cooking business into the top league through our recent JV with Elica.

Elucidate on the production process at Whirlpool of India.
While our internal marketing & sales team proactively identifies insights and consumer needs, our global technology teams comprising of 1000+ engineers work on product development at the back-end across the development centres in India and across the globe. In fact, we devise long-term roadmaps regarding the scale, type, market share, revenue profitability and reach of each product, way before its design & development. In devising this roadmap, we ensure that we are abreast of current technologies as also newer technologies on the horizon. We scan technology in adjacent industries as also keep an eye on the startup ecosystem which is reinventing business models.

We follow a holistic approach towards sustainability. Besides adhering to Government norms and utilizing solar energy for sustainability, we strive to keep the energy consumption in refrigerators at higher star ratings and monitor water consumption in washers. We track our waste to landfill ratios and e-Waste, setting improvement targets on this year on year.

We are part of a Global Corporation, but have 'Made in India' for more than 25 years now because it is the right thing to do. We have invested in our plants, people and products locally. We have a clear roadmap of future manufacturing in India, having recently announced a plan of investing 400 crores in the next five years.

Key Management:
Sunil D'Souza, Managing Director
Sunil is a proficient leader with great exposure on diverse business models, learnings from great bosses & mentors and work experiences across varied cultures & geographies. Above all, he has truly mastered handling and directing people in the right direction.

Offices:
Gurugram & Pune

Offerings:
•Refrigerators
•Laundry
•Kitchen
•Air Conditioning
•Purification
•Accessories