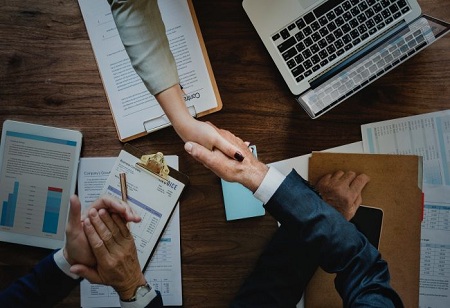 Mr Devesh Dhar Dwivedi has joined CMS IT as Chief Finance Officer effective 3rd February 2023, adding to the strength of senior leadership in the team.Devesh comes with a rich experience of over 17 years in reputed organizations like MTAR Technologies, Smart Auto Systems Private Limited (a Mitsui Company), High radius Technologies, Bharat Forge, etc. where he played a pivotal role in growth and profitability, and was also able to bring around financial transformations by adopting new technologies and successfully implementing them in finance and accounts. He has also managed large complex projects, and green field operations, and led teams to attain business goals.
Commenting on the appointment of Mr. Devesh Dhar Dwivedi, Mr. Sanjeev Singh CEO of CMS IT said "We are happy to have Devesh on the team and as a leader with experience who will be able to steer the company's focus with a 360-degree view."
Devesh was Chief Finance Officer at MTAR Technologies, his last engagement, and has been promoted to Chief Operating Officer within a short span of one year, given his capability. In MTAR, he successfully led the IPO which got oversubscribed by 283 times. Devesh is an alumnus of the Indian School of Business (ISB)-Hyderabad, IIT-Delhi & NIT-Allahabad. He is passionate about Bitcoin, Blockchain, Renewable Energy financing, and Technological Singularities and is expected to lead CMS IT Services to the next level of business growth.
Commenting on his appointment, Devesh Dhar Dwivedi said "It is a strategic shift for me from start to It. While tech is the driving force of the business, financing tech is a greater challenge. Negotiating the challenge to add value will be a great experience."