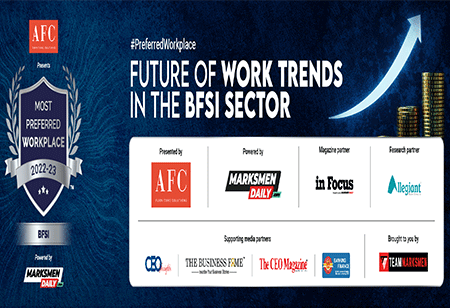 Over the past few years, a clutch of BFSI doyens have reshaped, reskilled, and reimagined the workplace at scale, setting an example to follow
The tectonic shifts wrought by the pandemic rocked industries across the globe, creating altogether new paradigms. While customer expectations, innovative technologies, and regulatory requirements are just some of the powerful forces creating an imperative to change, an equally potent vector is that of the workplace itself. As a digital-first model of banking services came to the fore, this led to many branch closures as a more "phygital" model took root. The numbers bear this out too; in 2021, more than 40% of core retail banking sales were digital, a new high for the industry.
The million-dollar question
Even as many organisations are adapting to this new way of working, this leads to a few big ticket questions coming to mind. Is this trend of digital banking indicative of a larger shift and here to stay, or is it transient? Will customers return to physical branches in droves? And what does this mean from a talent perspective? Many organisations moved to shuffle teams around to make up for those that had talent shortages, even as they grapple with these questions and wait for the dust to settle.
One thing is amply clear; BFSI players must evolve and look to get ahead of these trends if they are to come out top in this new-look industry. Business as usual is simply not an option; instead, striving to meet modern demands alongside embracing a transformative tomorrow is the way forward for those that seek to lead the way. A clutch of industry players are doing exactly that, challenging the established norms, delivering customer-centric innovation in droves, and upskilling or reskilling the workforce to enhance employee welfare.
These BFSI players leading the way and blazing a trail of excellence constitute a galaxy of organisations that illuminate the Most Preferred Workplaces 2022-23. Even as the winds of change swirl around the industry, these are the organisations acting as a buffer and holding firm by setting new benchmarks for workplace culture and organisational excellence, showing a way forward for all.
A unique celebration
Given a gilt-edged opportunity to consciously evolve and elevate the very nature of work, these organisations have carved a niche for themselves. Their success models will be analysed at close quarters by motley industry leaders at a gala on-ground event to be held on 15th December in Mumbai, where they will be recognised for their myriad accomplishments.
By shining a spotlight on what sets these brands apart, we can begin to best understand how others can emulate their practices and mindsets. In order to do so, the event will witness a coterie of industry speakers and leaders take to the stage to discuss hot-button topics, including Himanshu Mishra, CHRO, Axis Asset Management Company; Atul Joshi, Chief Human Resources and Admin, Mahindra and Mahindra Financial Services; Puneet Khurana, Group Head HR, Policy Bazaar; Rajiv Burman, Global People Partner, S&P Global; Dr. Vishalli Dongrie, Head People & Change Advisory, KPMG India, and many more.
This one-of-a-kind platform, organised by Team Marksmen, shines a spotlight on what sets these brands apart, we can begin to best understand how others can emulate their practices and mindsets.
This research-driven initiative has seen leaders appraised on the following parameters:
Employee Centricity
Organisational Purpose
Digital Dexterity
Work Flexibility
Diversity, Equity and Inclusion
Growth and Rewards
Employee Retention Strategies
Organisations must understand that with the shifting sands of time, they too must adapt to these changes. The BFSI brands among the ranks of the Most Preferred Workplace are at the forefront of this wave of change, and are blazing a trail for others to follow.
Source : Press Release