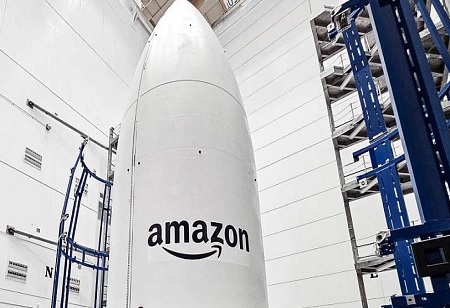 The Department of Telecommunications (DoT) has requested additional clarification from Jeff Bezos-led Amazon regarding its satcom licence application on crucial matters such as establishing satellite gateways and transferring and storing data, among other things. A global mobile personal communication via satellite services (GMPCS) permission application from Amazon-owned Project Kuiper is being examined by the authorities. With this licence, Amazon will be able to provide voice, text, and broadband services to both individual and business clients from space.
"We have asked Amazon for information on a few topics, such as data and satellite gateways. Under the condition of anonymity, that this was a necessary step in the process of reviewing the application. An additional official stated that the application will proceed after the government is pleased with Amazon's answers. In addition to DoT, the application will be subject to a security examination by the Ministry of Home Affairs (MHA). An interministerial body will make the ultimate decision regarding Amazon's licence after receiving all the necessary information.
In order to obtain the necessary regulatory clearances, Amazon has also applied to the Indian National Space Promotion and Authorization Centre, or IN-SPACe. Following Elon Musk's Starlink's agreement to abide by the license's terms and conditions, the government has moved to request more information from Amazon regarding data storage and gateways.