Education Technology (Ed Tech) and Smart Classrooms Market worth 93.76 Billion USD by 2020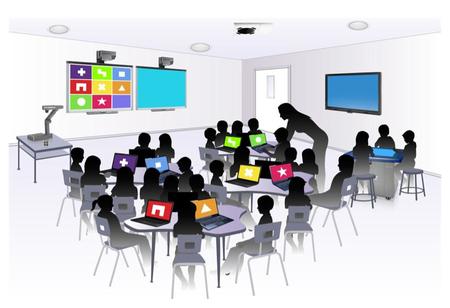 CEO Insights Team
The report "Education Technology (Ed Tech) and Smart Classrooms Market by Hardware (IWB, Projectors, Displays, Printers), Systems (LMC, LCMS, LCDS, SRS, DMS), Technologies (Gaming, Analytics, ERP, Dashboards) - Global Forecast to 2020", defined and segmented with an analysis and forecast of the global and regional opportunities in this market. It also highlights the drivers and restraints for this market along with various insights on trends, opportunities, and challenges.
The concept of a smart classroom stems from the incorporation of the latest advancements in the education technology and solutions. Smart Classrooms require investments for the purchase of hardware and software products. Its end-users are schools, colleges, universities, and other institutions that offer professional courses for students and learners all over the world.
There are various new tools that have been developed in the Ed Tech and Smart Classroom market, which help educators and instructors to keep a track of the progress of the students. These are further augmented by social, mobile, and video learning.
Instructors have begun to connect with their students by using network and communication channels across the globe.

Ed Tech engulfs innovations that help educational institutions or universities, which deploy large amounts of data and interactions across various students engaged in different systems, such as learning management systems (LMS), student information systems (SIS), and student response systems (SRS).

The Smart Classrooms/Ed Tech market is segmented by the types of Ed Tech-enabled hardware products and systems. The hardware products comprise interactive whiteboards, projectors, interactive displays, printers, interactive tables, and audio systems. On the other hand, the educational systems have been classified into learning management systems (LMS), learning content management systems (LCMS), learning content development systems (LCDS), student response systems (SRS), assessment systems, collaboration systems, classroom management systems, and document management systems.

The Global Ed Tech and Smart Classroom market is segmented on the basis of enabling technologies, such as educational gaming, educational analytics, educational ERP, educational security, and educational dashboards. The regions covered in this report are North America (NA), Europe, Asia-Pacific (APAC), Middle-East and Africa (MEA), and Latin America (LA).

MarketsandMarkets forecasts the Education Technology (Ed Tech) and Smart Classrooms Market is expected to grow from USD 43.27 Billion in 2015 to USD 93.76 Billion in 2020, at a CAGR of 16.7% during the forecast period from 2015 to 2020. Educational cloud is expected to be the largest adaptor for technologies used in the education sector in current situation. In terms of regions, North America is estimated to be the largest market for the Ed Tech and Smart Classroom market.