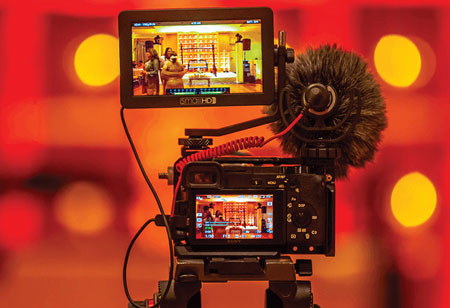 YouTube is indeed one of the most popular platforms for watching exciting video content. However, due to its popularity, the competition to get more viewers is ruthless. If you are a content creator, it is important to do something unique and make an impression. One of the best ways to do that is to make a professional YouTube intro!
Luckily, making a professional YouTube intro has never been so easy. With the modern features of online video editor tools such as promo.com, things have become extremely simple and straightforward. In this article, we are going to guide you on how to create the professional Youtube intro you always wanted. Without further ado, let's dive right into it!
8 Steps To Make A Youtube Intro
1. Decide your theme
Just as the channels on Youtube vary in themes, their intros are also different. To make sure your intro matches the theme of your channel, check out the intros of other creators in the same niche. Thus, take inspiration from their work and come up with something unique that can signify your channel. You must have an image of how you want your brand or channel to be promoted to the viewers. Use that idea to ensure that your intro goes well along with it.
2.Record footage or take pictures
If you feel like you need to capture new pictures or record new footage for your intro, do it with a good camera. You don't need to have a professional-level camera for a good video. A phone camera and a well-lit environment might as well do the job. You can also use a tripod for better focus and added stability.
3.Start with a new project in editing software or online video editor
Create a new project file in the software of your choice and name it accordingly. Most video editors now offer numerous templates to choose from. Even a free online video editor has a huge variety of options that'll meet your needs. Each template has a unique theme and style. So make sure to choose one that goes along with your channel type. If you cannot find a template that goes well with the channel's idea, you can start with an empty one.
4.Add your media
Explore and find the relevant images, videos, illustrations, or graphics for your intro. Add music, transitions, and photo effects to bring life to the video. If you can not find anything according to your taste, you can download music, images, and videos from websites that offer royalty-free content. Also, make sure to add the channel's logo to stand out from the crowd.
5.Add Text
Almost all video editors, from paid professional software to a free online video editor, have a text feature. It allows you to add text in different formats and styles. You can customize the font family, size, colour, and character spacing. Adjust the timing of the text and the location on the video where it should appear. Most creators add their channel names and social media tags. Some also add calls to action such as 'like' or 'subscribe'. If you're making a new channel, you can even add a small description of your content. While adding text, make sure that it's eye-catching but also easy to read. Uncommon fonts or weird colour combinations will ruin the video's aesthetics.

6.Customize the video
Cut out the parts of the video that are not relevant or too long. A long intro can bore the viewer and cause them to leave the video in between. Ideally, it should be around 10 seconds and not more than that. However, don't try to fit in too much content in those 10 seconds. Only add media that can give away your channel's purpose and catch the viewer's attention.

7.Preview
Once you are done editing the intro, watch it again to make sure it matches your channel and the idea that you started with. A good video editor will allow you to change anything that you added to the video.
8.Merge with your video
The final step is to combine your intro with the video you have to upload. Make sure the transition from the intro to the video is smooth. The intro should fade into the video naturally and should not feel off.
Some Tips for a Good Intro
1.Cold open
You must have noticed how some of the famous TV shows or even YouTube videos show a glimpse or scene of the video before it starts. After the glimpse, they start their intro video. This is known as cold open and is done to get the viewer's interest in the video. The sudden break in the scene creates a curiosity gap that makes the viewer want to continue watching. You can utilize this technique in your videos to attract viewers and keep them hooked.
2.Keep it short
As mentioned before, long intros are boring and cause the viewers to click away. So the longest you can go for an intro is 10 seconds. Don't exceed this time limit, but don't keep it too short either, as you cannot even build an impression.
3.Keep it relevant
Mention something that resonates with your viewers as well as your channel. Don't try to market yourself or boost your brand. Keep it simple and subtle. Ensure that the intro matches the theme of your content.
Conclusion
Establishing a good reputation online is not an easy task. However, with the availability of such tools, it is getting easier and quicker. Even with less content of your own, you can still create remarkable videos through this software. You can play around with different settings and add something new with just a click. Using a free online video editor such as Promo is pretty straightforward. If you are starting a new YouTube channel, we recommend following the above-mentioned steps to create an outstanding and professional Youtube intro. With the right content and tools, you can be social media famous in no time.