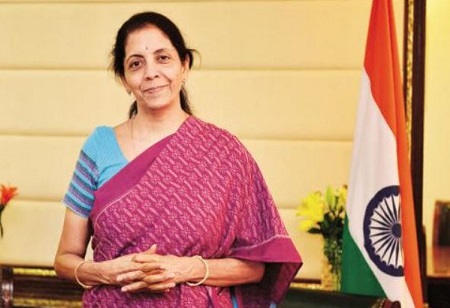 CEO Insights Team, Mandvi Singh, Content Writer
With the announcement of Rs.20 lakh crore economy package declared by our PM Modi, and FM Nirmala Sitharaman giving the details, reactions from the industry started pouring in. The package will restart the halted economy, while will enable India to become self-reliant – Aatmanirbhar Bharat Abhiyan. As soon as the details were declared, reactions from the industry started pouring in. Let us look at some of them.


T"he relief provided to the common man under EPF will help the affordable segment a great deal. The buyers of affordable fall in this category and they will be elated to get extra money at their disposal. Covid-19 situation has made everyone realise the importance of making safe investments and having a roof on one's head. With extra disposable income, these beneficiaries of the announcement made by the FM will go for buying real estate assets.
Other announcements regarding extending the timelines under RERA authority will help a great deal in providing relief as buyers will understand the reason behind delivery date extension."

Ravindra Sudhalkar, CEO at Reliance Home Finance

"The Finance Ministry's advice to States and UT to treat COVID-19 as an event of 'Force Majeure' under RERA will provide major relief to real estate developers whose projects have been stuck due to lack of liquidity and cash flow stoppages. The move to extend the registration and completion date by 6 months for all registered projects will provide more time to such developers to raise fresh financing or debt to complete their pending projects. The ease of compliance norms under RERA and other laws is timely and well thought out decision to ease the stress of small developers, especially those into affordable housing."

CP Gurnani, MD & CEO, Tech Mahindra
"The 20 lakh crore economic package will definitely give the impetus to the economy, industry and society; however, as every business is thinking of re-inventing itself to be future-ready, it is our responsibility as a country to define that 're-invent India' strategy, define the role of each of the pillars (economy, infrastructure, technology-driven system, vibrant demography and demand) laid down by the government, break down old policies and re-write collaboration between the private and public sector. The government is playing the role of an investor to create physical and digital infrastructure, create global standard academic institutions in Artificial Intelligence and data science, nurture local firms to create telecom infrastructure, cyber security global leaders. There was an independence in 1947; now that the fuel has been provided, let's make 2020 the year when we get independence from a non-digital world to make India truly a global digital leader in every aspect, so that both, the common man and businesses from India come out resilient and self-sufficient."

Amit Modi, Director ABA Corp & President Elect CREDAI Western UP

"Even though the extension the registration and completion date suo-moto by 6 months for all registered projects expiring on or after 25th March, 2020 without individual will help the developers from going into default for sometime, but we still feel that specific steps required for liquidity generation in the Real Estate Sector is the real need of the hour.
There is nearly Rs 7.8 lakh crore with the banks at the present moment, that has been parked with the RBI at moment and it's high time that, that amount is moved from the RBI and Banks to percolate liquidity in the economy."

Dr. Joseph Thomas, Head of Research, Emkay Wealth Management

"The announcement made by the Finance Minister, the first in a series, contained several measures targeted at improving liquidity and credit flow into MSMEs and NBFCs and smaller businesses. This assumes greater importance due to the fact that it is these segments which have been adversely impacted due to the lockdown. These measures will go a long way in instilling confidence in banks, financial institutions and investors in supporting the sections of business which actually require aid and help. The measures are more of supply side and there is very little that is on the demand side. Probably, the future announcements may contain a more balanced coverage of demand and supply side factors. Demand side factors generally tend to work faster as it is oriented towards the consuming unit directly."

Roma Priya, Founder, Burgeon Law

"India's MSMEs sector is the largest across the world after China. MSMEs might be considered as small investment enterprises but their contribution to the Indian economy has always been noteworthy. Our homegrown enterprises have been hit hard by the pandemic and this move by the government lays a path for liquidity infusion, thereby giving them the necessary handholding. Many of our startups are facing a crisis with the liabilities and are waiting to resume activity and engage their workforce, at least for the next quarter. The NBFCs will get a push due to special liquidity schemes and partial credit guarantee schemes announced by the government."

Meghna Suryakumar, Founder and CEO, Crediwatch

"In our view, some of the measures which should be welcomed by small businesses in India are:

(a) Global tenders barred from procurements up to Rs.200 crore - the Government's e-procurement sites have typically been flooded by large foreign players who bring unfair advantage in terms of pricing and size. MSMEs working as ancillary units (e.g. autos, infrastructure) lose the bidding on smaller deals. The move should improve the competitiveness of Indian MSMEs on government contracts. It should also see an increase in registration by MSMEs and Mid-Market businesses on such platforms.

(b) New definition for MSMEs - This has been a long pending demand from multiple industry associations. While MSMEs have tried to remain within a particular size in order to benefit from the MSME tag in the past, the new definition will promote them into growing further in size and scale.

(c) Collateral-free automatic loans - While this extends the previous loan moratorium benefits, the new terms should benefit as many as 45 lac businesses and help with working capital requirements in coming days. We believe, setting the threshold for eligibility (Rs.25 crore outstanding and Rs 100 cr turnover) is helpful but it is yet to be seen whether public sector banks will underwrite such unsecured loans at a faster pace on the back of these terms. The real-need of the hour is to move to cash-flow based lending.
(d) Equity & Subordinate Debt infusion - The need for Long term capital will increase three months from now as businesses grapple with uncertain demand and high fixed costs. In our view, the Rs.70,000 crore facility should assist stressed MSMEs in raising funds as the tide turns.

While a technology-driven approach may pave a way to lower recurring costs in the future, the FM's announcements today should ease the stress of a large number of promoters, partnership firms and small private limited entities. Coupled with lower TDS and TCS rates, the cash-in-hand should be prudently used by these MSMEs in the months to come."

Rajat Goel, JMD, MRG World

"The recent announcements made by FM Nirmala Sitharaman under the Self- Reliant India Movement have eased the developments for the real estate sector in coming months. It has treated COVID-19 as an event of 'Force Majeure' under RERA, along with extension of registration and completion date suo-moto by 6 months for all registered projects expiring on or after 25th March, 2020 without any individual applications from the developers. The liberty of extending it by another 3 months is also given to regulatory authorities. We welcome the government's measure for understanding our position in this difficult time and helping us maintain positive relations with our customers. Post- COVID scenario has been eased out for us, and we would be looking forward to complete our projects under this new timeline, with due support from RERA and Urban Ministry authorities."

Harvinder Singh Sikka, MD, Sikka Group

"COVID-19 has been a clarion call globally. We are very thankful for Govt. of India's proactive support to the real estate industry. Declaration of COVID-19 as an 'act of God' under regulatory authorities, pushing the dates of registration and completion suo-moto by another 6 months for the projects expiring on and after 25th March, 2020 will prevent the developers from entering into defaulting. Even post-lockdown, the procurement of raw materials and presence of labour in full force will be certain setbacks leading to delay in work at construction sites. An extended timeline will provide an opportunity to developers and contractors for planning out the way forward upon understanding these situations closely."

Surendra Hiranandani, Chairman and Managing Director, House of Hiranandani

"The bold economic measures announced today display the government's strong commitment to tackle the unprecedented challenges and restore confidence and faith in the economy. Providing an extension for completion of projects and treating the coronavirus outbreak as an event of 'force majeure' under RERA, brings a major relief for the sector that has been the backbone of the economy. During the lockdown, the construction industry has nearly come to a standstill thus negating the green shoots that had just begun appearing prior the pandemic came to the fore. In order to tackle the subdued demand from home buyers during and post COVID-19, reduction in interest rates on home loans will encourage fence-sitters to act quickly to invest in a property.

Government measures towards improving liquidity and providing a boost to the MSME sector is also commendable. The Special Liquidity Scheme of Rs 30000 crore for non-banking financial companies, microfinance companies and housing finance companies will bring in liquidity in the market. The various economic measures announced by the government during COVID have given a powerful booster dose to revive the Indian economy. The resolution to remain self-reliant coupled with revolutionary reforms will surely lead the country on a high growth trajectory."

Bhavin Turakhia, CEO & Co-Founder, Zeta

"The first 15 measures announced by the FM today is a great start to revive the economy which is severely impacted due to COVID-19. The packages announced were comprehensive. We welcome the announcement on Rs.3 lakh crore collateral-free loans that will help the MSME sector to rise from this grave period. Rs.45 thousand crore liquidity announced through Partial Credit Guarantee Scheme 2.0 for NBFCs will usher in the much-needed growth and the new definitions of MSMEs will allow more companies to take benefit of the new package. Government's decision to boost liquidity through EPF support and the reduction of 10 percent out of the existing 12 percent each for all is highly commendable. The measures undertaken by RBI on the Reduction of Cash Reserve Ratio (CRR) has resulted in liquidity enhancement Rs,1,37,000 crore. The decision to disallow global tenders up to Rs.200 crore is likely to be seen as a protectionist move. It is important that we continue to be perceived as a global economy. Startups will have an important role to play in this difficult journey and we are hopeful that the announcements that will follow over the next few days will address this constituent with the same generosity."

Rajesh Sharma, Managing Director, Capri Global Capital

"The first tranche of the economic package announced by Honorable Finance Minister shows that the government is embarking on an ambitious reform agenda to cement the Indian economy in the upcoming time. We appreciate the attention to basics like land, labour, liquidity and law where key structural reforms are needed at the moment to overlay the way for the country to become more self-reliant. The fiscal boost for micro small and medium enterprises sector has come at an opportune time to board the growth as the country is looking to become the global manufacturing powerhouse. Redefining the MSME eligibility criterion and infusion of Rs.50,000 crore equity for standard MSMEs will give an impetus to scale-up their business and draw the much-awaited growth history for the sector. We believe that more funds will reach the common man of the society through steps like liquidity easing, TDS reduction, flexibility in loan disbursals, leading to a pick-up in demand in the coming quarter. A special liquidity scheme of Rs.30,000 crore will open up additional avenue for raising long term funds at a very competitive cost. Additionally, by providing Partial Credit Guarantee Scheme 2.0 for NBFCs of Rs.45,000 crore will support organisations like us for fresh lending and expand our book portfolio without risk of spike in credit cost for these incremental lending."

Dr. Vishwakumara Kayargadde, Founder & COO, Saankhya Labs

"The measures announced by the Government of India come as a much needed relief to the MSME sector that has been going through a difficult time since the onslaught of the COVID-19 outbreak. Today's announcement by the Finance Minister of providing Rs.3 lakh crore collateral-free automatic loans for MSMEs, will help companies tide over the uncertainty that has arisen due to the extended lockdown. Also, stressed MSMEs can take advantage of the Rs.20K crore subordinate debt announced today as this will help sustain their business and boost growth. While the government has given a thrust to manufacturing through its flagship 'Make in India' programme, the new steps announced will promote local companies to manufacture their products within the country. This will also help ramp up investments in the MSME sector and incentivize companies to build a local ecosystem. That said, the measures announced today will go a long way in providing a much needed fillip to the economy and allow Indian companies such as Saankhya Labs to develop innovative and technology-driven solutions locally which can be exported globally."