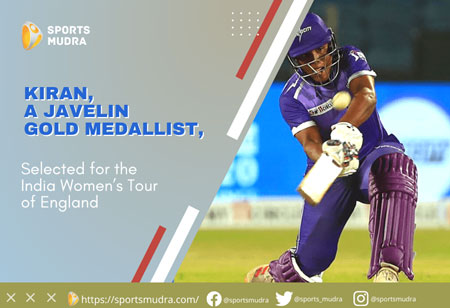 CEOInsights Team, 0
Kiran Prabhu Navgire was interested in track and field during her time at college. She earned almost 100 medals in various sports competitions, including a gold medal in the javelin in the 2011­12 intervarsity competitions. Even though MS Dhoni was her favourite player when she was a child, cricket was her second favourite sport.
Only in 2016, when she was 22 years old, did she realise her cricket potential. She was included in the T20 team for the upcoming women's tour of England after waiting five years. "She was playing a university game at Azam Sports Academy in Pune. I saw her smashing sixes for fun. Her power-hitting left me amazed. I and our president Dr. PA Inamdar went to her after the match and asked her at which club she is training", her coach Gulzar Sheikh tells Indian Express.
Inamdar and Shaikh were gobsmacked with Kiran's reply. "She said, koi club nahi hai sir, fun ke liye khelti hoon. Mujhe athletics mey kuch karna hai, waise bhi cricket kaafi costly game hai. "I don't represent any club. I play cricket for fun. I want to do something in athletics because cricket is very costly", recalls Shaikh.
Kiran carried Nagaland to the quarterfinals on her alone, scoring 56 against Kerala for her fourth half-century, but the team lost.
T20 women's challenge
She was chosen for the Velocity in the Women's T20 Challenge due to her six-hitting prowess. At the plate, Kiran hit five sixes and five fours in a 34-ball 69. In her opening strike against Salma Khatun, a Bangladeshi international, Kiran slammed a six over deep midwicket. She scored 429 runs in five games during a yearly competition conducted by the Pune District Cricket Association in 2016­17.
"She is a natural power-hitter. I don't know the exact reason but she once told me that her strength comes from helping out on her family's farm as a child and from the variety of sports she played growing up. She used to throw shot put and javelin, maybe that's the secret of her power-hitting", says Sheikh.
This tour will be a big learning curve for her, and hopefully, she will get a game to showcase her talent", he signs off.
"She is a big MS Dhoni fan. Every day at the nets, she would try to imitate that 2011 World Cup-winning six, smashed by Dhoni", laughs Shaikh. Kiran was commended for her stroke play, but the next match served as a reality check. Deandra Dottin struck Kiran on the helmet after Kiran received a 13-ball duck.
"Just cricket happened to her in the second game. A reality check for her that every day she can't hit sixes for fun. That zero changed her mental approach towards the game", says Shaikh. "Post Women's T20 challenge, she started thinking like a professional. Earlier, she used to do one net session, but now from 4:30 am to 10 pm, she would be at the academy. She will eat in the canteen only".