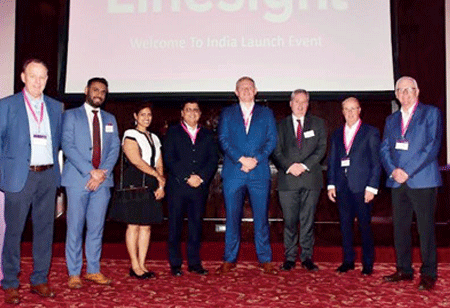 CEOinsights Team
Linesight, a multinational construction consultancy firm opens its offices in Mumbai. The company focuses on Mumbai, Pune, Bengaluru and Hyderabad metro cities of India as part of its expansion plans in the region. Mumbai will help Linesight to widen its global reach and build on its reputation as a leader in the construction services industry. Working on projects in 150 locations worldwide, and the Mumbai opening brings the overall count to 20 globally.
Welcoming Linesight, Gerry Kelly, Consul General, Consulate General of Ireland, says, "I am very pleased to welcome the opening of the new office in India by Linesight. Coming at the same time as the opening of the new Consulate General of Ireland in Mumbai this is a further example of the growing economic links between Ireland and India in general and the Mumbai region in particular. Linesight's presence in Mumbai represents a significant investment for the company and will allow them to attract new talent to the company, expand their services to local and multinational clients here and foster strategic partnerships for the long-term. I am confident
that this will prove to be a successful venture and will encourage further investment by Irish companies in the Indian market".

India benefits from a deep pool of local resources and talent and along with a result of identified business opportunities with local and multinational clients Linesight's decided to invest in India. Clients such as Johnson and Johnson and Mentor Graphics are some Linesight has and company's Mumbai team has a proven track record as well, with each member averaging 20 years' experience in Project and Cost Management across multiple sectors, including Office Fit-out, Commercial, Residential , Industrial, Life Sciences, Hotels and Retail.

John Butler, MD- APAC, Linesight, comments, "Linesight's Indian clients and Indian-based multinationals, who are clients of Linesight elsewhere, have requested our presence on the ground here. Having a local base allows us to service both our clients more effectively, develop strategic partnerships, access local resources, formulate the most up-to-date market insights, and gain a deeper knowledge of the region. We have delivered projects in over 40 countries and are always exploring new areas of opportunity. Our Regional Director for India, Darshan Joshi, brings extensive industry experience and regional expertise and is a great addition to our team. This is an exciting time for Linesight as we continue to expand globally, and we look forward to seeing the potential of the Indian market unfold".

Founded in 1974, Linesight provides professional consultancy services, management support and strategic advice to the global construction industry. Linesights works with Tier One clients across a multitude of sectors including Commercial, Data Centres, Life Sciences, High-Tech Industrial, Residential, Hospitality, Healthcare and Retail.