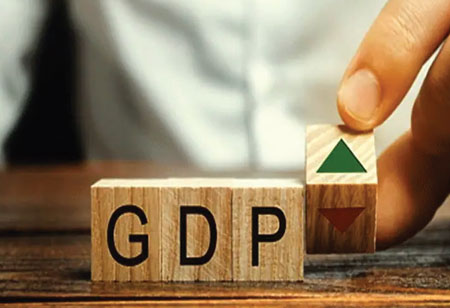 CEOInsights Team, 0
The Ministry of Statistics and Programme Implementation will release India's GDP data for the October-December 2022 quarter on Tuesday. In addition, the ministry will release the second advance estimate of GDP for FY2022-23. According to the government's first advance estimate, released last month, India's GDP growth for FY23 is expected to be 7 percent. India's GDP growth rate in the July-September quarter was 6.3 percent, while it increased to 13.5 percent in the April
June quarter (Q1). The government is also planning to release a revised estimate of India's economic growth last year, FY2021-22, which was estimated by the ministry in May 2022 at 8.7 percent.
According To The Government's First Advance Estimate, Released Last Month, India's GDP Growth For Fy23 Is Expected To Be 7 Percent
The advance estimate for GDP growth in FY23 is significant because the Reserve Bank of India (RBI) lowered India's forecast for the current fiscal year to 6.8 percent at its most recent monetary policy meeting in early February. The RBI previously fore casted 7 percent GDP growth in India. The central bank forecasts India's GDP growth in the third and fourth quarters to be 4.4 percent and 4.2 percent, respectively. The Asian Development Bank forecasts 7 percent economic growth in India in FY23, while the International Monetary Fund (IMF) forecasts 6.8 percent growth.