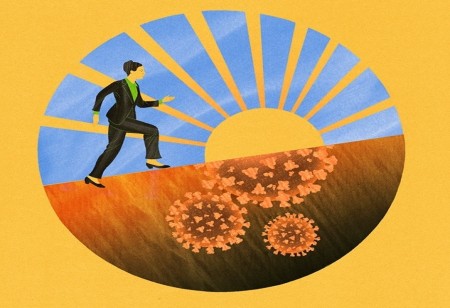 Abhinav Agarwal, Content Writer, Abhinav Agarwal, Content Writer
A name that has become synonymous with terror, COVID-19 or the Novel Coronavirus has killed over 74,769 people globally and infected more than 1,347,343. A highly infectious disease, it has adversely affected economic, physical and mental well-being of individuals besides bringing to halt several industries. While sectors like manufacturing, automobile, construction, IT, hospitality, and travel & tourism have hit the rock bottom, a multitude of people have lost their jobs and with it, their livelihood. Moreover, as schools & universities remain closed, academics & hiring remain affected.
But as each coin has two sides, this pandemic as well has a brighter side! Amidst the global measures to contain the virus via lockdowns, travel restrictions, social distancing and working from home initiatives, industries such as pharma, healthcare, teleworking software, grocery stores, technical support, cybersecurity, and online retailers are flourishing. Education & work can't be compromised with and hence innovative innovators keep coming up with effective solutions to contend with this crisis. Aimed at keeping people connected & up-to-date in these troubled times, there has been a boom of applications & websites designed to boost productivity.
With the upsurge in demand for healthcare accessories (masks, gloves), sanitary products (hand-wash, sanitizers) & essentials (groceries, veggies, and medicine), retailers (both online & offline) are frequently out of stock. Moreover, with all slots for delivery already full, these e-Commerce giants are unable to meet the ever-growing demands. Consequently, these sectors are hiring in bulk, and as such prove to be a good opportunity for people who have lost their jobs.
Since technical support & BPOs are mandatory for resolving disputes & guidance of customers, these sectors will also flourish during this outbreak. If researches are to be believed, grocery chains like Walmart, Instacart, and Krogers have added 150,000, 300,000, and 10,000 new employees respectively to their teams to keep pace with the escalation in demands during the outbreak. Also, pharmaceutical firms like Walgreens and CVS have hired 20,000 and 50,000 recruits respectively to contend with the COVID-19 conundrum!
The cybersecurity services remain in high demand as cyber criminals leave no stone unturned for ambush & stealth. Surprisingly, there has been a significant rise in coronavirus themed malicious websites, with more than 16,000 new coronavirus related domains registered since January 2020! Also, cloud providers are experiencing at least 20-40 percent surge in demand for data, cloud and co-location services.

Commenting on this development, Ashwin Kumar, Director, Data Centre and Cloud Operations, Linode India, says, "Today digital transformation and cloud planning are at the heart of all business strategies. Consequently, the demand for data center services that underpin these strategies is growing steeply. At Linode, we have seen demand for colocation services grow, especially among companies in the banking, e-commerce, and OTT sectors. SMEs, too are rethinking their business models and rapidly embracing the cloud to enable collaboration and remote working, minimize their IT expenses, and manage fluctuating demand."

It is the aftermath of this pandemic that governments have announced economic measures to safeguard jobs, guarantee wages & support the self-employed, but there is a lack of clarity in many countries about how these measures will be implemented and how people will manage a loss of income in the short-term. In India, a special COVID-19 economic task force has been incorporated that would work on economic packages for sectors most affected by the outbreak plus people working in the informal sectors. Relaxation in NPA norms, deferral of tax payments, and income support to workers in unorganised sector are some of its measures to support the suffering enterprises & individuals.

The most valuable lesson that the world has learned from this pandemic is the need for self-dependency or at least reduce over dependency on a few markets. China for instance accounts for nearly 30 percent of global exports of electronics & electronic components. Deeply hurt by China's conduct & policies during the pandemic, the global economy & companies are now on a lookout for alternative production hubs. Triggering a new wave of industrialisation, the coronavirus outbreak provides a good opportunity for India to follow an export-driven model. Endowed with rich pool of unskilled labour & robust service sector, the expansion of the manufacturing hub linked with global supply chains would increase not only productivity but also create large-scale employment.