ONergy Solar, the Emerging Name for Solar Solution in Maharashtra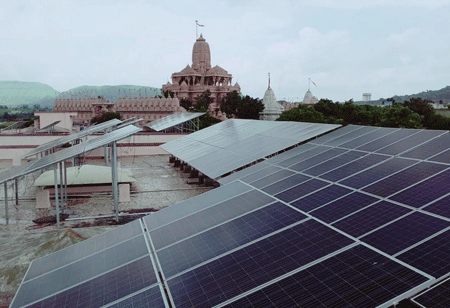 CEO Insights Team
Maharashtra, 30th March:
Established in 2009 ONergy Solar is India's leading and multiple award winning solar enterprise providing complete solar solutions. It is an expert at Solar EPC for rooftop power plants, solar irrigation pumping, solar lighting and micro grid solutions. It provides full turnkey and customised solar PV solutions across design, engineering, manufacturing, installation. It has seamlessly integrated well defined quality and prompt customer service with its cardinal business as an end-to-end solar solution expert. Since last 9 years company focuses on providing comprehensive and tailor made solutions related to the designing, commissioning, installation and even O&M solutions for solar rooftop power plant and solar irrigation pumps. Through 10 MW rooftop installations ONergy Solar has impacted 500,000 lives in India.
ONergy Solar, the looming name for complete solar solution has expanded its strong footprints in Maharashtra in short span of 1 year with more than 100 solar rooftop installations accumulated to 2 MW, across the length and breadth of Maharashtra. It has done the highest number of installations across all players empaneled in MEDA rooftop scheme. Among various different installations, ONergy has solarized - Educational Institutions; Co-operative Housing Society; Religious Institutions; Commercial Sector and various industries.
Some of the initiatives, under ONergsing Educational Institution programmes, taken by Educational Sectors of
Maharashtra like Parle Tilak Vidyalaya, Mumbai (55kwp); Swami Vivek Mandir Academy, Gondia (20kwp) and Shiv Samarth Vidyalaya, Thane (40 kwp) to solarise Educational Institutions have changed the mode of education along with sensitizing the future leaders for a greener tomorrow. It is taking leading steps in solarizing housing co-operative societies, it has installed Solar rooftop in Aswastha Housing Society in Thane who are leading lives with the vision of 'Go Green' and many other societies. With more and more awareness in all the sectors ONergy Solar's mission of onergising 10 million lives by 2022 will soon be a living dream.

One of the biggest allocations ONergy Solar has received through MEDA is to ONergise faith with their successful installation of 120 kWp rooftop solar PV systems with 132 solar panels in Jain temple in Maharashtra that will reduce pollution and save almost 40% of its annual cost of electricity. It is the latest edition to the growing list of religious and housing societies who are harnessing for solar energy for an eco-friendly future.

Besides solar rooftop installation ONergy Solar is taking up projects of solar irrigation pumps installation for better farming with effective utilization of natural resources. ONergy Solar is developing financial models for small and marginal farmers to enhance their confidence in transitioning from diesel pumps to solar pumps which will increase their income by 40%.

In this context ONergy Solar's CEO, Mr. Piyush Jaju had shared his views, "We are very pleased that since 9 years we are solarizing India and we are not confined in one sector but have traversed from agriculture to industry, from education to housing society, temple and many more. We hope that soon we will be able to solarise most of the regions in Maharashtra." He further added "At ONergy Solar we are in continuous endeavour to have high standards in products, installations and technical service with the objective of encouraging and protecting the usage of natural resources. We are with the vision of connecting India with solar power and brighten up every remote part of India."