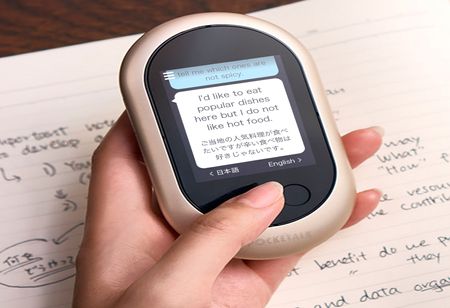 CEO Insights team, Press Release
Pocketalk, the global leader in connecting conversations and removing language barriers, announces the newest model of its popular Pocketalk two-way translator. This new model will be available for pre-order, and will be on display throughout the duration of the CES conference.
Pocketalk is a multi-sensory, two-way translation device designed for full conversations, even in noisy environments. With a sleek design encompassing a large touchscreen, two high-quality speakers, noise-cancelling microphones and a text-to-translate camera, Pocketalk is able to create connections across 74 different languages in more than 130 countries and regions. By utilizing the best translation engines from around the world, it provides a consistently accurate experience by picking up localized dialects and slang. Apart from this Pocketalk is compact & travel friendly, has 16 percent larger touch surface for additional clarity & a camera
Pocketalk was developed to connect cultures and create experiences for people who do not speak the same language.
which instantly recognizes and translates text, and computes exchanges for currency, length, width and temperature. Describing about its development Noriyuki Matsuda, Founder, CEO, Pocketalk says, "Pocketalk was developed to connect cultures and create experiences for people who do not speak the same language." "Our goal with the newest Pocketalk is to take into account the many different ways people communicate. We don't just use voice - we use visuals, we use currencies - all of these connect us closer together and with our newest model, we are providing the most dependable, thoughtful, all-encompassing device to form deeper connections without language as a barrier," he adds
Further adding to it, Joe Miller, General Manager, Pocketalk says, "The early response to the product has been tremendous." "Having 95% market share and more than 600,000 users gives Pocketalk a wonderful understanding of the marketplace and where to innovate. This generation of the product will redefine the translation space and accelerate our march to one million users."
Source : Press Release