Viral Nation Named as the 'Best Large Influencer Marketing Agency' for 2019 by Influencer Marketing Awards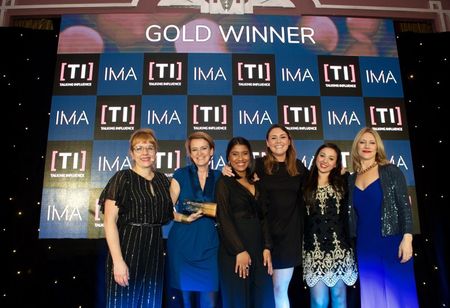 CEO Insights team
Viral Nation, one of the leading social influencer marketing agencies in the country has received the award 'Best Large Influencer Marketing Agency' from Influencer Marketing Awards(IMAs). The sole purpose of IMAs is to highlight the very best influencer marketing campaigns designed and developed with the brand or client in mind that are smartly executed, creative and innovative with clear transparent KPIs and objectives.
"We're thrilled to earn this prestigious award from the Influencer Marketing Awards. A designation as 'Best Agency' means we're doing the right things when it comes to offering our clients campaigns that garner immediate and long-lasting results. Since our founding we've focused on sustainable growth that's fueled by innovating and serving our clients' needs. We eagerly anticipate further growth and award wins in 2019 as we continue to shape the influencer marketing industry", says, Joe Gagliese Co-Founder & CEO, Viral Nation.
The awards were announced on March 26th, 2019 at an event held at the Sheraton Grand London Park Lane hotel in London. The company currently records a 400 percent year-over-year revenue growth rate and generated an outperformance rate of 95 percent of its campaigns to date. It has an impressive roster of nearly 40 clients, including four Fortune 500 firms. Also, Viral Nation's 92 percent client retention rate reflects the agency's ROI-based approach to influencer campaigns with fraud detection capabilities and connecting brands to proven organic influencers.

Viral Nation's work with PUBG MOBILE and its PUBG MOBILE STAR CHALLENGE Global Finals garnered two Finalist designations from the Shorty Awards for 'Live Events' and 'Gaming' categories. Its efforts received 224.1 social media impressions and 128.6 million media impressions. The collaboration with PUBG MOBILE also won them awards from the AVA Digital Awards, with a 2019 Platinum Winner, Viral Marketing for the mobile game's launch and a 2019 Gold Winner, Interactive Brand Experience for the PUBG MOBILE Halloweek special event.

Founded in 2014, Viral Nation is a global digital marketing agency that specializes influencer marketing, talent representation, social media marketing and management and content production. Influencers at Viral Nation develop engaging and authentic content that drives real ROI and likewise the creative and social teams make content that break through the noise of cluttered feeds.