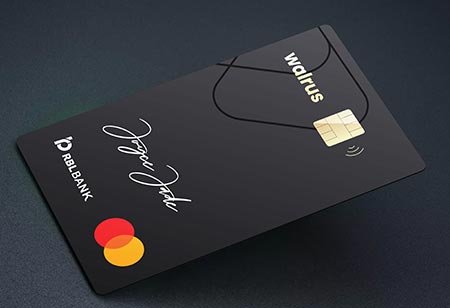 CEO Insights Team, 0
With an aim to help teenagers and young adults become financially smart at an early age as well as provide them banking solutions, fintech company Walrus today announces the launch of
Signature Prepaid Debit Cards
for teenagers. The unique card allows users to customize their signature which later on gets printed on the card. Walrus becomes India's first Neobank to introduce this special feature in a card.
Issued by RBL Bank, this card is a
Prepaid Card
powered by Mastercard and can be used at any retail store in their neighborhood and for making online purchases at merchants like Flipkart, Amazon, etc. With these personalized cards, the users will be able to track their transactions and also temporarily lock their cards from the Walrus app when not in use or block it if it gets misplaced. The Signature card has also been enabled with features like Swipe-to-Pay to ensure faster and secure transactions.
Commenting on the launch,
Bhagaban Behera, Co-Founder, and CEO of Walrus
said,"We believe that every teenager is unique and has unique aspirations, and therefore it's important to give them a card which they can personalize to their identity. Walrus Signature Card is an effort from Walrus to make Gen-Z smart with money in a cool way."
In the present scenario, teens are forced to use cash which has a lot of hassles and is unsafe due to COVID. With an increase in Digital payments, Walrus is bridging
the gap by including teenagers in a financial inclusion drive. Here they can use Walrus to load money seamlessly and use it at the merchants of their choice. Additionally, the neobank has also given them the leverage to customize their cards in terms of designing it along with adding their signatures, thus providing them ownership of the same.

For the Signature Card, Walrus has collaborated with fintech company Zeta and IDEMIA, the global leader in augmented identity and leading payment cards technology company. Walrus is amongst the first few Asian neobanks to be part of IDEMIA's Fintech Accelerator Program.

Murali Nair, President, Banking at Zeta said, "The banking and fintech sector has been a major focus for Zeta and we are privileged to power Walrus' innovative cards for teens with innovative features like Super PIN, Card Controls and Swipe-to-Pay. As a company, Zeta is constantly innovating and introducing new products to simplify and secure digital payments across platforms. This association with Walrus is a great opportunity for Zeta to help create a versatile platform to enable neobanking more accessible for Gen-Z customers."

Amit Kakatikar, Region Head – Payment Business at IDEMIA said, "As the first signature card designed for Teenagers in India, it is a solid affirmation of Walrus' commitment and understanding of the needs and desires of this important customer segment. IDEMIA is thrilled to be a part of this unique personalised payment card product offering. It reaffirms our strategic focus on supporting the rapidly evolving Fintechs and neobanking ecosystem through our Fintech Accelerator Program."

Additionally, Walrus has also introduced gamified features to help teens get smarter with money with concepts like budgeting , creating savings goals etc. Walrus users also get access to 'Club Walrus' which is a network for teenagers for networking amongst themselves and to explore interesting topics like entrepreneurship, building products, digital marketing from industry experts.