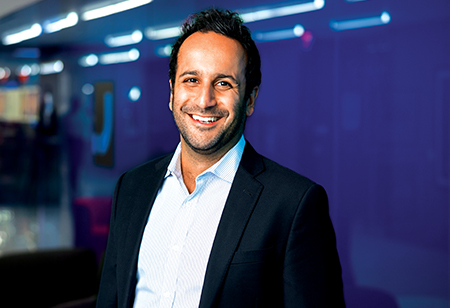 Ramin Beheshti, CPTO, Dow Jones
There's no doubt that the cloud has transformed the entire news and information industry. Nearly every piece of transformative technology both in the enterprise and for consumers has in some way been enabled or accelerated by the emergence of the cloud. Need to scale up in order to reach one million users overnight? No problem. Mass storage for all your photos? Just the click of a button away. Machine Learning? Couldn't happen without the cloud.
Although cloud technology is not always well understood, it has nonetheless kick started a new age of Industrial Revolution. Instant access to unlimited computing resources has changed working practices, made previously valued skill sets obsolete, and enabled companies and industries to tackle problems that were inconceivable ten years ago. The possibilities are endless.
Dow Jones, a leader in news and information, has been an early adopter of public cloud technology. Led by my predecessor and good friend Stephen Orban years ago, we first moved a number of our consumer properties, such as The Wall Street Journal, to public cloud solutions like AWS and Google. For us, this engineered a new way of working. We undertook a DevOps approach that allowed our developers to manage the end-to-end development of our products. This meant equipping our developers with the skills and languages needed to control infrastructure with code and generally, the whole environment from top to bottom. We also adjusted the roles of our traditional system administrators, reshaping our team culture across the department. Additionally, we moved away from an atmosphere where tasks would get passed along from team to team, and became focused on cultivating a collaborative environment and holding each other accountable.
The move to public cloud technology also taught us invaluable lessons that would come in handy as we continued transitioning more of our complex back-end applications. As cloud technologies evolved, we were well positioned to take advantage of them quickly and seamlessly. For example, we have been able to enhance the infrastructure of our Factiva databases, making them far more resilient and efficient to support and maintain on a daily basis.
Across the company, the move to cloud technology has allowed our products to be flexible and easily scalable at our most critical moments. WSJ.com, for example, was well prepared for the record-breaking traffic it received around the U.S. Election in 2016 because of the cloud. Despite the sudden surge in traffic, WSJ.com readers were able to enjoy a seamless experience on the site, without requiring our team to have to purchase and configure new servers beforehand or begin planning months in advance.

Beyond just the technical enhancements, the cloud transformation has empowered us to accomplish things that were once just untested concepts and ideas. Today, the WSJ.com dynamic paywall is a testament to that, as it leverages machine learning made possible through the cloud to offer a personalized experience for each of our readers. We've reinvented the paywall since its inception in 1994 and will continue to experiment and iterate with the help of the cloud.

One of the biggest advancements for Dow Jones has been in the B2B space, where we already had a suite of products. The cloud has enabled us to rethink those products and launch new ones, focused on a different way of working with our customers. One example of that has been our DNA platform, which through its open APIs allows our customers and partners to integrate our enormous wealth of data (drawing on an archive of up to 1 billion premium news articles) directly into their workflows. These rich, highly structured content sets will help our customers and partners power their decision making, derive key insights, and develop bespoke news and information products of their own. Allowing many customers to extract those articles and process them simultaneously, in near real time, would have been a computational nightmare in the past. However, with the advent of the cloud, we have been able to provide a whole new offering to our customers.

From an industry-perspective, I think there is a general recognition that the cloud has not entirely lived up to the hype around cost savings. While the per minute (and now per second) cost model gives far greater flexibility than the capital intensive purchases, moving to the cloud has its fiscal challenges. Besides the challenge of switching from capital spend to operating expense, the freedom the cloud offers developers necessitates effective controls and governance to ensure fiscal responsibility. As cloud technologies mature, these controls will need to become even more sophisticated.

In summary, however, for an organization like Dow Jones, the move to the cloud has only upsides. It has enabled technological and process changes, along with prompting the reskilling of whole teams and a cultural shift. But where we have seen its real power is in unleashing new technologies like machine learning, and in enabling our customers and partners to access vast amounts of data--neither of which were possible in the pre-cloud era.