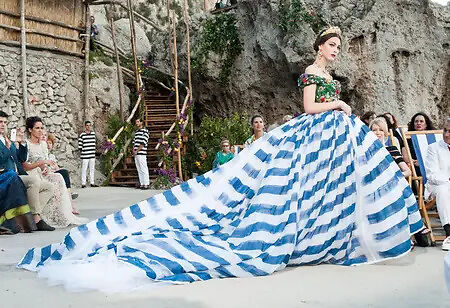 "What you wear is how you present yourself to the world, especially today when human contacts go so fast. Fashion is instant language," ~ Miuccia Bianchi Prada, the Italian billionaire fashion designer and businesswoman.
Dressing smarter, appearing better, and making good impressions have always been a part of human evolution, thanks to the emergence of the fashion industry. As a result of the fashion industry developments, one of the largest industrial sectors in the world that is expected to hit the $3.3 trillion mark by 2030, the fashion industry is today at an interesting juncture. The industry is progressing from complete human labor to semi-automated and fully automated manufacturing. The need to cater to today's hyper-connected and well-informed consumers drives this adoption of new, exciting technologies.
Artificial intelligence
In recent years, brands have employed AI to enhance customer shopping experiences, analyze data, boost sales, predict trends, and offer advice regarding inventories. In-store touchscreens and chatbots are being utilized to enhance customer service and provide personalized product recommendations. It's nearly impossible to visit the website of a fashion business and not come across some kind of AI chat technology being used to improve the user experience. Algorithms used in AI technology follow consumers' trips to match them with the appropriate products.
Despite the potential of these customer service technology solutions, supply chain management and trend forecasting are some of the most lucrative applications for AI. Real-time inventory tracking, for instance, has become crucial for brands since it saves time and facilitates effective warehouse management and operations.
Internet of Things (IoT)
The Internet of Things (IoT) is one of the most fascinating new technical advancements in the fashion industry. Every year, ordinary clothing improves to better reflect the realities of our everyday existence. The fashion industry has been forced to keep up the pace in adjusting to the needs of modern life, from placing a strong emphasis on comfort to adopting new and interesting textiles. The fascinating developments in clothing technology and wearable technologies have best demonstrated this. These have even affected how we perceive our surroundings, engage with others, and interact with our bodies, giving the term comfort a new meaning.
Over the past three years, there has been a significant increase in the development of smart clothes, wearable spaces, multifunctional designs, and responsive sportswear. Many designers have been exploring and pushing the boundaries of wearability as our 'real' lives blend increasingly with a virtual existence. This covers clothes with digital features, such as intelligent clothing, wearable spaces, multifunctional designs, responsive sportswear, and more. Wearable technology has taken over the market for fashion accessories, starting with the modest smartwatch, which companies like FitBit and Apple dominate.
Rapid Data Analysis for Quick Adaptation
Businesses may modify their business segments rapidly and effectively by leveraging vast amounts of data to enable this adaptation through rapid data analysis. Brands and factories can now receive real-time feedback and notifications from businesses regarding defective or damaged goods thanks to new software solutions that have recently become accessible on the market. This enables them to provide adequate items on schedule while also reducing costs and waste. They can also increase client satisfaction by quickly identifying potential company threats. Software for management, like IQMS, is one illustration. Manufacturing uses enterprise resource planning (ERP) software to track and gather production data in real-time as goods are being created.
Virtual and augmented reality (VR)
One of the most intriguing uses of virtual reality has been to merge retail's offline and online worlds. This is unquestionably true in fashion, where shoppers frequently utilize VR to virtually test clothing. This uses augmented reality technology and customized measurement functionality to provide improved precision. It also implies that consumers would be more inclined to purchase goods if they feel they have been tried on.
EFI Optitex is another notable user of AR/VR technology, which has significantly streamlined the expensive and time-consuming process of finding the right fit. They have demonstrated how to transform the fundamental elements of a design, such as flat sketches and technical patterns, into simulated 3D renderings. This then enables users to make any necessary adjustments in real-time, including cutting and loosening the fit.
3D printing
Numerous companies despite the size have been researching the opportunities that 3D printing presents for on-demand production since their introduction. This will open up new possibilities for innovation, sustainability, and personalization. Even while it takes a lot of time to make, it produces less waste and is far less labor-intensive than other manufacturing methods. In fact, on-demand printing of clothing lowers fabric waste by around 35 percent. This low-waste strategy might offer insightful tips on redesigning factories' present configuration and bringing them into line with a more sustainable social and environmental focus. Additionally, 3D printing elevates the concept of fashion to a new level. The amazing mechanical limbs move in response to the proximity of other people. This 3D-printed outfit showcases the adaptability of this new technology by fusing state-of-the-art scientific technology and high-end design.
Blockchain
A blockchain is a fantastic tool for supply chain efficiency, transparency, and traceability. It enables direct, secure information and data transmission between all of its members, including carriers, banks, intermediaries, and suppliers. Blockchain is primarily used as the ledger technology for Bitcoin and other digital currencies. The digital information that makes up blocks on the blockchain is used to keep details about transactions, like the date, time, and price of your most recent purchase as well as the identities of the parties involved. However, they also keep track of information that sets them apart from other blocks by utilizing a special code known as a hash.