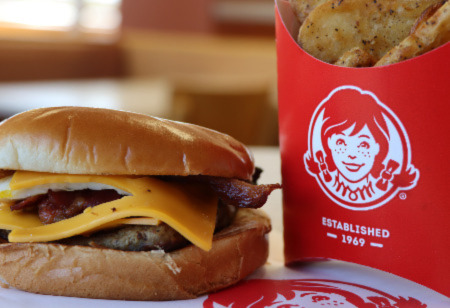 Recently, Wendy's, an American international fast food restaurant chain, partnered with Google to test an AI chatbot that can take orders at drive-thrus from customers. Prior to that McDonald's and Subway introduced contactless technology for takeouts and drive-thrus.
The restaurant sector has seen significant change recently, especially in terms of technology.
One area where technology has made modifications for restaurants that appear to have sprung straight out of a sci-fi book is AI. Consider Flippy, the robotic burger flipper at a CaliBurger location in Pasadena. Or the pizza delivery drone that Domino's utilized to deliver an order in New Zealand.
While technological advancements have made AI more accessible than ever, the majority of restaurants are still unable to use robots to prepare and cook meals or transport orders to customers. AI is becoming more prevalent in the foodservice sector, but more subtly and frequently behind the scenes. With that said, here are how restaurants are implementing AI into their services.
Wendy's AI Chatbot Takes Orders at its Drive-Thrus
In partnership with Google, Wendy's will use an AI chatbot, Wendy's FreshAI, to take orders from customers at drive-thrus. Additionally, it is learning Wendy's lingo, such as that a JBC stands for a junior bacon cheeseburger and a Frosty is the name for a milkshake. The AI will confirm the customer's order on a screen before sending it to the kitchen for the line cooks. An employee will be on duty at the test site to keep an eye on the AI and be on hand in case a customer needs to speak with a live person.
Google's big language models, or models developed using large datasets to identify linguistic patterns and produce words, are the brains behind Wendy's FreshAI. The popular AI chatbots ChatGPT and Google Bard, which have gained popularity recently for their astounding capacity to respond to suggestions in a manner resembling that of a human, are also powered by large language models. Wendy's FreshAI will probably operate a little differently to ease worries about AI's capacity to mislead users and propagate false information; it has logical and conversational guardrails and was trained on the company's menu and business regulations.
Wendy's plans to employ an underground autonomous robot system to deliver food to hungry customers in the parking lot as part of its relationship with Pipedream. When fully functional, this device will be able to deliver meals quickly and easily from the kitchen to a customer's parking space. The company anticipates that this quick service restaurant (QSR) model will improve the accuracy and convenience of pick-up orders. Digital clients can pick up their orders at car-side Instant Pickup gateways without ever getting out of their vehicles.
According to Wendy's, its AI is not meant to replace human personnel; rather, it plans on shifting crew responsibilities to meet the increased volume of Wendy's orders expected in the drive-thru and across our growing digital channels.
Carl's Jr. and Hardee's AI Taking Orders at its Drive-Thrus
The parent company of the fast food restaurants Carl's Jr. and Hardee's, CKE Restaurants Holdings, is implementing AI at its drive-thrus. The company is collaborating with AI companies Presto Automation, OpenCity, and Valyant AI to automate voice ordering at participating drive-thrus around the nation. The collaborations are designed to increase productivity, income, and workforce efficiency for fast-food companies.
Sweetgreen's Automated Kitchen
The fast-casual restaurant Sweetgreen, which is more frequently referred to as a tech company than a restaurant company, is introducing its first Infinite Kitchen, a store concept with an automated makeline. As a test of Sweetgreen's capacity to incorporate the technology into retrofitting storefronts, the business wants to install an automated kitchen in a renovated unit.
Customers can watch the technology prepare their meals, which includes combining salads and evenly distributing various items into bowls. At a finishing station, team members add any last touches, such as dusting herbs or adding a scoop of avocado. Customers can place orders through self-service kiosks, through the restaurant's newly constructed position inside the store's mobile app, or directly from the host of the restaurant. A Tasting Counter, digital brand storytelling screens, and special goods are also included in the new store model.
Popeyes AI Platform Serves a Better Drive-Thru Experience
Popeyes, a franchisee of the High Noon Restaurant Group in Louisiana, is now taking orders through Tori, making the dining experience for customers faster, more accurate, and more delightful. As OpenCity's proprietary speech AI platform, Tori, offers a better and more reliable drive-thru experience. OpenCity is the premier voice AI ordering platform for restaurants.
Checkers & Rally's Improving Customer Service through AI-Powered Voice Assistants
One of the first significant restaurant chains to deploy AI-powered voice assistants extensively is Checkers & Rally's. Checkers Drive-In Restaurants, Inc. has chosen Presto, a pioneer in the restaurant hospitality technology sector. With the help of this new partnership, Checkers & Rally's should be able to improve customer service while lowering staff-to-customer ratios in the drive-thru. Checkers & Rally's feels that by implementing Presto, they can free up workers for more people-dependent elements of their business and improve overall client connection. Presto is a potent next-generation drive-thru voice solution that automates speech recognition for drive-thrus at restaurants using AI. In order to automate and improve the sales experience at drive-thru restaurants, this solution has been developed in collaboration with Hi Auto, a conversational A.I. technology business.
Chili's Automated Kitchen
With some intriguing automation enhancements in its kitchens, Chili's is bringing the future of casual eating into the present. A few Chili's restaurants are now testing these amazing new grills and ovens. These cutting-edge culinary innovations, known as the "Chili's Kitchen of the Future program," are now being tested at 53 different Chili's restaurants. The improvements so far seem to be a huge success; tips are greater, meals are allegedly more reliable, and kitchen training is supposedly less difficult.
McDonald's Speedy Drive-Thru Technology
McDonald's introduced its new prototype location, a smaller size created especially for speed and pickup orders, taking a more futuristic approach. The model, which is outside of Fort Worth, Texas, has a drive-through lane and a separate order-ahead lane for customers who choose to place their order ahead of time. A food and beverage conveyor delivers the products to customers in the order-ahead lane. The order-ahead lane makes use of technology to alert staff when patrons are close by so they may begin preparing the orders sooner.
The test restaurant differs significantly from the conventional golden arches on the inside. This contains a delivery pickup area, carryout ordering kiosks, a pickup shelf, and no dining room. There are numerous parking spaces outside for curbside pickup and dedicated delivery locations.