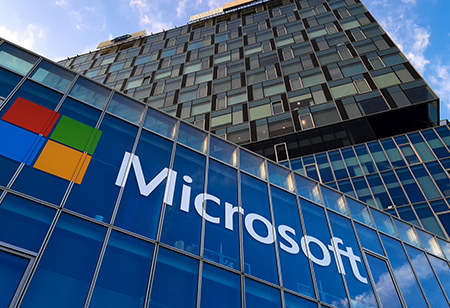 Only a few months have passed since ChatGPT was introduced to the public by Microsoft and OpenAI, igniting a spark among tech giants and hobbyists. The generative AI's underlying technology is now breaking down barriers and making its way transforming every little town in ways that demand improvement.
Together with the forces of various governmental bodies in India, the tech giant is bringing a transformatory reform educating and providing every assistance to solve the pleas of those from rural areas and undeserved categories. With that said, here are a few coll
By providing information on more than 170 government programs in 10 indigenous languages, Jugalbandi, a chatbot developed in partnership by Microsoft, the open-source initiative OpenNyAI, and AI4Bharat, with support from the Indian government, is making headway in redefining information access for villagers in India.
Microsoft and AirJaldi Enable Internet Access to Rural Areas
A three-year Memorandum of Understanding (MoU) was signed between Microsoft and AirJaldi, which seek to advance meaningful connectivity and high-speed internet access as fundamental rights through the 'Contentful Connectivity' program, by collaborating with the private, public, and nonprofit sectors. Additionally, strategies will be developed for broadband adoption and digital transformation for underserved communities in rural India.
In three years, the program plans to add Telangana, Chhattisgarh, and Odisha to AirJaldi Networks, to serve underprivileged beneficiaries access to the internet, and more fiber networks will be added. By expanding the wireless and wired infrastructure while expanding connectivity reach for AirJaldi Networks will also be bolstered in nine states. Then, by incorporating Microsoft's modules on digital productivity and employability skills women's entrepreneurship and rural connectivity courses will be enhanced. On the other hand, AI fluency skills will improve skilling, education, and entrepreneurship training programs. Thereafter, through the Microsoft Community Training platform, as well as, the learning help desk these network-led training initiatives will receive face-to-face instruction, online classes, and online Learning Management System (LMS) courses.
Furthermore, IoT-based connectivity-related solutions for networking, e-learning, skilling, telemedicine, agriculture, accessibility, and environment in rural areas will be built to modify the livelihoods and well-being of businesses and communities. Collaborations with governmental and corporate institutions to support networks being established in three states regarding education, different skills for employment, or women's entrepreneurship will be facilitated.
Microsoft, DGT and MSDE to Equip Students with Future-Ready Skills
Through an MoU, Microsoft, Directorate General of Training (DGT) and Ministry of Skills Development and Entrepreneurship (MSDE), will train students and educators at government-run National Skills Training Institutions (NSTIs) and Industrial Training Institutes (ITIs). This initiative showcases Microsoft's commitment to equipping India's youth with future-ready skills, by providing a variety of courses as part of this collaboration, including instruction in AI, cloud computing, web development, and cybersecurity skills. This will lead to students gaining industry-related skills, improve their employability and will be relevant for work prospects. Students will get to learn from business professionals and participate in enriching sessions and projects in addition to future skills training for AI fluency and basics, cloud computing, and web development. Even faculty members will be empowered through Train-the-Trainer courses on AI fluency and foundations, cloud computing, web development, Power BI, and soft skills. For the ITI students enrolled in computer operator and programming assistant (COPA), training will be instructed by these qualified faculty members as well. At ten NSTIs for women, the CyberShikshaa program, which teaches beginners and intermediate cybersecurity skills, will also be made available to students and teachers.
Microsoft, DSCI and ICT Academy Shape Cybersecurity Skills
Microsoft announced the extension of its CyberShikshaa initiative in collaboration with the Data Security Council of India (DSCI), Tata STRIVE, and ICT Academy as part of its ongoing support for the nation's cybersecurity ecosystem. The program will deliver technical skills for careers in cybersecurity to women and underserved youths over the course of the next three years, including internship or job opportunities for students.
CyberShikshaa will expand the program, utilize business relationships, and provide specialized training for jobs in the banking, financial services, and insurance (BFSI) sector. The program will give AI/ML training for cybersecurity product development and enable cybersecurity certifications through an improved Cybersecurity Beginners program called 'Ready4Cybersecurity', expanding its reach into semi-urban and rural areas of the nation.
Microsoft Enables Access to Governmental Services in Rural Areas
Through Jugalbandi, a new chatbot for mobile devices powered by generative artificial intelligence, Microsoft will simplify access to government services across India's villages. Currently, the chatbot is being modified by the government-sponsored AI4Bharat and Microsoft Research.
Microsoft and MoHUA Offer E-Learning Modules
For the Indian government's Swachh Bharat Mission, the Ministry of Housing and Urban Affairs (MoHUA) collaborated with Microsoft to offer e-learning modules under Project Sangam. To help content providers and training partners deliver high-definition video and training as a service on Azure, Project Sangam uses fundamental platform assets and components, like Azure Media Services. More people can be reached with this approach than through a conventional brick-and-mortar classroom training strategy. The technology also enables tracking of enrollments and advancement.
The platform is user-friendly and gives users the freedom to view the material on the gadget of their choosing. Even while they are offline, they can still pursue their goal of developing their knowledge and skills. Any device can learn anytime, anywhere thanks to Project Sangam.
The Project Sangam-powered Swachh Bharat e-Learning Portal has assisted in educating more than 110,000 municipal employees in more than 4,000 cities about good sanitation practices. The courses consist of short videos that can be seen on any device through a web browser or an Android app. More than a million people signed up for courses on the platform.