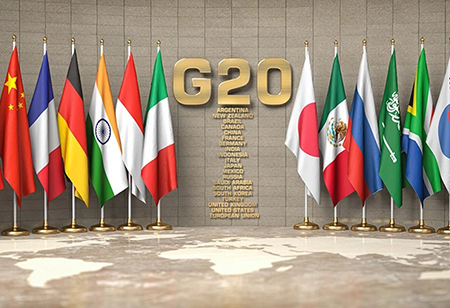 The third meeting of the G20 Digital Economy Working Group's side event, the Global DPI Summit, was effectively supported throughout the previous two days. More than 150 foreign delegates from almost 50 countries, over 250 delegates in person, and more than 2000 people watched the summit live. Rajeev Chandrasekhar, Union Minister of State in the Ministry of Electronics and IT and MSDE opened the summit. India and four other nations, namely Armenia, Sierra Leone, Suriname, and Antigua & Barbuda, inked a Memorandum of Understanding (MoU) at the summit to share INDIA STACK, or effective digital solutions deployed at a population scale.
There were ten-panel discussions on sector-specific and sector-agnostic DPIs, including an Overview of Digital Public Infrastructure, Digital Identities for empowering people, Digital Payments and Financial Inclusion, and DPI for Judicial Systems and Regulations.
Digital Document Exchange for Efficient Service Delivery
The panelists were Gevorg Mantashyan, Honb'le First Deputy Minister of Armenia, Abhishek Singh, NeGD, Alka Misra, NIC, Anir Chowdhury, Bangladesh, and B G Mahesh, DigiSahamati. The discussion was conducted by C V Madhukar from Co-Develop. The experiences of Bangladesh, India, and Armenia and lessons learned from international best practices were discussed. These included the Account Aggregator, DigiYatra, Open Government Data Platform, myLocker, DigiLocker, and Nothi - Decision Support System. The vital role of DPI in data exchange, data exchange design, and strengthening the bond between the government and the people for proactive and integrated services were all topics of debate. Additionally highlighted was the integration of databases and apps used by the government.
Public Key Infrastructure (PKI) for DPI
The panel featured Arvind Kumar, CCA-India, Prof.Satoru Tezuka, Japan, Anne Waweru, Kenya, and Nick Pope, Europe. Vijayakumar Manjunatha, Asia PKI Consortium, moderated it, and it was presided over by Moses Kunkuyu Kalongashawa, Hon'ble Minister of Malawi. It highlighted the Asia PKI Forum's experience as well as the country's experiences with Japan, Kenya, and India.
The panel thoroughly examined the Kenya TradeNet System, PKI as a Cryptographic Identity Provider, many purposes, legality, data flow with trust, African cross-border digital initiatives, and other topics.
Digital Education and Skilling
It featured speakers like Eunsong Kim, UNESCO; Dr. Buddha Chandrashekhar, AICTE; and L. S. Changsan, Dept. of School Education & Literacy, India. It was moderated by Shankar Maruwada from the EkStep Foundation, and it was presided over by Parvashi D. Maharahaje, Asst. Permanent Secretary, Mauritius. Discussion topics included perspectives from national and multilateral organizations on education policies, population-scale digital innovations that work in diverse and complex environments, initiatives like PM eVIDYA-DIKSHA, a learning platform, various engagement models (such as Do It Yourself, Advisory, and Partner led), a Global Framework of Reference on Digital Literacy Skills for SDG Indicator 4.4.2, the Ethics of Artificial Intelligence, and Digital Skilling for Building a Digitally Competent Society.
DPI for Digital Health and Climate Action
It was moderated by Mr. Purushottam Kaushik of the World Economic Forum and co-chaired by Mr. Rahaingonjatovo Nirina and Mr. Kanaka Dasaratha Herath of the CDO of Madagascar. Speakers included Mr. Suhel Bidani of the BMGF, Mr. Vikalp Sahni of Eka Care, and Ms. Martine Bottheim, Acting Ambassador of Norway to India. International organizations (such as the World Economic Forum, Eka care, and the Bill & Melinda Gates Foundation) highlighted the best practices on DPI for health and climate change, related policies, and programs, and nations including India, Sri Lanka, Madagascar, and Norway offered their country's experience. Details on a variety of topics were discussed, including an alliance on health and climate change, investments, health records, designs for those with and without phones, data privacy concerns, wearable technology, and the ease with which healthcare facilities may participate.
Digital Agriculture Ecosystem
Speakers in the session included Chengal Navin Twarakavi, ADB-Philippines, Dr. ML Jat, ICRISAT, India, Chen Hattav, GrowingIL, Israel, and Dr. Anil Rai, ICAR. The session was moderated by Rajeev Chawla, Chief Knowledge Officer, MoAFW-India. The discussion included the AgriStack, significant registries (including Farmer, Land Parcel, and Crop), data sharing, standards, drip irrigation, and precision agriculture.
Building the Global DPI Ecosystem'
It was moderated by Abhishek Singh, P&CEO of NeGD, and was presided over by Walter Eduardo Morales Vega, Board Advisor, Central Bank of Uruguay. Speakers included T Koshy, ONDC, Dr. Srivatsa Krishna, IAS, Government of Karnataka, Robert Opp, CDO, UNDP, and Ms. Vyjayanti T Desai, PM, World Bank. The discussion covered the essential components of DPI, how it differs from prior global digital projects, and its roadmap for the future (in terms of inclusion, interoperability, open standards, open partnerships, open APIs, etc.). Other topics covered were process reengineering, collaborative design & execution, touching individuals last in the queue with or without digital tools, and funding DPIs with the aid of multilateral banks.