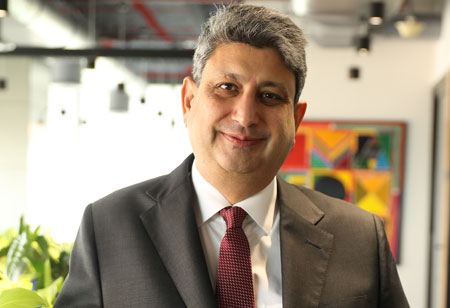 Yezdi Nagporewalla, Chief Executive Officer, KPMG In India, 0
Thanks to the ease of adopting the latest technologies, especially over the past three years, once-complex business problems now have simpler, faster solutions. As a result, new businesses are mushrooming across different marketplaces at a remarkable pace. We owe a lot to technologies becoming more plug & play, more driven by the cloud, and simpler to use. They make it easier to test ideas and move on faster if it fails. Combining this with a more flexible working environment becomes an undeniable proposition. According to statista.com, the Public Cloud market in India is projected to grow by 20.47 percent (2023-2027), resulting in a market volume of$12.55 billion in 2027. However, while this bets high on field days ahead for technology organizations, it won't come without a fair share of challenges, including recruiting and retaining the right talent and fulfilling environmental, social, and governance (ESG) responsibilities.
Yezdi Nagporewalla, Chief Executive Officer, KPMG in India, engages in an exclusive interaction with CEO Insights to decipher the latest trends, challenges, and leadership matrix in the technology industry. Yezdi is a seasoned leader with over 25 years of professional services experience and has successfully led some of the largest and most complex accounts for the firm globally and in India.
In Conversations with Yezdi Nagporewalla, Chief Executive Officer, KPMG India
With India pacing towards becoming a $ 5 trillion economy by 2025-26, could you shed light on the growth factors driving the business landscape? How are digital tools helping organizations enhance their channels and product lines?
India's economy has shown great resilience in the past two years. We are one of the only countries in the world that is still growing at 7-8 percent despite the effects of the pandemic. One of our greatest assets is the young working population, which is expected to grow another one hundred mn by 2030, tripling India's GDP to $9 trillion by 2030.
Emerging technology has been a top concern for CEOs in the country, but companies now realize how indispensable the benefits of technology are. Companies have been planning capital investment in advancing digitization and connectivity across the business, focusing on partnerships and preparedness. As India stands at the cusp of a mass transformation, companies have accepted and adapted to the current needs of the modern workforce. Companies have become open to hybrid work models; this mode of work has also gained the confidence of CEOs through its positive impact on the organization and its future. A streamlined and smooth shift to a hybrid work model has been possible due to the ongoing digitization of companies and new and improved digital tools in the market. These technologies provide employees with ways to stay connected to their teams and give managers visibility into their team's work while being located in various parts of the world.
As digital transformation creates opportunities in the marketplace, how should CEOs develop working structures that attract and retain talent to score organizational and people goals?
CEOs are changing ways to attract and retain talent because of the challenging economic situation and organizational growth goals. Indian CEOs are witnessing employee driven business transformation first hand, and the employee value proposition to attract and retain talent is a top operational priority. For many, it is part of achieving their medium to long term business objectives.
Indian CEOs recognize that the ability to retain talent with the pressures of inflation and the rising cost of living is a critical priority. This now stands on par with the long term impacts of the pandemic and geopolitical tensions on organizations.
One of the key differentiators when it comes to retaining talent is our ESG approach to a business. Indian CEOs are seeing a demand for ESG transparency and reporting from employees and new hires. Organizations today need to focus on how they can be inclusive and sensitive to the needs of all stake holders.
Providing employees with the best opportunities for upskilling and advancing their careers is also imperative. We think a People First, Care approach is essential to keep our employees satisfied and motivated in these trying times.
Is ESG rising to significance on the same? Where is the Indian business landscape placed in this space, and how does it provide a scope to achieve business growth?
ESG functions and reporting are becoming important indicators of an organization's health. Investors are paying close attention to material ESG risks, and related issues are taking center stage in stakeholder conversations.
The impact of climate change has awakened us to the need for quick action in the areas of environmental impact, social implications, and good governance. In addition to enhancing businesses' financial stability and longevity, compliance with ESG requirements will also guarantee equitable growth and fair access to good livelihoods for everyone.
At KPMG in India, we recently hosted a first of-its-kind ESG Conclave and Awards. We engaged with policymakers, investors, global think tanks, business owners, and leaders. We deliberated on the best practices adopted by India Inc concerning ESG, intending to influence and bring about changes.
Organizations must understand the importance ESG holds and work together to ensure compliance that is not
only at the board level but seen across functions and divisions. It is the adherence and focus on these parameters that will drive longterm returns in a rapidly changing business environment. Delaying important ESG initiatives may result in firms being more reactive rather than leading the way with increased transparency, resilience, and sustain ability.
What is the influence on investors for the same? Are there more investors coming into the picture?
Today,boardrooms significantly emphasize sustainable business practices concerning ESG, necessitating the development of longterm business strategies. ESG continues to be essential to longterm financial performance, and the same has been reiterated in the findings of KPMG in India's CEO Outlook 2022 Report. Fifty nine percent of CEOs in India seek to invest at least six percent of their revenue on initiatives that help their company become more sustainable. They are increasingly convinced that ESG initiatives augment financial success. This involves recruiting and retaining people,enhancing employee value propositions, attracting loyal consumers, and raising capital. More than 55 percent of Indian CEOs feel their company's digital and ESG initiatives are intimately related to growth.
CEOs are changing ways to attract and retain talent because of the challenging economic situation and organizational growth goals
In fact, the importance of ESG initiatives on businesses has been acknowledged globally. As people become more conscious of the influence of corporations on the environment and society, more investors are striving to align their investments with their values and beliefs. As a result, demand for ESG investments has increased, as has the number of investors. In conclusion, ESG is becoming an increasingly important parameter for investors and is expected to continue to affect investment decisions in the future.
How do you perceive the outlook of the business landscape going forward, and which are the areas that KPMG plans to focus on?
We live in a complex landscape, and in order to navigate this, businesses need to be agile, innovative, and resilient. A greater emphasis needs to be placed on enhancing a company's digital capabilities, implementing sustainable business practices, and mindful investments in talent and diversity.Furthermore, there is a stronger need for collaboration now more than ever, as we need to work together to address the socio economic and environmental concerns we face.
At KPMG, our priorities remain unchanged An unwavering focus on quality, our commitment to providing clients with a broad spectrum of professional services, and our continued investment in innovation, modern technologies, and methods of working, through which we aim to foster confidence and empower change in business and within our communities. We remain committed to putting people first.
India is a key growth area for the company globally; throughout the years, we have reinforced our global ties and worked towards becoming a global talent center for our international member firms. As a company responsible for generating employment and prosperity, we are motivated by trust and inspired by opportunity.
We have a strong commitment to ESG. Under the 'KPMG Impact Plan,' we have consolidated our ESG responsibilities. The plan offers comprehensive ESG solutions that create a clear path to a purposeled, sustainable company to increase resilience and promote quantifiable and profitable development.
We have also been focusing on the 'KPMG Innovation Kaleidoscope Center' which is a collaborative space to better understand business challenges, opportunities, and gaps we can address to be the 'clear choice' for our clients and partners.
By fostering a culture where employees feel empowered, take pride in their job, and cooperate, we have built a team that is recognized for its integrity, tenacity, and professionalism. That is the sort of business we are attempting to create.
What is your advice to upcoming leaders while unlocking new opportunities?
The future calls for strategies like rethinking the workforce, emphasizing the social aspects of ESG, utilizing data, and creating a nurturing environment. Future leaders need to be agile in responding to business challenges, concentrate on cultivating a growth mentality, encourage innovation, and make investments in their people.
To unlock new opportunities, one needs to prioritize innovation, invest in talent, and maintain a strong ethical foundation. Being adaptable and able to pivot quickly when faced with new circumstances is also crucial in today's rapidly changing business landscape. Additionally, upholding the highest levels of integrity and accountability is not only the right thing to do but also essential for building trust with clients, stake holders, and the public.
Leaders should concentrate on enhancing the knowledge and talents of their workforce, offering them opportunities for advancement, and promoting a diverse and inclusive workplace culture. By investing in people/talent, leaders can create a team of highly engaged, motivated, and enthusiastic colleagues who are prepared to go above and beyond to accomplish their objectives.
Yezdi Nagporewalla, Chief Executive Officer, KPMG In India
Yezdi is a seasoned leader with over 25 years of professional services experience and has successfully led some of the largest and most complex accounts for the firm globally and in India.
Hobby:
Collecting rare coins
Favorite Cuisines:
Parsi Dhansak and Japanese cuisine
Favorite Movies:
Movies based on true stories and legal/courtroom dramas or movies
Favorite Travel Destination:
London